George Condo: Ink Drawings Skarstedt, 23 Old Bond Street, London W1S 4PZ, 11th February – 5th April 2014 www.skarstedt.com
George Condo: Simon Lee Gallery,12 Berkeley Street, London W1J 8DT, 11th February 22nd March 2014 www.simonleegallery.com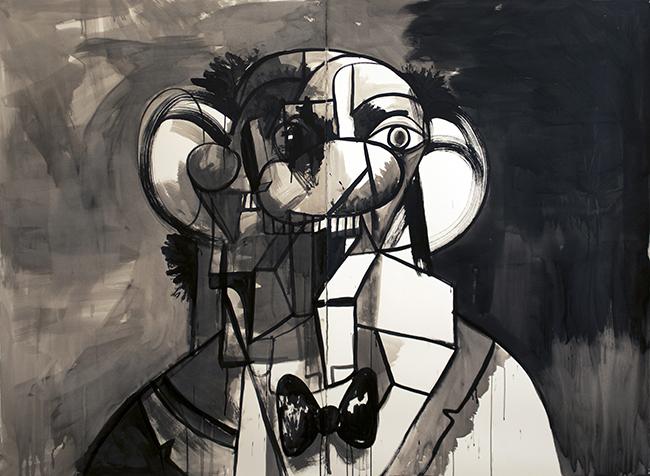 George Condo – Ahmed the Tailor, 2013 ink on paper 60 3/4 x 82 1/2 in. (154.3 x 209.6 cm.) © George Condo
Skarstedt London is exhibiting an exhibition of new works on paper by George Condo, to coincide with a solo exhibition at Simon Lee Gallery. This will be the artist's third solo show at Skarstedt and the first at the new London gallery.
Since the beginning of his artistic career, drawing and works on paper have formed an important part of George Condo's working practice. Featuring monumental works on paper this exceptional series, realised over a six-month period, marks an exciting new area of focus for Condo.
"My intention with this body of work was to explore the extreme possibilities of ink on paper. I used the medium to create transparent layers of colors. I thought of Rothko at times and his overlapping veils of transcendental space. I placed the figure into this kind of space and used lines to define their ambiguous presence in the void."
Following his pivotal exhibition of Drawing Paintings at Skarstedt New York in 2011, Condo has explored the relationship between the directness of drawing and the controlled methods of painting. The new works on paper are characterised by a dark brooding palette and a return to the figurative in subject matter. Marking a deliberate move away from the abstract tendencies of previous work, this series heralds the beginning of a new stylistic engagement with a traditional subject in which the drama of the works is intensified by their impressive scale.
Simon Lee Gallery will be exhibiting new paintings by George Condo. It will bethe artist's first solo presentation of paintings in London since his awesome retrospective George Condo: Mental States at the Hayward Gallery in 2011-2012.
Blurring the line between comedy and tragedy, the grotesque and the beautiful, the critical and the empathetic, Condo has developed a provocative and adventurously imaginative pictorial language, which has helped make him one of the most innovative and influential artists of his generation. Since first gaining attention in the early 1980s with his 'fake Old Master' paintings, Condo's oeuvre has encompassed an incredible diversity of styles and media. In painting, drawing, sculpture and print, his works have been informed by an art historical trajectory spanning from the Renaissance and the Baroque through to Cubism, Surrealism, Abstract Expressionism and Pop. Speaking to the multiplicity of sources from which his work derives, Condo himself has stated, 'The only way for me to feel the difference between every other artist and me is to use every artist to become me'.

With this exhibition, Condo takes up portraiture, a genre that has dominated his practice for over three decades, albeit through untraditional and unanticipated visual means. Combining stylistic elements from several different artists who cross multiple generations, Condo's portraits subvert traditional practice and only infrequently take as their subject real people; instead, the works often portray a fantastical assembly of characters derived specifically from the artist's own imagination. Built up in a vocabulary that has gone through several iterations – from the blurred to the distorted, the Picasso-esque to the removed, the humanoid to the antipodal – Condo's subjects have nevertheless always appeared surprisingly and uncannily familiar. Distended and often deformed, their vividly portrayed emotions register with viewers, creating an air of psychological plausibility.

Marking a new development in the artist's body of work, the paintings on view feature a series of portraits whose abstracted subjects extend irrepressibly beyond the confines of the canvas. Larger than life, the works present the face as a scrambled and colourful pictorial landscape, obstructing viewers' impulses to 'read' portraits for narrative meaning, and yet often revealing something of the subject's inner psyche.
About the Artist
With a career spanning over three decades, George Condo is one of the leading talents to emerge out of the New York art scene in the 1980s. Alongside his contemporaries Keith Haring and Jean-Michel Basquiat, Condo was a key figure in the revival of painting and drawing as a vehicle for expression. A talented draughtsman and an adept handler of paint in the tradition of the old masters, in his new body of work Condo continues to develop his highly distinctive and original style. The subject of major exhibitions at leading institutions worldwide, George Condo's work has been exhibited at The New Museum, New York; Hayward Gallery, London; Museum Bojimans van Beuningen, Rotterdam and the Schirn Kunsthalle, Frankfurt amongst others and is held in numerous important public and private collections including The Museum of Modern Art, New York and the Whitney Museum of American Art, New York.
George Condo was born in New Hampshire in 1957. Ranging from painting, drawing, printmaking and sculpture, his work is informed by the inherited European tradition of art making. Incorporating a hybridization of classical influences, such as Raphael, Goya, Velazquez, Picasso and Manet, his work demonstrates a distinctive style which he coined "Artificial Realism" in the early 80s when he emerged as painter on the New York art scene. This original painterly language has greatly influenced the generationthatfollowshim. Oftencalled'anartist'sartist',Condohasstoodasanexampletoyounger practitioners through his unabashed commitment to his personal vision. Over the decades, his work has consistently surprised and engaged viewers with grotesque, humorous and often tradition-conscious paintings.
Categories
Tags