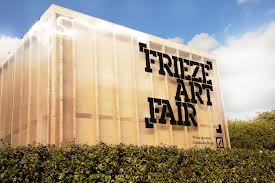 Application Deadline for Live: 18th February 2014
Frieze announces the introduction of Live, a new section of Frieze London 2014 that will be dedicated to ambitious participatory works. Applications to Live are now open to galleries.
Live will give galleries the opportunity to realise works that create moments of interruption or immersion within the fair's environment. A limited number of stands will be made available for live works. The applications that are selected to be realised in the new section will benefit from no stand rental fee.
Proposals will be welcomed that include interactive installations, architectural interventions, timed or durational performances, interdisciplinary projects or live works. Also encouraged are applications that transform the usual spaces of the fair, taking place in cafes, corridors, public squares or the auditorium. Joint proposals between galleries are permitted.
Live is selected by the Frieze London selection committee, with Nicola Lees, curator of Frieze Foundation, acting as a special advisor to the committee. Applications for Live close on 18 February 2014.
How to apply
Applications to Live at Frieze London should be made online. Further information on how to apply can be found at friezelondon.com.
About Mark Westall