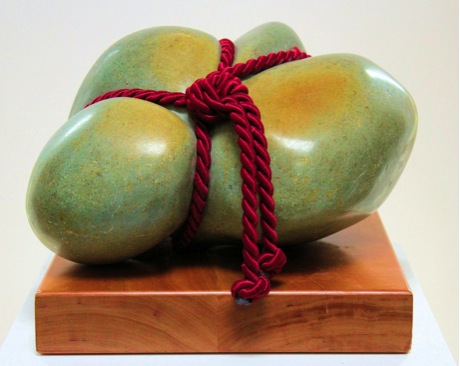 small green work Reprise soapstone, rope on cherry 18 x 27 x 23 cm
1. If you weren't an artist, what else would you be?
A geologist
2. Can you tell us more about your work and what are the main ideas you would like to express?
Much of my work is about isolating and constraining fears/memories/beliefs; getting anxieties under control, if you like. At least, that's what I believe it to be about. It is important, too, that a piece should also be visually exciting.
3. How do you start the process of making work?
I keep myself surrounded by objects that I find interesting – pebbles, trinkets, pieces of wood, hanks of fishing rope and so on. Over time, some pieces become more interesting and stimulate ideas; others remain dormant, waiting their turn. I draw a great deal – nothing fancy, just crude sketches – and occasionally something clicks and a sculpture starts to evolve.
4. Do you consider the viewer, when making your work?
No, not now. Trying to please others always ends in failure. Making sculpture is essentially a selfish, indulgent pastime and you are unbelievably lucky if a piece resonates with someone else.
5. Name 3 artists that have inspired your work.
Eva Hesse
Emile Nolde
Michelangelo
6. What defines something as a work of art?
If words can't adequately describe or convey beauty or meaning then you are probably talking about a work of art (or nature)
7. Anytime, any place – which artist's body would you most like to inhabit?
Eva Hesse
8. What was the most intelligent thing that someone said or wrote about your work?
A child saying, 'wow'. To my mind it was the perfect review.
9. Which artists would you most like to rip off, sorry, I mean appropriate as a critique of originality and authorship?
Eva Hesse, Jasper Johns
10. Do you care what your art costs? State your reasons!
Pricing work is extremely difficult and ironically, expensive pieces often sell better than cheaper ones. There is a strange psychology going on and I don't pretend to understand the logic. I would like my work to be affordable to more people but then it doesn't sell! Hard to get your head around!
11. What's next for you?
Just keep moving
You can see some of Peter's work at Art of Angel opening on Thursday 16th January details: LINK
Categories
Tags