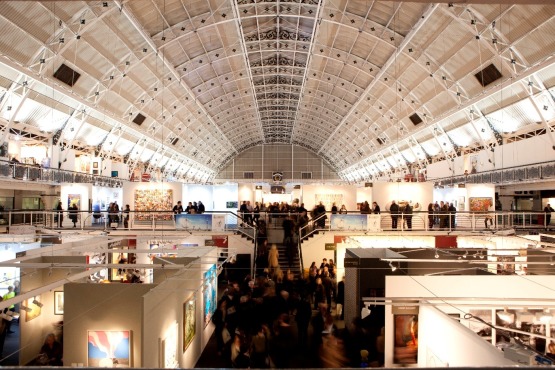 London Art Fair at Business Design Centre, Islington Photo: James Champion
London Art Fair 15th –19th January 2014 Business Design Centre, Islington, N1
London Art Fair, the UK's largest Fair for Modern British and contemporary art, opens the cultural year with its 26th edition at the Business Design Centre, Islington.
To complement the Fair an extensive programme of tours, talks and critical debates will take place throughout the week, locating content from the Fair and offering market insight. The talks programme has been developed in association with partners including The Hepworth Wakefield, the National Portrait Gallery, Sotheby's Institute of Art, Iniva, ArtTactic, PhotoVoice, Apollo magazine, Hiscox and Vital Arts. All tours, talks and discussions are free to attend with a valid London Art Fair ticket or invitation.
Marking the launch of her new book published by Lund Humphries, Melanie Gerlis, The Art Newspaper's Art Market correspondent, asks 'Is Art Really a Good Investment?' as part of a panel discussion on Friday 17th January.
On Saturday 18th January Stephen Bull of Photoworks interviews artist and film-maker Alison Jackson about her eight Desert Island Pics, and a panel including The Arts Desk's Fisun Guner will debate 'Curators – What Are They For? Should We Love Them Or Fear Them?'.
A Photography Focus Day will be held on Wednesday 15th January, with discussions, debates and tours dedicated to contemporary photography. Thursday Late in association with Peroni Nastro Azzurro (6-9pm on 17th January) will allow visitors to explore the Fair, enjoy talks, performances and film screenings while enjoying complimentary drinks courtesy of Peroni Nastro Azzuro.
WEDNESDAY 15th JANUARY (Photography Focus Day) TALKS (Talks and Discussions Theatre)
?11.30am-12.30pm Modern and Contemporary Photography – Market Trends and Development
Anders Petterson, Founder and Managing Director, ArtTactic, presents the latest market trends and developments in the Modern and Contemporary Photography market.
1pm-2pm Control of the Frame: Power, Representation & Identity in Photography in association with PhotoVoice
An expert panel of photographers and participatory practitioners will examine the delicate and
?complex relationship between photographer, subject and audience.
2.30pm-3.30pm National Portrait Gallery on the Taylor Wessing Photographic Portrait Prize
Lead by representatives from the National Portrait Gallery, this discussion will reveal more about the judging process, exhibition format and key works from the National Portrait Gallery's open- call photography competition.
4pm-5pm Photo50 'Immaterial Matter' – Panel Discussion
Charlie Fellowes and Jeremy Epstein, curators of this year's Photo50 exhibition 'Immaterial Matter' chair a panel discussion on the themes behind the exhibition, exploring the impact of the internet on the dissemination of artworks, aura and authenticity, as well as the shifting focus of photography as a medium in the digital age.
?
THURSDAY 16th JANUARY
?11.30am-12.30pm Eric Ravilious: Modern British Art and Nostalgia in association with Lund Humphries
Alan Powers, author of 'Eric Ravilious, Artist and Designer' (Lund Humphries), reflects on the unique popularity of this artist at present, whose work is rising in price, with Neil Jennings of Jennings Fine Art, who specialises in works on paper by Ravilious and his contemporaries.
1pm-2pmTHE MUSE Exploring sexual politics, psychology and power relations, this discussion looks at the two way relationship between artist and muse and the role of women as muses throughout history. Chair
?Sue Steward, broadcaster and photography critic for the Evening Standard, will be joined by Director Anthony Penrose and artist Sarah Pucill.
2.30pm-3.30pm Sight Unseen: Buying Art Online, in association with Hiscox
Online sales promise democratic access and art market transparency, but is that what they deliver? What of provenance and connoisseurship? Who do we trust in the digital age? Chaired by Robert Read – Head of Art and Private Clients at Hiscox. Panelists include journalist Georgina Adam, Simon Todd, UK representative for artnet.com and Rachael Barrett, primary consultant for Quintessentially Art.
Thursday Late in Association with Peroni Nastro Azzuro
PERFORMANCES
6pm-6.15pm
???Talks Theatre
'Let its mother stroke its fur because it's so mysterious' – Violet Fingers
Work considering power, control and desire. Violet Fingers is represented by C&C Gallery.
7pm-8pm
Film Screening Room
'THE FOUNDLING' – Terry Smith and Mel Gooding
'The Foundling' is a performance developed from a film and artist's book by Terry Smith, who was commissioned to work in response to the Foundling Museum's history as London's first public orphanage. This special event brings together a new edit of the film with a reading by the author
?
Mel Gooding, whose poems were written for the project. In association with Eagle Gallery / EMH Arts.
6pm-9pm
Film Screening Room
'The Man I Am Today' – Sharon McElroy, UAL: Wimbledon College of Art (Made in Arts London) 'The Man I Am Today' was filmed at various locations in the South East of England, some of which have military connections. In the accompanying audio we hear five men discuss the military uniforms they wear during Victorian living history and re-enactment events, their role models and views on masculinity.
?FRIDAY 17th JANUARY TALKS (Talks and Discussions Theatre)
?11.30am-12.30pm International Emerging Artists: Creativity and Commerce in association with Iniva
Panel discussion looking at the increasing interest from curators and investors in developing art markets and the impact this has on artistic production. This talk will look at developments in the Middle East, the Caribbean and Africa among others and will be chaired by Tessa Jackson, Chief Executive Officer of Iniva. Panellists include Sheyi Bankale, Joy Gregory and Sue Steward
1pm-2pm Is Art Really a Good Investment?
A panel discussion exploring the notion of art as a financial asset. With Iain Robertson, Head of Art Business, Sotheby's Institute of Art and joint series Editor of 'Handbooks in International Art Business'; Jamie Anderson, Director, Waterhouse & Dodd and Melanie Gerlis, Art Market editor of The Art Newspaper and author of 'Art as an Investment?
2.30pm-3.30pm Barbara Hepworth and the Development of British Modernism
Frances Guy, Head of Collection and Exhibitions at The Hepworth Wakefield, leads this talk looking at the pioneering work of Barbara Hepworth and the development of The Hepworth Wakefield.
4pm-5pm Archive: Record, Catalyst and Fiction
Archives are no longer easily defined and this discussion encompasses a range of approaches: from the historical and institutional; the personal and family record; fictional narrative; digital repository and artists using found images as a catalyst for extraordinary projects. Chaired by Sue Steward, panellists include Martin Barnes (Senior Curator of Photographs at the V&A Museum), Ania Dabrowska, Melinda Gibson and Pete James.
SATURDAY 18 JANUARY ?TALKS (Talks and Discussions Theatre)
?10.45am-11.45am Public Art Commissioning – led by Catsou Roberts, Vital Arts, with artist Jacques Nimki
Vital Arts, the arts organisation for Barts Health NHS Trust, presents an overview of site-specific artworks it has commissioned, including works by Darren Almond, Catherine Yass, Richard Wentworth, Cornelia Parker and Roger Hiorns among many others. She will be joined by another of Vital Arts' artists, Jacques Nimki.
??12pm-1pm Photoworks Presents Desert Island Pics: Alison Jackson
Loosely following the format of Desert Island Discs, artist and film-maker Alison Jackson chooses the eight photographs she'd take with her to a desert island and discuss the thoughts behind her choices with Stephen Bull.
1.30pm-2.30pm The Arts Desk presents Curators – What are They For? Should We Love Them or Fear Them? Curators have become the new artists – and they're everywhere. In big public gallery exhibitions they almost threaten to outnumber the artists. Do we need curators anyway when the work can speak for itself? Should we welcome the rise of the curator or fear it? Join The Arts Desk art critic Fisun Güner for this lively discussion.
2.45pm-3.45pm
Building and the Landscape in Modern British Painting
Thomas Marks, editor of Apollo, chairs a panel discussion on architecture, infrastructure and the landscape in Modern British painting. Expect lighthouses, pylons, power stations, and railways – and the life they took on in the imaginative worlds of artists including Eric Ravilious, Tristram Hillier and Prunella Clough.
4pm-5pm The St Ives School: Cultural and Market Value in association with Sotheby's Institute of Art
The combination of Atlantic surf, fishing boats and a prehistoric hinterland has attracted some of the finest British artists to St Ives in Cornwall since the nineteenth century. This talk looks at the relationship between cultural and market value in the St Ives School sector.
More Details including tours : www.londonartfair.co.uk/talks
Categories
Tags