BroLab: Dead Lift
On from January 4- February 8th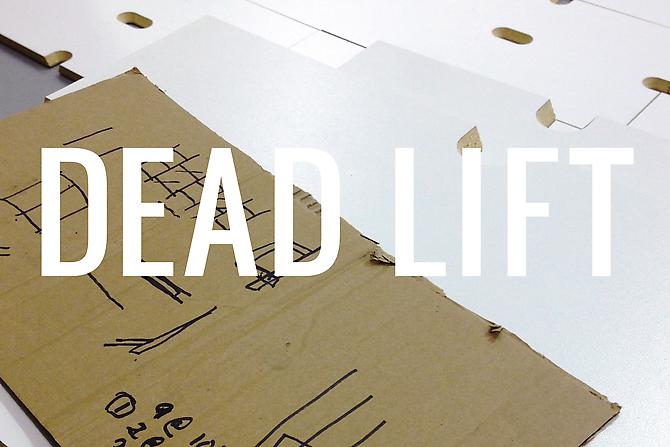 Freight and Volume is pleased to present BroLab's first solo gallery exhibition in NYC, Dead Lift. BroLab is a collective of the artists Ryan Roa, Jonathan Brand, Adam Brent, Travis LeRoy Southworth, and Rahul Alexander. The artists are based in NYC and met several years ago at the Artist in the Marketplace program (AIM), at the Bronx Museum. BroLab grew out of comradery, shared experiences defining themselves in the art world, the need to address art in public space, and some late-night drinking. The members have supplanted their individual practices that range from painting to installations in order to create something new. They have created a practice that is beyond their individual disciplines. BroLab states, "…we do not all have the same range of skills and in one way that keeps us fresh as the approach to projects comes from all angles and is sometimes unexpected."
This exhibition highlights new works and projects BroLab completed between 2009 and 2013, including installations, videos and photographs.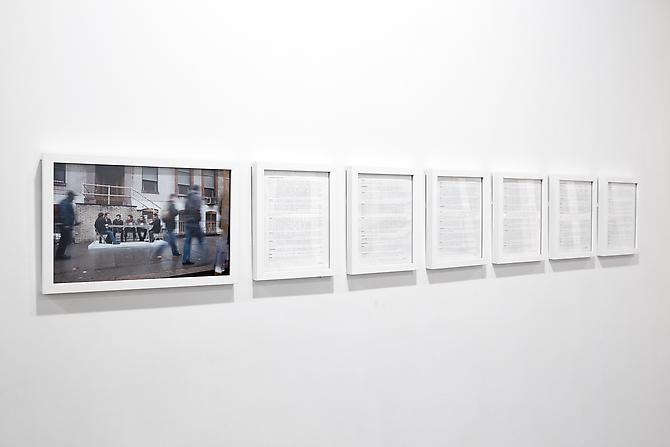 Platform (documentation set), 2011
Edition of 5 + 2 Ap
1 digital c-print 11 x 17 inches
Includes transcripts from April 1, 2011- New York City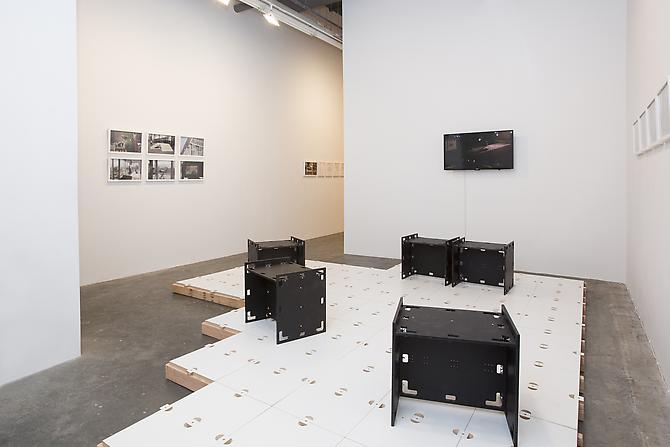 Moses Transpo (Prototype), 2013
Particle board, 2 x 4's, recycled plastic, and hardware
48 units of particle board panels, 8 one seaters
Autopsy, Tire and Tire Iron, 2011
Over the past few years the group has defined what it means to be a collective. They create social interventions in the public sphere that range from endurance performances to interactive functional sculptures. A clear link throughout their projects is the need to create and foster a lasting dialogue. BroLab articulates that, "…There really wasn't the intent to make public art but then we all started to come up with ideas of things to do together, it just led to that. The interactive part of what we do is because all of us, in our own careers, make things. A lot of us do installations, sculpture, video, photography, drawing, so when we came together we wanted to do something different, that almost had the need of a group to make it instead of just one artist."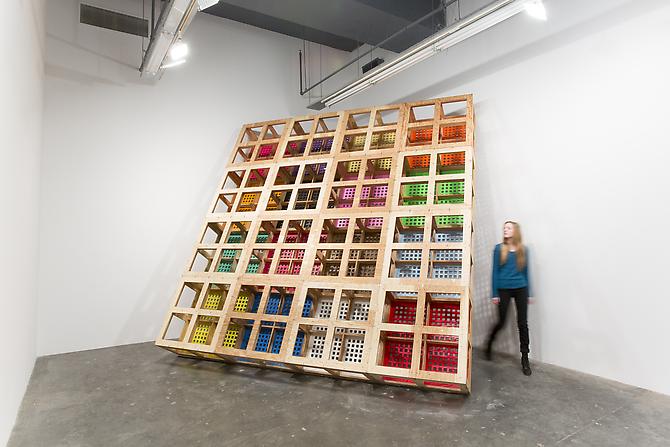 Stack and Rack (prototype), 2012
Marine plywood, spray paint, hardware
16 units, each unit 18 x 36 x 36 inches
Dead Lift refers to a situation that requires all one's strength or ingenuity, the lifting of weight without momentum. BroLab starts a project by questioning how a space can be activated. What will create a conversation, what will solve a problem, what will be useful? They say, "Our projects come from a combination of opportunity and risk." As a collective they work intuitively, allowing each member to utilize their individual talents to connect art through design, interventions, and conversations. It takes all of their combined efforts to be BroLab. The bodybuilding term term "dead lift" itself is both macho and ironic at the same time, and through their own name, BroLab uses humor and playfulness to convey their message as a collective. In some ways they are the artist version of a band, like the Beatles or Rolling Stones: they consist of a bunch of guys who pool their individual talents, in harmony, to create something more interesting together. BroLab describes their name as an easy entry point, "it catches people off guard, humor is an easy access, so "ha ha… BroLab."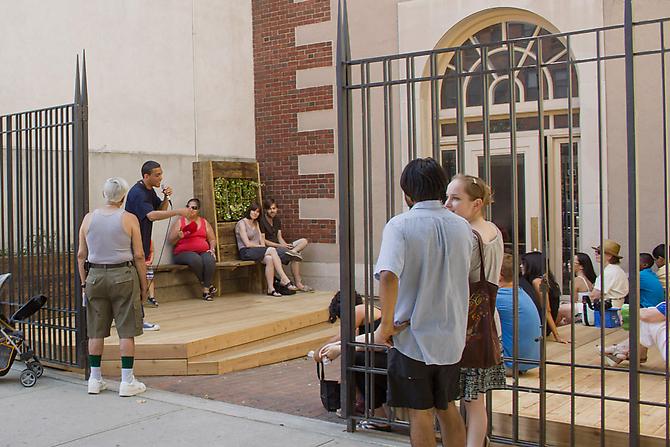 BroLab, Piazza Gratissima, 2012, Digital C-Print, Set of 6, Edition of 20
There is also a genuine need to engage and offer something that is useful, interesting, and helpful to the communities they work in. They are creating art to play on, to hold conversations, and for artists to meet and exchange ideas. They are anti "plop art" – art that is thoughtlessly plopped in public spaces and has no real value for the community.It is usually a shiny and/or a large impressive sculpture. It is generic, and could interchangeably fit into any neighborhood. BroLab states, "We see our sculptures generating a deeper interest in the use of public space in the urban commons. Our interventions tend to be specific to the location and the meaning has a direct tie to the site." They want to be engaged with the community and do something that positively impacts the people who live, breathe, and walk through, on, and around their sites. BroLab says, "We are interested in the impact an object can have on the situation of a location, this has led us to making objects that are interactive and can serve a function."
BroLab, Stack and Rack, 2012, Digital C-Print, Set of 6, Edition of 20, 11 x 17 inches
Their project Bench Press took place along the Q39 and B57 MTA bus routes from 4AM to 9PM using Flux Factory in Long Island City (Queens) and Momenta Art in Bushwick (Brooklyn) as anchor points. Between the two lay a vast range of industrial parks and neighborhood enclaves where little to no seating could be found at the local bus stops. BroLab fabricated a series of portable commuter benches that could be broken down into manageable bundles. These benches were then assembled and disassembled at bus stops to provide temporary seating for the public.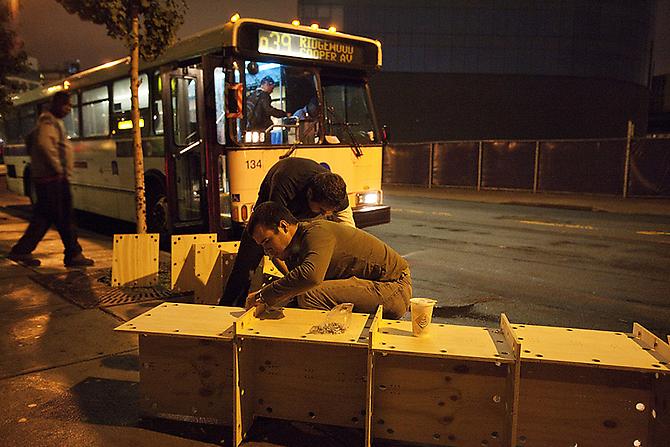 BroLab, Bench Press, 2011, Digital C-Print, Set of 6, Edition of 20, 11 x 17 inches
BroLab sees the term art as an adaptable definition. For them everything is rooted in possibilities. They don't see a separation between disciplines. Their projects Bench Press, Moses Transpo, and Piazza Gratissima, are small-scale architectural interventions. These projects are rooted in design and are concerned with how people use and engage space. In an interview with Ant Farm Brolab states, "The only wall between art and architecture is found in the artist and the architect. Anything can be meaningful and reveal a game-changing metaphor or statement. Both art and architecture house ideas and allow hope to dwell in their highest forms." BroLab asks people to rethink space – whether it is an abandoned courtyard, 14th street, a bus stop, an art fair, or Freight & Volume – there is always the possibility to create a conversation.
For more information please contact Nick Lawrence at 212-691-7700 or nick@freightandvolume.com.
or go HERE
About VC Maurer