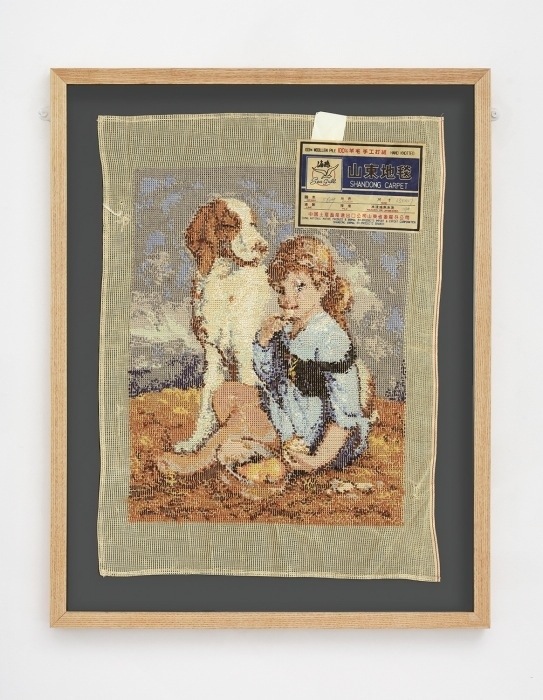 Arthur Prior 'Shadong Carpet' 2013 C-Type Print 53 x 68cm
Ahead of the Catlin Guide 2014 Launch at London Art fair next week FAD will be featuring some of the artists from the guide here we have : Arthur Prior
What made you want to be an artist?
Being an artist or calling oneself an artist is a kind of alibi. It is a way of accounting for my interest in subjects in which I have no formal training or background. It affords me a great deal of freedom
How has your practice changed over the course?
My time at art school was a three year love affair with flatbed scanners. During this time I designed and constructed a number of scanners that I used as a medium for making images. Within this framework my ideas have continued to evolve, however what has remained a constant is my interest in the relationship between the original (source) and its copy (derivative).
How does it feel to be in the Catlin Guide?
Good.
What is your studio routine?
My days are very varied. The only thing I do routinely is play chess.
Where do you see yourself in five years time?
Is this a job interview?
What artists inspire you?
I have always been very keen on the 'Düsseldorf School' of photographers. People like Thomas Struth, Thomas Ruff and Andreas Gursky (known collectively as Struffsky), Ursula Schulz-Dornburg, Petra Wunderlich. Of course, I am also very interested in the artwork my friends are making.
How does it feel to be leaving University?
I was under no illusion that studying at art school was a luxury. Before leaving Chelsea College of Art, I tried to prepare myself for what graduating would feel like. I would go and practice by waiting outside recruitment centres. I quickly realised that I would have to set myself up with something positive for when I finished. Life rarely grants us the power of self determination, but I was lucky to end up working on some interesting projects in Italy.
What are the best shows you've seen in the past year?
Mark Power at Foto/Industria in Bologna.
What makes a great artist?
A well refined 'elevator pitch'. Actually, I do want to answer this question seriously. To be a successful artist one must have a well refined elevator pitch, but great artists draw attention to things which are external to themselves. A great artist behaves as an employee of his/her art.
How do you negotiate the pressure to be a commercially viable artist?
Excellent question. Being a commercially viable artist is fundamentally different to being a commercially successful artist. Viability implies something with integrity and staying-power. There's a wonderful moment in the film 'Blade Runner' when Tyrell tells Roy that the Nexus-6 type of Replicant has a limited life-span: "The light that burns twice as bright burns half as long". Or, to quote a pretty un-fashionable artist, Euan Uglow: "There's more force in controlled passion than in exuberant passion". I try to circumvent commercial pressure by operating within a number of different contexts whilst allowing the ideas that are integral to my art-practice permeate these other fields.
If you were given a big commission what work would you want to realize?
I would commission an artist to realise an ambitious work. The work would be about what an artist would do if they were given a big commission.
Who do you think should have won the Turner Prize?
A British artist. I do love the 'controversy' of the Turner Prize.
What are the best galleries in the UK?
One of my favourite galleries in London is Ambika P3. It is found in the most unusual location on the Marylebone Road in a beautiful industrial building adjoining Westminster University. I am also very fond of the Parasol Unit.
The Catlin Guide will be available at the ArtCatlin stand P25 at the London Art Fair, 15th -19th January, for more information www.artcatlin.com
Categories
Tags