BODY LANGUAGE
20th November 2013 – 16th March 2014
www.saatchigallery.com
Artists
Henry Taylor, Makiko Kudo, Nathan Mabry, Eddie Martinez, Dana Schutz, Helen Verhoeven, Justin Matherly, Denis Tarasov, Marianne Vitale, Chantal Joffe, Francis Upritchard, Micheal Cline, Nicole Eisenman, Kasper Kovitz, Tanyth Berkeley, Alexander Tinei, Amy Bessone, Jansson Stegner, Andra Ursuta.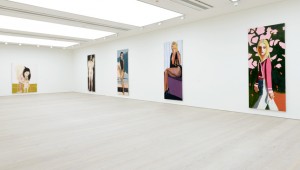 [Installation shot, Gallery 6 ]
This winter, The Saatchi Gallery plays host to a vast exhibition devoted to the depiction of the human body: demonstrating the prevalence of the human form in contemporary art. Body Language features 19 emerging international artists, working in various and contrasting mediums, who examine how the body is used, and has been used throughout art history, as a canvas for artists to examine social and political issues, gender differences and implications, personal reflection, life and death, and human curiosities. The works, displayed across the entire first and seconds floors, offer a vibrant and thought-provoking visit. The juxtaposition of different mediums, aesthetics and messages in the works permit a breadth of enthused interpretation; with each room comes a new issue, a new set of resonant images.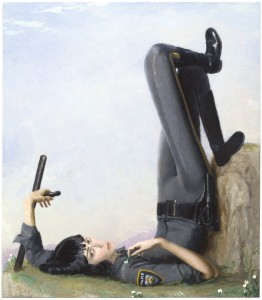 [Jansson Stegner, Sarabande, 2006 ]
[Installation shot, Gallery 5 ]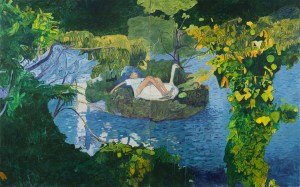 [ Makiko Kudo, Floating Island, 2012 ]
Downstairs boasts monumental canvases by Kudo, Schutz and Taylor, that each engage in the notion of dream, mystery and the surreal. In particular, Makiko Kudo's huge paintings speak of child-like melancholy, escape and angst, depicting the human form lost, floating through lush, colourful, fantasy landscapes. Her figures are at once free from all social, economic or personal woes, but also trapped, unable to escape their physical setting or emotional worries. In speaking to the artist, she described her works as both capturing a sense of personal anxiety as well as a collective feeling of entrapment in the human psyche. The paintings are not directly autobiographical, but aim to describe a disengaged mode of existence, the sense of fear, angst and mental escape, within humanity. Kudo's figures borrow the aesthetics of manga comics, demonstrating the artist's specific Japanese cultural context.
The upstairs galleries promote various reflections on the human form; notably gendre, life and death. Gallery 5 features Denis Tarasov's 'Essence' series; photographs of Russian gravestones depicting the dead engraved as they'd wish to be remembered. These canvases reference human materialism and capitalism, prevalent even in death, and bring the notion of wealth and youth in historical portraiture to a contemporary audience. Whilst this series dominates the wall space in this gallery, the floor is home to Marianne Vitale's wooden gravestones, 'Markers'. This repetitive sculptural series evokes the physical presence of the dead in cemeteries, locating the rectangular structure of the graves as an abstraction of the human form. Gravestones simultaneously represent the presence and absence of a human. In a graveyard, and stood amongst this series, you are both alone and in a crowd.
Further, the paintings and photographs by Joffe, Berkeley, Tinei and Stegner feature the female body as the subject, commenting on western painting's tradition and fixation with women as the bearer of meaning in art. Berkeley's photographs revisit portraiture and its historical prestige, using images of women, either biological or transgendered. Her works are visually reminiscent of Cindy Sherman, emphasising the voyeuristic gaze of the viewer upon depictions of women, and Nan Goldin. 
[ Tanyth Berkeley, Grace in Window, 2006 ]
Despite being split across two floors, across 10 slightly lacking or empty rooms, 'Body Language' does meet its curatorial aim. Each of the images and artists provide compelling evidence of the figure's continued ability to articulate social, political, economic or personal meanings. History is written upon the body.
www.saatchigallery.com
– words by Kimberley Brown
Categories
Tags