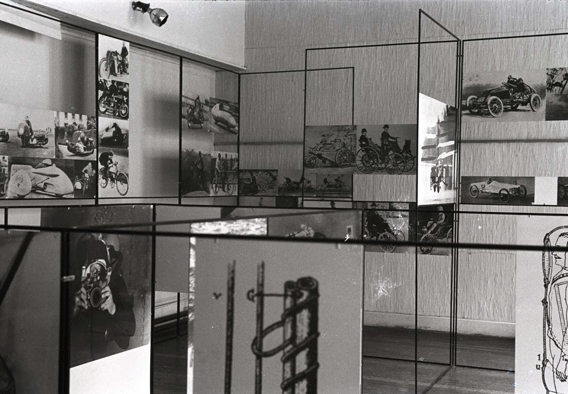 Image credit:Richard Hamilton Installation view of Man, Machine and Motion at the ICA, Dover Street, 1955
The 2014 programme for the ICA builds on a hugely successful 2013 when more than 433,000 people visited the ICA's main venue on the Mall, the highest figure in the last 8 years for the ICA, and a further 20,000 visited off site projects.
The 2014 programme starts with a unique presentation of artist Richard Hamilton. Two installations Man, Machine and Motion (1955) and An Exhibit (1957), made originally for the ICA but then dismantled, have been newly re-created with the involvement of the Hamilton studio/estate for display again at the ICA (12 February – 6 April 2014). Richard Hamilton at ICA coincides and is in collaboration with the major retrospective of Hamilton's work organised at Tate Modern (13 February – 26 May 2014). To time with this exhibition the ICA returns to its original home on Dover Street to present a unique installation composed of archive images throughout the Dover Street Market building. In addition, art historian Anne Massey and Executive Director Gregor Muir will produce the first book devoted to the ICA's first twenty years, charting its progression from the basement of the Academy Cinema, to Dover Street Ma rket, to the Mall.
Solo presentations of Berlin-based artist and writer Hito Steyerl (5 March – 27 April 2014), Tauba Auerbach (16 April – 15 June 2014) and French artist and filmmaker Neil Beloufa (17 September – 16 November 2014) will be the first substantial UK exhibitions of their work. Hito Steyerl is one of the most critically acclaimed artists working in the field of video today and is a prolific writer and theorist. The ICA will show a selected survey of her most recent work, which focuses on contemporary issues such as feminism, militarisation and the mass proliferation and dissemination of images and knowledge brought about by digital technology. Tauba Auerbach is fast gaining an international reputation for her work and this exhibition will provide an opportunity to see brand new sculptures and photographs that explore the sci entific principles of symmetry and reflection. Coinciding with Frieze 2014, Neil Beloufa will take over the Lower Gallery and Theatre spaces to show a selection of installations in combination with a series of moving image works, which explore the blurring of narrative, make-believe and truth that underpin the representation of real-world events.
One further solo presentation of the work of David Robilliard, The Yes No Quality of Dreams (16 April – 15 June 2014), will be the first institutional exhibition of his paintings in over twenty years. Robilliard came to London with no formal artistic training in 1976 and was a prominent figure in the city's underground scene, working closely with Gilbert & George until his untimely death as a result of AIDS in 1988. His paintings were regularly seen during his lifetime in London's less alternative venues and a major retrospective was held at the Stedelijk Museum in Amsterdam in 1993. This ICA exhibition of paintings by Robilliard will allow audiences to reconnect with an artist who has been largely forgotten in the last twenty years.
Two group shows form part of the programme. For the first Everything Is Somehow Related (working title) (25 June – 7 September 2014), the ICA will invite international artists, theorists and writers to present artworks, events, moving image and talks throughout the building and online as a way to reflect upon how personal engagements with each other and our immediate surroundings can prompt a negotiation of the rapid societal change in recent years. The second group show will be held in autumn 2014 and will bring together around 10 contemporary painters from across the world to propose a new path for painting. The inspiration for Beware Wet Paint, the title itself taken from a quote by Duchamp, (22 September – 9 November 2014) was the ICA's collaboration with Thames & Hudson for the publication 100 Painters of Tomorrow, which will be published around the time of the exhibition.
During 2013 a dedicated programme for the new Reading Room has seen it become an important space for more intimate or archival presentations. Highlights during 2014 include a spotlight on Jane Drew (1911 – 1996), a British architect and educator whose pioneering work signalled a major shift from universal modernism to responsive and vernacular design; a selected exhibition of Artists' scrapbooks; a spotlight on Polish experimental artist and film maker Walerian Borowczyk (1923 – 2006); and a Reading Room 'take-over' during the Autumn by artist Julie Verhoeven.
The Talks and Events programme continues to draw high profile collaborations and will continue with popular strands such as Quick Fire, Culture Now, Friday Salon and Radical Thinkers. Highlights in 2014 include contemporary philosopher Graham Harman from the American University in Cairo.
Throughout 2014 the ICA partners with Dalston collective NTS Radio to present a series of unique live music events. Meanwhile dancer and choreographer Siobhan Davies and five dance artists will use the ICA Theatre space to create an experimental and participatory project, Table of Contents (8 – 19 January 2014), exploring the possibilities of archiving dance.
ICA's Artist Film programme will be extended across the UK, through a collaborative network with venues including Tramway in Glasgow, Turner Contemporary in Margate, MK Gallery in Milton Keynes and Cornerhouse in Manchester. In July, The LUX/ICA Biennial of Moving Images returns for a second edition with four days of film screenings and related events.
Other highlights in the Cinema programme include the London Short Film Festival, the Japan Foundation Touring Film Programme, Safar Film Festival, BFI London Film Festival and a return for the second year of ICA Off-Site: Cinema on the Steps.
About Mark Westall