R.I.P. Germain's forthcoming exhibition "Jesus Died For Us, We Will Die For Dudus!" will feature an ambitious newly commissioned, immersive, multipart installation that examines the complex logic of cultural gatekeeping within Black culture, and the (mis)perception of these dynamics in a wider (white) world. This exhibition continues the ICA's commitment to supporting artists in the early and pivotal stages of their careers, and forms part of a year-long 75th Anniversary programme.
For "Jesus Died For Us, We Will Die For Dudus!", the artist has developed a pair of hyper-real installations that resemble familiar retail environments for the Lower and Upper galleries, showcasing two distinct worlds that share parallel mechanics. One explores the tensions and enticements of a niche of Black culture – a statement jewellers catering to high net-worth clientele. The second represents a so-called peep hole – a false front retail space that disguises a drug operation. Both are 'baggy spaces' (a term coined with the writer Helen Starr), lawless or quasi-lawless spaces that exist in all cities that serve social functions and have distinct formal properties that allow them to operate legibly for those in the know, and yet remain under the radar.
The architecture and the objects that populate the installations build an immersive and convincing simulacrum of these real-world spaces that are little known beyond their spheres of immediate significance. Connected through notions of commerce and commodity as well as stereotypical Black identity, both spaces are matryoshka- like, with outer, publicly accessible layers that enfold the inner layers normally only accessible to a select few. The high-end jewellers' V.I.P. room is accessible to those with wealth; the inner sanctum of the peep-hole requires a different kind of capital, namely cultural know-how. In the gallery, however, we are all permitted to access the inaccessible – able to move through these otherwise highly managed and securitised retail spaces.
Seeking to limn the complex and opaque boundaries of these worlds, "Jesus Died For Us, We Will Die For Dudus!" offers a critical look at structures of consumption, but also an architecture through which to consider the objectification and consumption of Blackness itself, often elided in white discourse, which assumes a flattened plane of access for Black people to all aspects of Black culture.
R.I.P. Germain "Jesus Died For Us, We Will Die For Dudus!" Tuesday 21st February – Sunday 14th May 2023, ICA London 
Exhibition preview  6pm – 9pm  Exhibition preview  party 9pm – 11pm  Scary Things LDN (DJ set, ICA Bar)
About the artist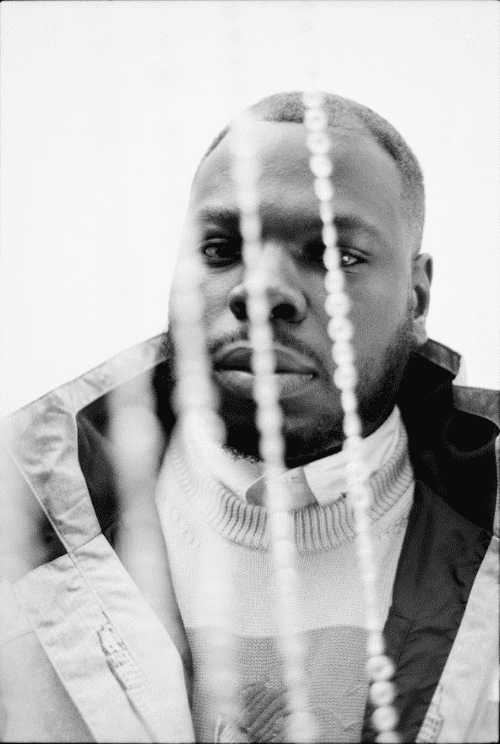 R.I.P. Germain's practice traffics in double meanings, deep resonances and a tension between accessibility and occlusion. Trickster and guide, he tries to dance a fine line: making work that speaks to deep truths without cheapening them with explanations or flattening them out for easy consumption. Sedimented with layers dense with cultural meaning and reference, the extensive research undergirding R.I.P. Germain's work draws from multiple genres of Black experience, history and culture – personal and collective, seeking to make art that is rigorous about his commitments and possibilities as a Black artist.
R.I.P. Germain has exhibited internationally and recent exhibitions include Cubitt 30, a group show presented by Cubitt at Victoria Miro in London, UK, The Exhibition Formerly Known As "Trace Image" at Deborah Schamoni, Munich, Germany, Shimmer, a solo show at Two Queens in Leicester, UK, Four Bedrooms With An En Suite, A Garage & Garden In A Nice Neighbourhood, a solo show at V.O Curations in London, UK, Supastore Southside, Slingbacks & Sunshine, a group show hosted by Sarah Staton at South London Gallery, Ways of Living #2, a group show presented by Arcadia Missa at NICO in Bari, Italy, Dead Yard, a solo show at Cubitt in London, UK, Double 6 with Ashley Holmes in the former courtroom at Leeds Town Hall in Leeds, UK, and Gidi Up, a solo show at Peak in London, UK. R.I.P. Germain was also the recipient of the ICA Image Behaviour 2021 prize, which culminated in his first short film mew premiering at the ICA in London, UK in 2022.
Categories
Tags