16th Nov – 13th Dec 2013, The Cello Factory, London SE1 8TJ
On 15th November 1913 Jacob Epstein coined the name for The London Group, Britain's longest-running artists' group.
A hundred years later to the day, +100 The London Group Today opens in the capital, a unique exhibition that connects Britain's leading contemporary artists to their historical counterparts. Each work on display is a response by a current London Group member to an early work by a past member.
The London Group
The London Group was set up in 1913 by thirty two artists including Robert Bevan, Henri Gaudier Brzeska, Jacob Epstein, Duncan Grant, Wyndham Lewis, Lucien Pissarro and Walter Sickert, with the aim of creating a powerful artist-run exhibiting body to act as a counter balance to institutions such as the Royal Academy. The founding group created a structure for a democratically-run organisation with a mentoring and exhibiting programme that has gone on to support the careers of many of Britain's best-known artists. Craigie Atchison, Frank Auerbach, Frank Bowling, Mary Fedden, Elisabeth Frink, Terry Frost, Barbara Hepworth, David Hockney, L.S. Lowry, Henry Moore and Graham Sutherland, and are among hundreds of British artists who, from their post- graduate years through to the height of success, have benefitted from membership of The London Group.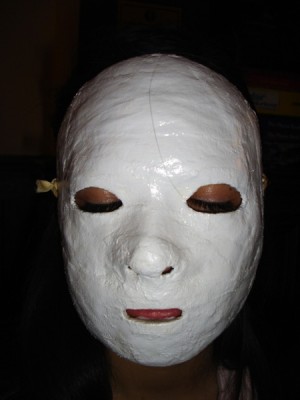 Marenka Gabeler responds to Barbara Hepworth 'Mask' 1928
"For a period of two weeks during my MA, I wore a homemade plaster cast mask of my face as a mask. My aim was to find out how being devoid of facial expressions affects the communication with others, and how it disrupts our sense of identity through self-image. During this period I kept a diary. In it I recorded reactions to my appearance in every day life. The Mask Project was the start of my on going enquiry into identity and loss of identity. It resulted in many works, amongst others an installation called, The Fire Place. This was acquired by Alison Jacques Gallery.

The picture in the +100 exhibition shows a moment of self-reflection captured when I was wearing the mask. The dark background and closed eyes invite you to an intimate, private space. Yet the mask itself forms a glossy, nearly sweaty barrier that deflects any access to the person behind it."

David Redfern responding to Jacob Epstein 'Flenite Relief' 1913
"As a young man Jacob Epstein was a courageous and innovative artist having to fight his corner against bitter opposition. His "Rock Drill", shown in The London Group's second exhibition in March, 1915, is, to my mind, one of the most impactal and important sculptures of the early twentieth century, using a found object (the drill itself) and celebrating Africa's tribal arts, building on the European developments of Cubism and Futurism at a time when British tastes were antipathetic. Furthermore, in The London Group's fourth exhibition in June 1916, Epstein exhibited "Torso" (Tate Britain), a bronze cast of the original plaster figure from the "Rock Drill", but hacked and mutilated with limbs removed, some say as a protest at the butchery of the First World War. Epstein pioneers and confirms my own use of found objects, reworking previous works and commenting upon issues of the day."
+100 The London Group Today 16th November-13th December 2013, The Cello Factory, 33-34 Cornwall Road, Waterloo, London SE1 8TJ Website: www.thelondongroup.com Open: Daily 2pm–6pm Admission: Free | Tube: Waterloo | Rail: London Waterloo East, Waterloo | Bus: 26, 76, 59, 68, 168, 171, 1
There is an AWESOME programme of events to coincide with the +100 exhibition:
Visit the website www.thelondongroup.com for more information.
Highlights:
Thu 21st Nov 7.30pm Harpsichord Recital of French and German Baroque Music by Pawel Siwczak. Doors open at 7pm Tickets £10 www.cellofactory.ticketsourse.co.uk
Thu 28 Nov 6.30pm Meet the Artists. Charlotte Mortensson, Erika Winstone, Genetic Moo and Suzan Swale will talk about their work and answer questions. Free
Tue 3rd Nov 6.30pm 'Uproar!' The first 50 years of The London Group. The Curators from Ben Uri will give a presentation about this concurrent exhibition. Free
Tue 10 Dec 6.30pm Question Time – A Panel Discussion. Come and join the debate as leading members of the London Group respond to questions from the floor. Free
Categories
Tags