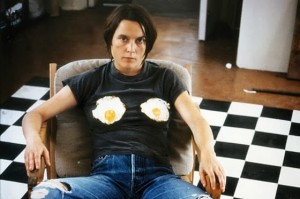 Sarah Lucas, Self Portrait with Fried Eggs, 1996. Tate. © Sarah Lucas, courtesy Sadie Coles HQ, London. Photo courtesy of Tate, London.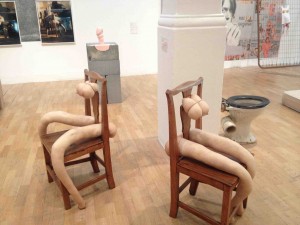 'Make Love' by Sarah Lucas © the artist, courtesy Sadie Coles
SARAH LUCAS : SITUATION
Supported by LOUIS VUITTON
2nd October – 15th December 2013, Galleries 1, 8, and; 9, Whitechapel Gallery, Whitechapel High Street London, E 1 7QX
Racy imagery, tongue-in-cheek euphemisms, feminist interpretations and breath-taking sexualistion of everyday objects in Lucas' work, is all brought together in a stunning retrospective of her entire collection, enabling "Situation" to bring something to the table for every visitor. For both a first time viewer or avid fan of Lucas' work, this exhibition is thrilling and tantalising, even coming with its own precursory warning of explicit content on the gallery wall: "The exhibition contains sexually explicit materials and is not recommended for children." Sculptures, photography, mobiles, audio and imagery are shown together, haphazardly displayed in the gallery space, allowing an exciting, enthused and almost interactive experience of Lucas' work, demonstrating her talent as one of the most important artists of her generation.
The downstairs gallery boasts numerous triumphs of her early works; Sarah Lucas (b.1962) attended Goldsmiths College alongside Damien Hirst and Gary Hume, where her approach to materials and subject developed to include household objects and erotications of the body. Her art attempts to deconstruct the misogynistic culture she experienced in the 1990s, and at art school. Her most prolific examples are on display here, most notably the iconic "Two Fried Eggs & a Kebab" in which Lucas appropriates ubiquitous food items, arranged on a wooden table, to represent the objectification and frank sexualisation of the female body. The eggs and kebab, translated into womens' breasts and genitals, alongside the table, it's table top and four legs used to demonstrate the body and four limbs of a female human, result in a undeniably confrontational sculptural portrayal of 'woman as object' and the sexism Lucas felt as a young female artist.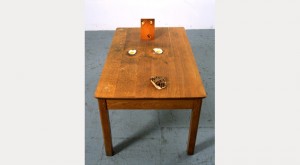 Sarah Lucas, Two Fried Eggs and a Kebab, 1992
© the artist. Courtesy Sadie Coles HQ, London
Other sculptural examples of her early works are also displayed downstairs; phallic sculptures, toilets, sofas, beds and stuffed nylon tights litter the floor-space, interspersed with huge tabloid collages, which act as a satirical comment on the perversities of journalism. The stuffed tights sculptures feature throughout Lucas' oeuvre and again reference the sexual female body in their splayed, open positions and highlight her use of disposable household objects. The tights in particular are erotic and diverse, featured over and over in her work, as with her cigarette covered sculptures, of which sadly only a few collages are featured in the upstairs gallery. The phallic sculptures and motioning 'wanking hands' offer another side of her art, highlighting the misogynistic authorship of the art world. Further, the toilet sculptures also draw on art history, recalling Marcel Duchamp's "Fountain" 1917, the first artistic 'found object'.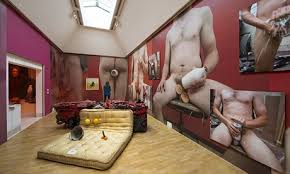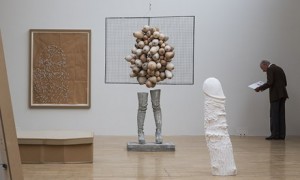 Upstairs her later work is displayed in two further galleries, one entirely dedicated to photographs of giant male torsos, their phalluses reduced to edible objects; masculinity is simultaneously worshipped and deconstructed. These have been compared to Francis Bacon's "Studies for a Crucifixion" (1944) by the curatorial comments. Further recent works upstairs show an extraordinary change of tempo, with small bronzes, crushed cars, collages and her huge phallic and breasted statues shown in close context, transforming and celebrating polymorphous sexuality. This upstairs space contrasts dramatically to the lower room, indicating Lucas' development as an artist.
This is Lucas at her best. "Situation" has somehow captured her personality, her humour and her abject feminist stance. Lucas worked alongside the Whitechapel, and her involvement in the exhibition has really paid off. The viewer becomes completely immersed in her work, literally surrounded by it. "Situation" is exciting, thoughtful and a rightful celebration of a fantastic British artist.
www.whitechapelgallery.org
– words by Kimberley Brown
Categories
Tags