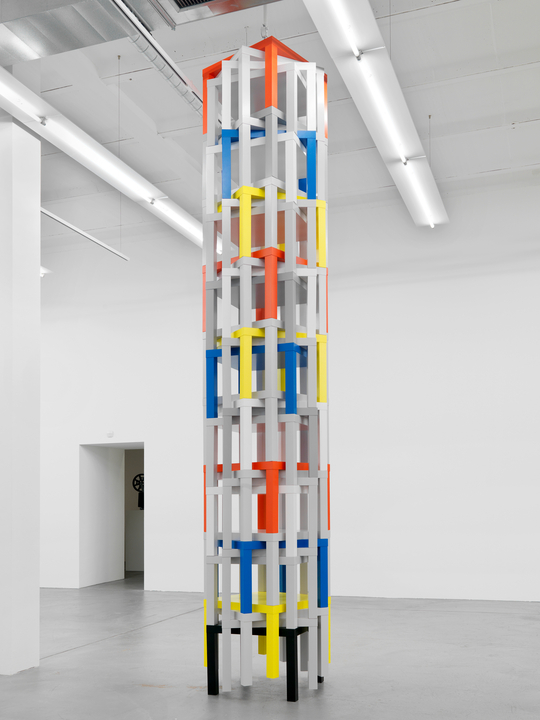 Ryan Gander, Samson's push, or composition with colours, 2010, Courtesy the artist and Lisson Gallery

Tony Cragg, Minster, 1987, Rubber, stone, wood, metal © the artist; Courtesy, Lisson Gallery,

Richard Deacon, Tall Treet in the Ear 1984, Galvarised steel, laiminated wood and canvas, Courtesy the artist and Lisson Gallery

Julian Opie, Abstract Composition with Pritchards, 1984, Oil paint on steel, Courtesy the artist and Lisson Gallery

John Latham, Red, Green and Yellow, 1967, Paint on white cotton duck. Courtesy John Latham Estate and Lisson Gallery.jpg

Haroon Mirza, Preoccupied Waveforms, 2013, Courtesy the artist, New Museum, New York. Photo Jesse Untracht Oakner

ART&LANGUAGE, one of Ten Posters, 1977, Silkscreen. Courtesy the artist and Lisson Gallery

Ceal Floyer, H20 Diptych, 2002, Two monitors, two DVDs, 2 dvd players, Silent, 60. Courtesy the artist and Lisson Gallery

Anish Kapoor, Untitled, 2009, Stainless steel, Courtesy the artist and Lisson Gallery

Angela de la Cruz, Loose Fit XXXI (Dark Blue), 2004, Oil on canvas. Courtesy the artist and Lisson Gallery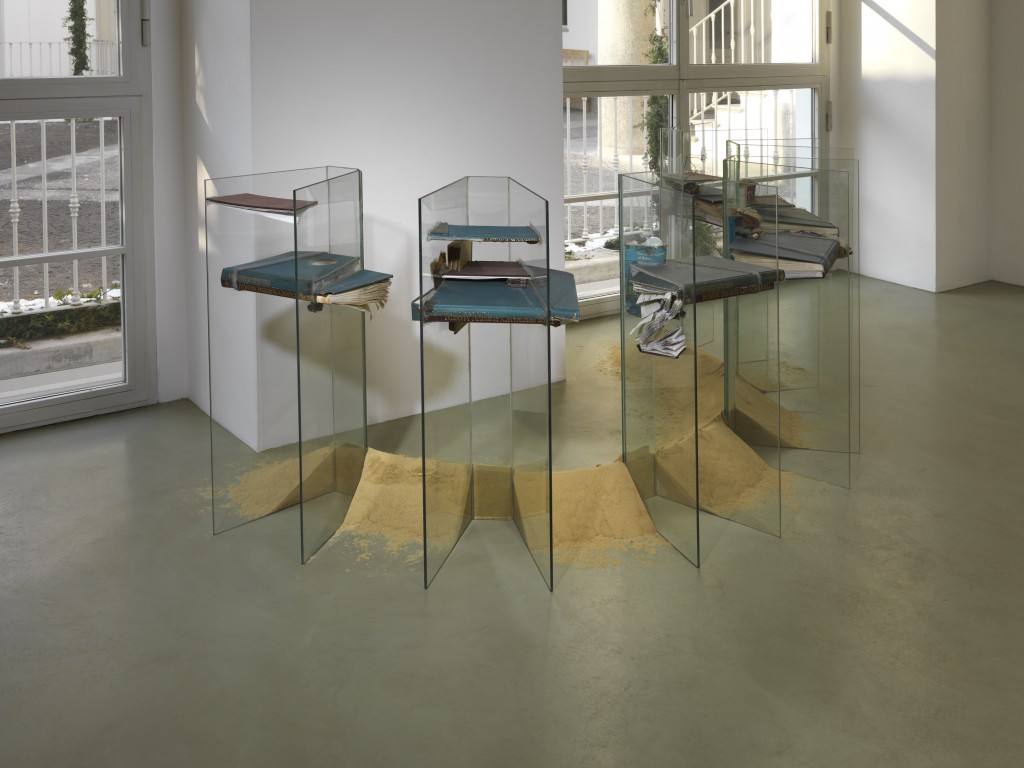 LATH910014 Courtesy the artist and Lisson Gallery

Richard Wentworth, detail of Flight (Two Storey Rorschach), 1999, Ceramic Plates, steel pins. Courtesy the artist and Lisson Gallery
14th November 2013 – 11th January 2014 Lisson Gallery 27-29 Bell Street, London, NW1 5BY www.lissongallery.com
Artists
Art & Language, Tony Cragg, Angela de la Cruz, Richard Deacon, Ceal Floyer, Ryan Gander, Shirazeh Houshiary, Peter Joseph, Anish Kapoor, John Latham, Richard Long, Jason Martin, Haroon Mirza, Jonathan Monk, Julian Opie, Richard Wentworth
In advance of its 50th anniversary in 2017, the Lisson Gallery is staging a retrofuturistic survey of historical and contemporary British sculpture and installation that questions where the lines of time, influence and artistic inspiration could be drawn or where they might ultimately lead. Originally staged in São Paulo earlier this year, as Nostalgia para o futuro, this newly-configured exhibition celebrates the multigenerational programme of the gallery, ranging from its representation of significant British sculptors from Anish Kapoor and Richard Wentworth to a younger generation that includes Angela de la Cruz, Ceal Floyer, Ryan Gander and Haroon Mirza.
The show takes its name from a 2006 text work by Jonathan Monk, another of the Lisson Gallery's 44 represented artists (16 of whom are included here), which spells out the words NOSTALGIC FOR THE FUTURE in projected green laser-light writing. Evoking the creative tension between past and potential possibilities of the creative imagination, many of the 35 works in the show are twinned with earlier or later examples by the same artists, subconsciously pairing different stages of their practices across the decades. The radical underpinnings of Art & Language, for instance, as seen in a propagandistic series of Ten Posters from 1977, are juxtaposed with two later works dealing with the suppression of information in abstract painting – yet the notion of an anonymous author remains constant.
Early examples of the revolutionary assemblages of found objects by Tony Cragg will be on display, as well as a painted steel work by Julian Opie titled Abstract Compositions with Pilchards (1984), both of which look ahead to the equally systemic and primary-coloured construction of stacked IKEA tables by Ryan Gander, Samson's Push, or Compositie (2010). In addition to the visual push and pull of works throughout the show, the interplay between artists is equally strong in terms of their personal and professional relationships with one another. Many of these artists have become close friends during their time at the gallery or even taught or mentored colleagues who have joined more recently, strengthening the synergy between the gallery's origins, its present manifestations and its future incarnations.
The inaugural iteration of this morphing, touring show, Nostalgia para o futuro (2-21 April 2013 at the Centro Brasileiro-Britânico) marked the first major presentation of the gallery's programme in Brazil, alongside its presence at São Paulo's art fair, SPArte.
It was also part of the gallery's sustained curatorial activity beyond its established spaces in London and Milan, known as Lisson Presents, which has also recently initiated projects in Venice, for Ai Weiwei and Shirazeh Houshiary, and Beirut, where the Lisson Gallery collaborated on an international group show, The Magic of The State, which opened concurrently in London.
14th November 2013 – 11th January 2014 Lisson Gallery 27-29 Bell Street, London, NW1 5BY www.lissongallery.com
Categories
Tags