Faye Green was announced as the winner at London Newcastle
Converse and Dazed & Confused have announced FAYE GREEN as the winner of the Converse/Dazed 2013 Emerging Artists Award with the Whitechapel Gallery. FAYE GREEN receives the first prize of £6,000, awarded by an esteemed judging panel that this year comprises; gallerist Sadie Coles, ICA curator Matt Williams, Turner Prize-nominated artist Paul Noble, arts journalist Miranda Sawyer, firstsite curator Michelle Cotton, Whitechapel Gallery curator Kirsty Ogg and Dazed & Confused visual arts editor Francesca Gavin.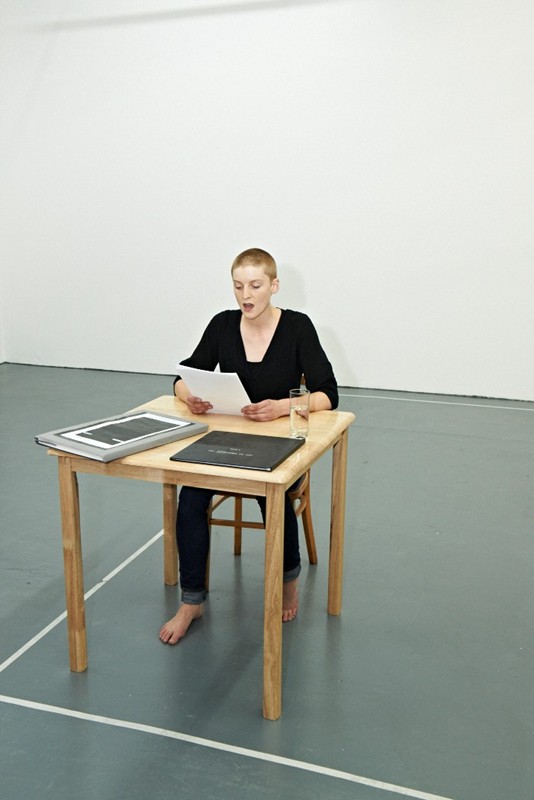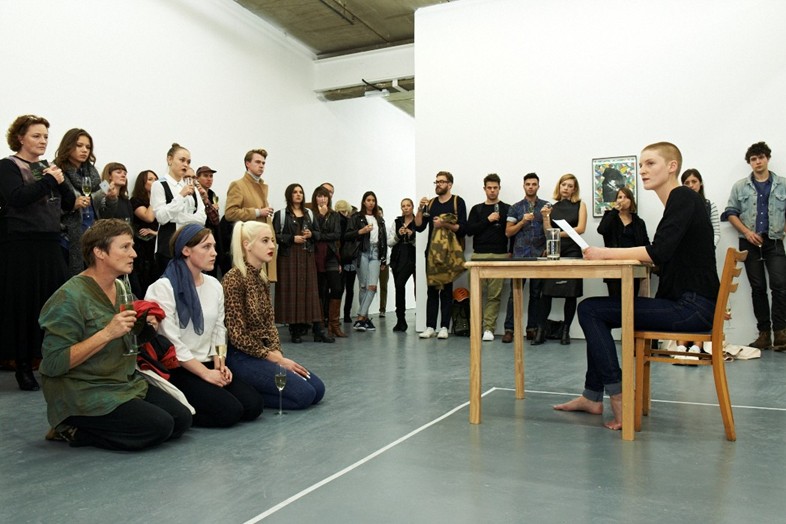 The shortlisted artists created site-specific works that are on display from October 26th to November 6th in a group show at the Londonewcastle Project Space, curated by Dazed contributing visual arts editor Susanna Davies-Crook. The winner was announced at a private view of the exhibition.
THE WINNER: FAYE GREEN Faye Green's newly penned associative score investigates the body in the text. Influenced by Charcot's synoptic tables of the stages of hysterical attack, her combination of voice and dance sees words find form through psychically charged performance. The carefully choreographed piece investigates interplay between discourses through embodied research into the performative operation of text.
THE REST OF THE SHORTLIST:
ADHAM FARAMAWY Adham Faramawy's sculptural works combine software-generated images, performance, sound and painting. Textured pixel-reminiscent wall-works rub up alongside smooth liquid gloss animated imagery. Everyday consumer TVs are propped up for the display of saturated surfaces that lilt seductively through influences from the Internet to the mediated body.
CHRISTIAN NEWBY Christian Newby draws on personal experience and close-to-home domestic nuance to create objects, prints and interrelated imagery that blend in time-tinged nostalgia. Newby interrogates the subjectivity of his objects, unpicking pattern, making an example of decor and pushing the plasticity of everyday ephemera.
JOEY HOLDER Joey Holder's constellatory consciousness coagulates into viscose multimedia installations that fuse the natural and synthetic world. In The Cold Blooded Alternative she uses snakeskin, projection beam and polyurethane to construct the environment for her ostentatious piece of furniture inspired by the 1960s design group Archizoom.
BEN WASHINGTON Ben Washington makes virtual environments that sprawl out into white-walled "reality", creating a feedback loop of mutually informing interiors. Influenced by first-person computer games, he invites the viewer to unfold sedimentary stages of experience and embark on a solo journey. Worlds collide as the "player" disappears through portals and sees things from a new angle.
About Mark Westall