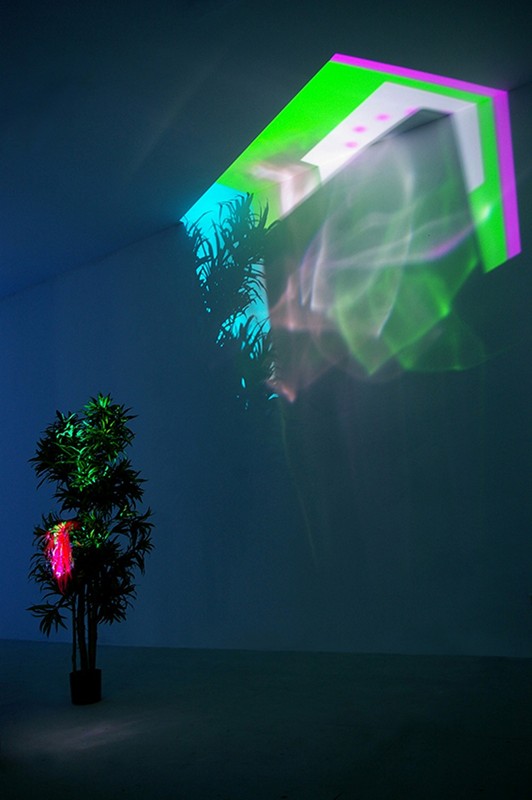 JOEY HOLDER'S LIGHT PROJECTION ART Eating a tube anemone Joey Holder
The Converse/Dazed Emerging Artists Award 2013 in partnership with the Whitechapel Gallery announces shortlist and exhibition
Converse and Dazed have announced the artists shortlisted for the Emerging Artists Award. This year the prize received over 1600 entrants, more than ever before and an increase of over 47 per cent on last year.
There are five shortlisted artists, who receive £1,000 and will be exhibited this autumn – in comparison to four artists last year. This increase signals Converse's renewed support for emerging talent and its continued commitment to support the next generation of artists. Year on year, the prize has grown in prestige since it began four years ago. A respected part of the UK's art scene, it is the go-to prize for artists looking to develop their careers and gain exposure.
The winner will be the recipient of £5,000. This year's shortlisted artists are:
Joey Holder, Ben Washington, Adham Faramawy, Faye Green, Christian Newby
Read more about the artists here.
The shortlist was deliberated over by an esteemed judging panel: gallerist Sadie Coles, ICA curator Matt Williams, Turner Prize-nominated artist Paul Noble, arts journalist Miranda Sawyer, firstsite curator Michelle Cotton, Whitechapel Gallery curator Kirsty Ogg and Dazed & Confused visual arts editor Francesca Gavin.
The exhibition will be held at the Londonewcastle Project Space and will comprise never-before-seen works created by the shortlisted artists specifically for the show, which will open to the public October 25th.
28 Redchurch Street Shoreditch London E2 7DP
ABOUT THE CONVERSE / DAZED EMERGING ARTISTS AWARD:
Converse / Dazed & Confused Emerging Artists Award is now in its fourth year, with sights set on discovering the best new artists in the UK. The aim is simple: to support burgeoning talent at the moment that it needs it most. The award has a strong track record in discovering new artists: last year's winner, RCA graduate Samara Scott, has had a busy and successful 2013 with solo shows at Sunday Painter and Almanac Projects, 2011 winner Richard Parry has exhibited at Bloomberg SPACE and 2010 winner Peter Ainsworth has worked with rhizome.org. It is not just the winner who benefits from the prize funds and the exposure– the Emerging Artists alumni also includes the now very successful Francesca Anfossi, Steve Bishop, Laura Buckley and Jess Flood-Paddock.
Categories
Tags