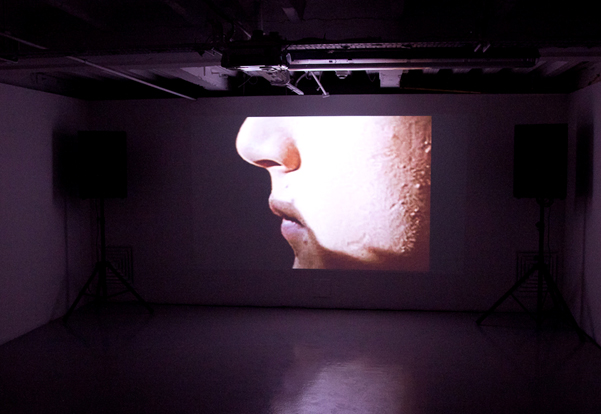 Jack Stanton, still from The Sad Truth (2013)
The Saatchi Gallery & Channel 4 have announced the winner of the 2013 New Sensations Prize, Jack Stanton. The judges have also awarded a Special Commendation to Rosie O'Grady. The winner of the Absolut Originality commission, a new element of this year's Prize, is Philippa Kuligowski. (Read FADs Q & A with Philippa HERE)
Jack Stanton graduated this year from the Ruskin School of Drawing and Fine Art, Oxford University. His work involves narratives of adolescence, combining audio, often composed by himself using sampled material, and found and self-generated imagery.
Rosie O'Grady completed her BA this year at the Glasgow School of Art. She works with film to explore confusions between historical fact and fantasy, and was shortlisted for her film of a real camel wandering through the corridors of the Mackintosh building at the Glasgow School of Art.
Philippa Kuligowski, also a graduate of the Glasgow School of Art, explores the relationship between perception and speculation in her films. For this year's Absolut Originality commission she made a new film inspired by the distinctive blue of the Absolut bottle, bringing together a seamless trail of images from an Yves Klein performance to the Duchess of Cambridge's engagement announcement dress. (Read FADs Q & A with Philippa HERE)
The works of these three winners were shown at the New Sensations exhibition, along with works by 17 other shortlisted artists. The exhibition, which was on during Frieze Week in London, is now available at Saatchi Online: www.saatchionline.com/newsensations
New Sensations was launched in 2007 to find and support the most imaginative and talented artists graduating in the UK and the Republic of Ireland.
The judges for this year's New Sensations Prize were the artists Adam Broomberg and Oliver Chanarin; Nick Hackworth, founder of Paradise Row, London; Ossian Ward, Lisson Gallery, London; Tabitha Jackson, Commissioning Editor, Arts, Channel 4; and Rebecca Wilson, Chief Curator, Saatchi Online, and Director of the Saatchi Gallery.
Categories
Tags