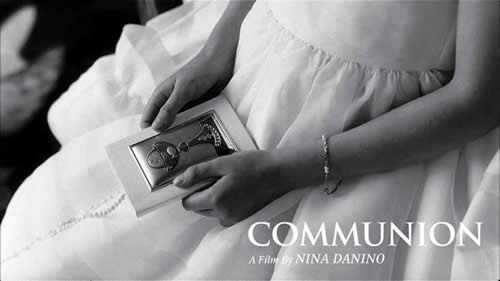 Artprojx Cinema presents Nina Danino COMMUNION 35mm, 10 mins (2010) a film installation
Thought's sparked from Tabish's article
Tabish is right about duration, distractions and some other details.
I think that whilst there maybe ever-more artists making film/video and the technology is making it better quality, far easier and cheaper, the galleries and their booths at art fairs are showing ever-less and noticeably more so during a financial down-turn – there is a focus on the 'shifting of product', as one well known art dealer called 'art' recently.
Galleries are showing ever-less, as it is seemingly a very difficult 'commodity' to 'shift'. My view is that the moving image, the installation and the live event are a true kind of 'last bastion' of pure art, where it remains 'art', fairly untainted by commercial attributes, it is not easy to sell, own, view or digest easily … marvellous.
'Video Art'/ 'Artists' Film' / Moving Image is often used as a vehicle for art world entertainment or a lure, to show how exciting, current, cool, modern, new media savvy we all are – but more often than not the main stakeholders in the artists career, are unwilling to find budgets to screen artists works properly, promote it well and worse still, not invest in the artists' future projects. Most artists have to find the means by themselves to make their work, however usual percentages are taken when the work is finally sold. So the value chain here is unclear.
With regards to what makes a work great – I would say it is the charisma, magic, chemistries and passion in a work. When these shine through – it results in an audience, peer and critical approval. The added 'je ne sais quoi' of an art work is its charisma, it can hardly be taught (that is skill), as it is that added magic that only certain (great) artists have. Charisma is very hard to show on a monitor in a gallery or in plethora of booths and the sometimes cloth covered entry points during art fairs etc.
My work is often connecting to and collaborating with a screening project, either via the artist or their gallery and to enable an audience to understand directly what they are coming to and that the environment is suited to them sitting for lengthy periods, basically managing expectations where possible and sometimes surprising people too. This is made simple in the context of the cinema, as they are designed for viewing film, and our now cultural awareness and expectations in these places are durational, to be focussed, observational, as well as suspending our reality and allowing fantasy to reign. However, there are always exceptions to rules – and some works are simply made to have fleeting glances at them and thus the looped film rears its complicated head.
I had hoped by now in this decade that the 'cinema' would be host to regular artists screenings and that there would have been a box office revolution and we would now be in a nirvana of artists earning money via ticketing or even downloads (akin to music concerts/Hollywood film screenings and online music purchase) and not dependent on ownership, sales and complex public funding.
In reality, there is not yet wide and unlimited interest in artists moving image, as it remains a medium that is not mass commercial entertainment, and that is also a really huge relief. Whilst we want the largest number of people to see works we show or make, art as magical rarity, unique and the unfathomable is where much of its value lays. We are living in a wonderful changing world, with our digital revolution in full swing. Our expectations are ever changing and evolving, our viewing habits are shifting and accommodating new technologies.
Therefore the unwritten rules that govern art making and viewing are ever changing. Where tv, cinema, digital, ad agency and new media companies adopt, emulate and poach artists ideas, aesthetic and approach – great and emerging talented artists will change direction and break ground elsewhere.
David Gryn / Artprojx
Artprojx, founded and directed by David Gryn, screens, curates and promotes artists' moving image, working with leading contemporary art galleries, museums, art fairs and artists worldwide. Current projects include:
Artprojx presents Nina Danino's Communion at Heath Street Baptist Church, Hampstead, London 12-23 October 2013
Curator Film – Art Basel in Miami Beach Dec 2013;
Curator of the current Artist Focus series 2013-14 at ZARYA Contemporary Art Center, Vladivostok.
For more information:
David Gryn, Artprojx
www.artprojx.com
davidgryn.wordpress.com
Categories
Tags