Last week, after only three years, designjunction became the most talked-about event on the LDF schedule, (and my favourite). For the second year it took over the Old Sorting Office on New Oxford Street, where 120,000sq ft over four floors housed exhibitors from around the world.   As well as established designers, it also brought a healthy mix of exciting new brands to peruse while wandering through the quirky open plan Sorting Office.
Camberwell Collective, made up of 8 recent 3D design graduates from Camberwell College of Arts showcased their final project of work. The objects and creations explore the themes, concepts, processes and materials that reflect their personal approach to the 'designed object'.  Materials such as ceramics, leather and wood have been applied to innovative furniture, home-wares and luxury goods as part of their debut into the professional design world.
Harry Owen's leatherwork: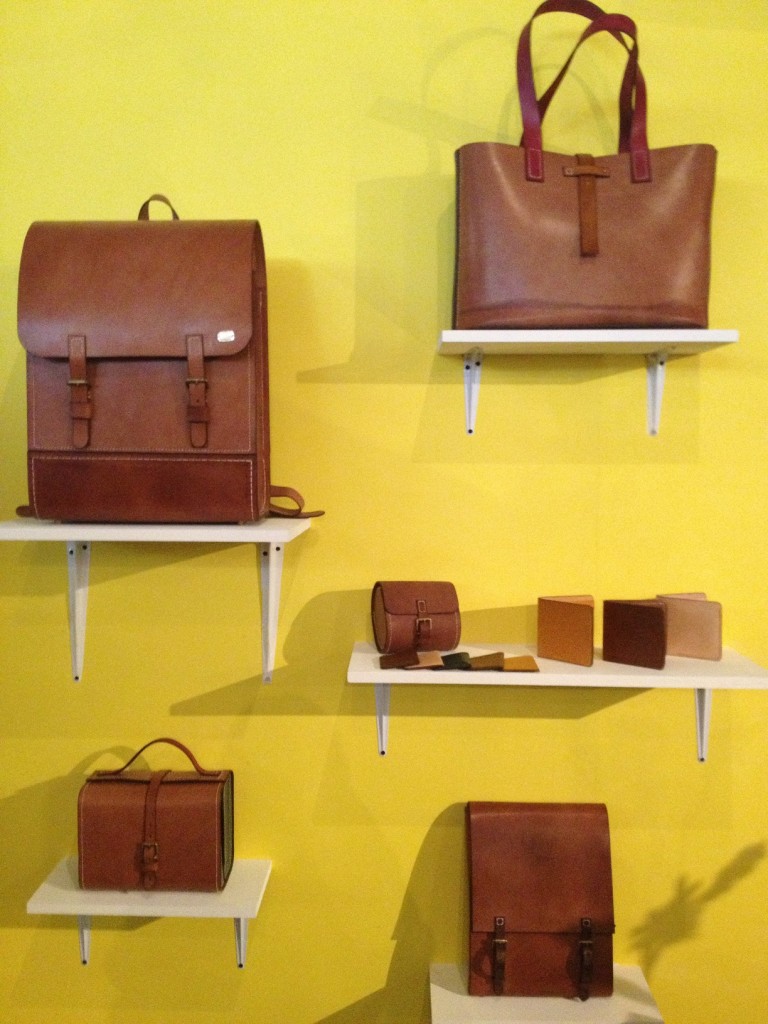 Nick Brennan's innovative Sound Pegs, where one can turn anything into a musical instrument: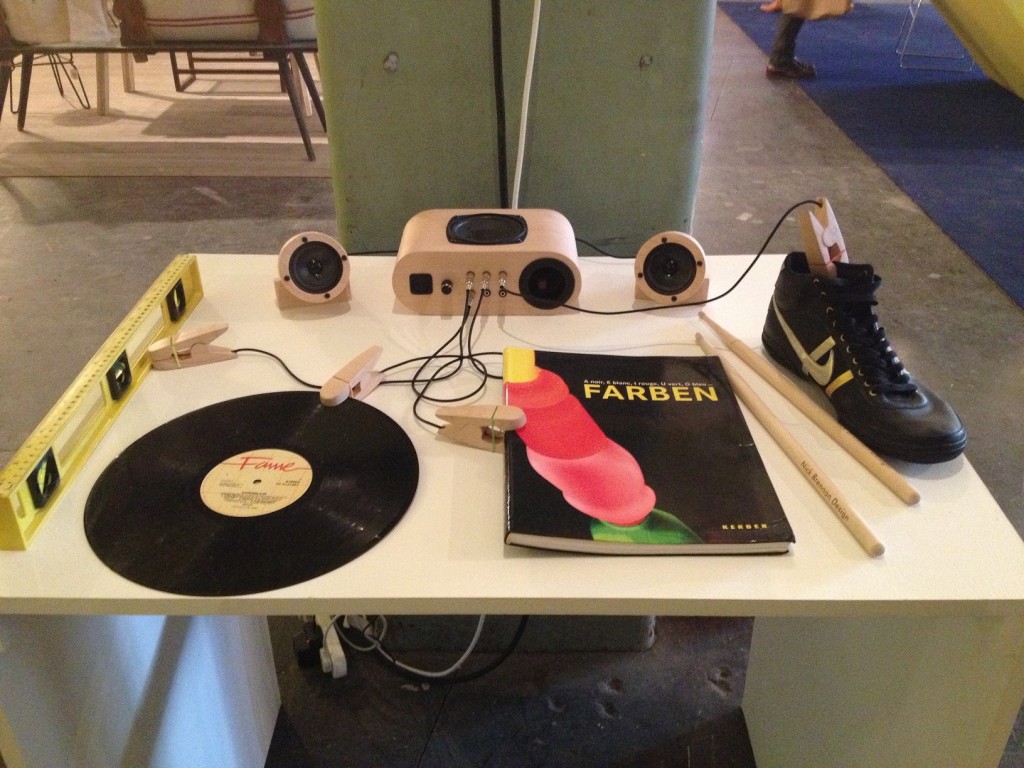 Engagement and interaction seemed to be a common theme of this year's show. Another inventive and interactive stand was "Money" by Hyundai Card, a Korean credit card company; an area that encouraged guests to involve themselves and experience contactless cards to learn more about the brand. They were giving out free cards complete with RFID chips, which you could scan in front of  machines to print out a paper receipt with more information about the design of the card.  It looked at the company's reinvention of the credit card into a meticulously designed object of desirability.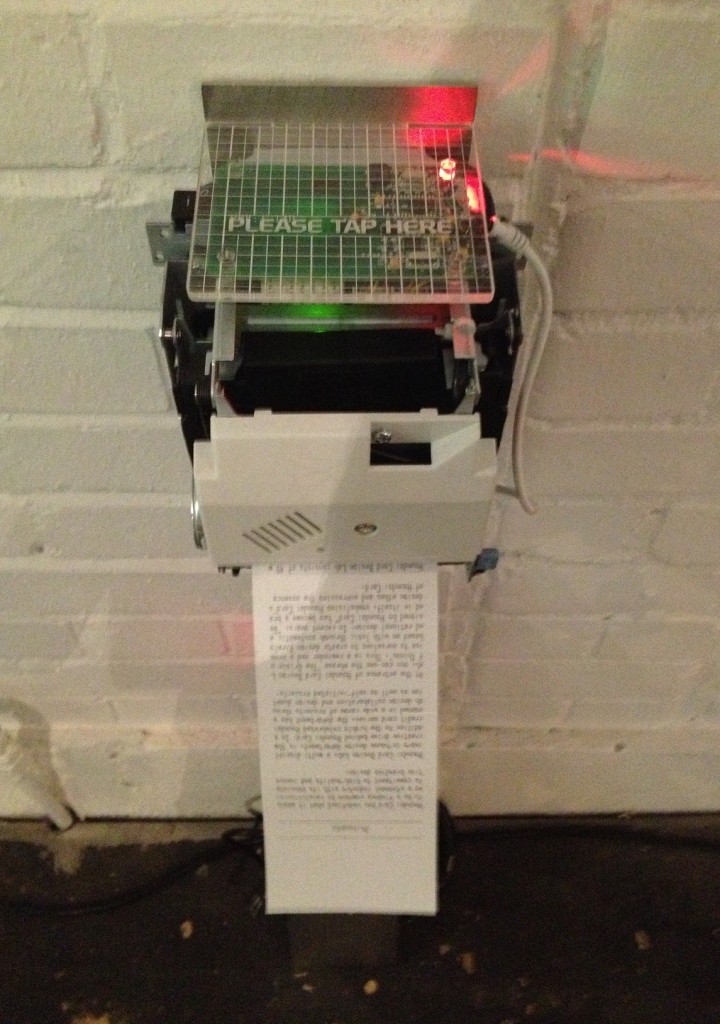 This year brought the launch of lightjunction, where visitors could view the lights themselves, meet the manufacturers and designers, and learn about the brand.  A carefully curated showcase of leading international lighting brands, offered beautiful and practical designs. Cameron Peters, UK based experts in specifying decorative lighting, partnered with designjunction to launch this ambitious venture.
Brighton based company Woodstar had an impressive collection of curved, circular and spherical work in wood and wood-based products.  These unique sculptural centrepieces and wall lights are an environmentally sensitive; the main inspiration being the material they are made from.  Spiral wall mounted, seen below, is made from crown cut ash.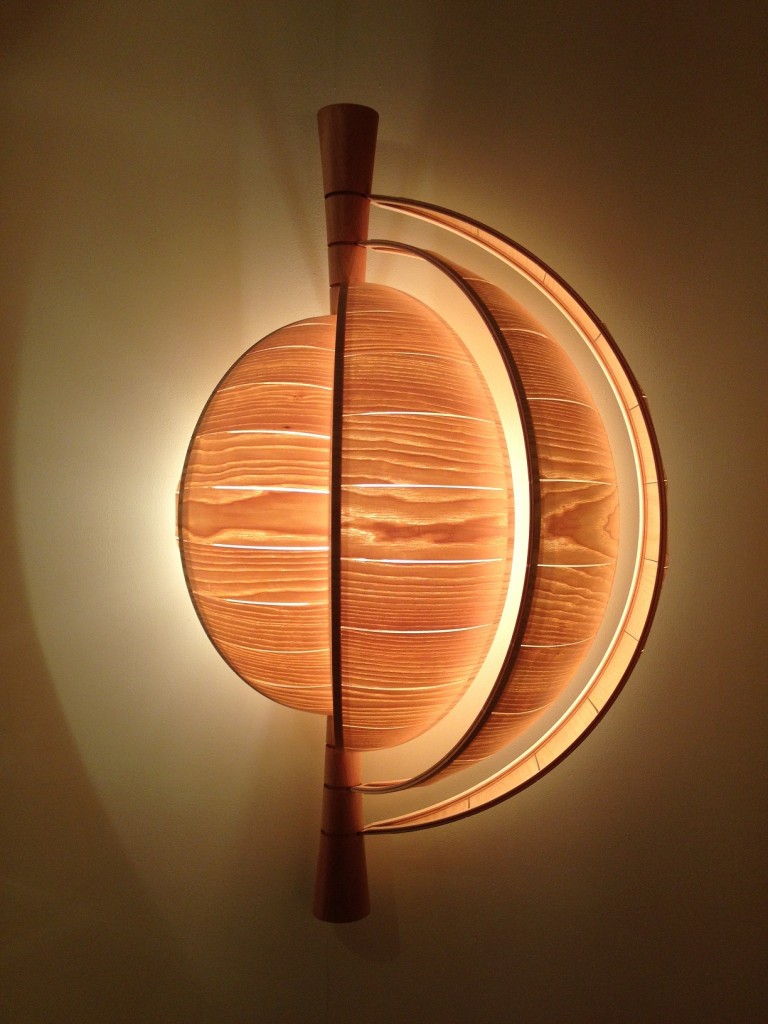 "Ripple", by Poetic Lab, is a project that studies the beauty of glass textures.  A focused beam of light is projected through a gently rotating mouth-blown glass dome.  The shadows and light-forms produced are breathtaking, creating ever-changing patterns.  ShiKai Tseng is a Taiwanese designer based in London.  Influenced by oriental culture and with a western spirit of adventure, his works are experimental and exciting.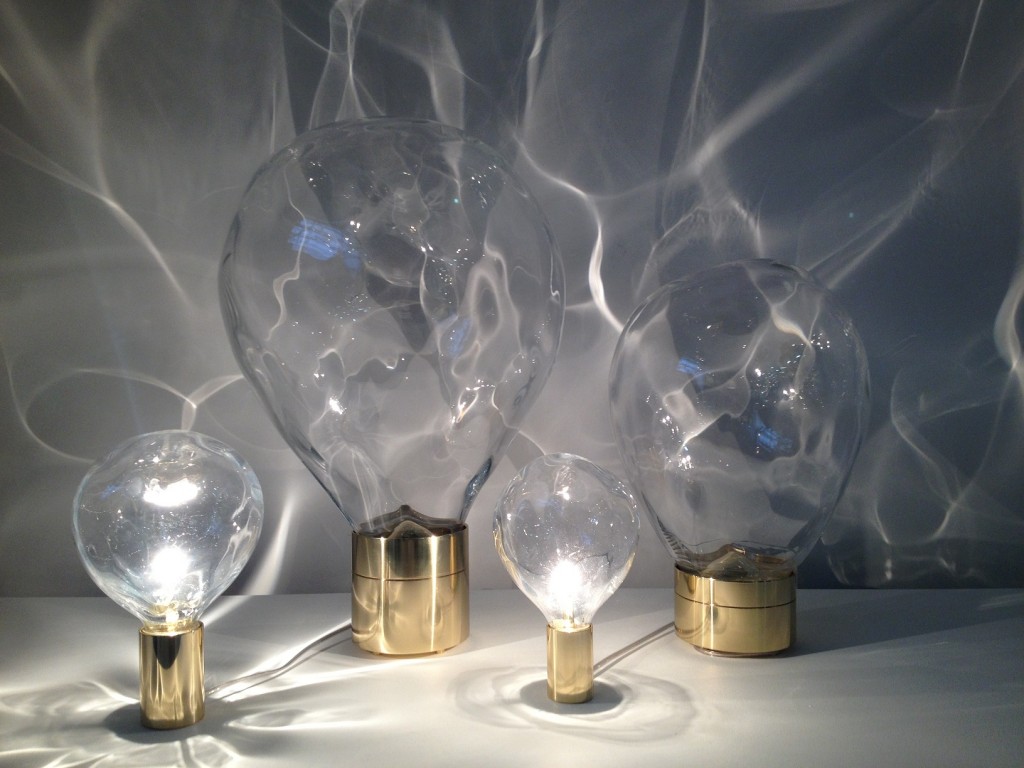 LZF was established nine years ago in a small studio in Valencia. The collection "High Fidelity" consists of spectacular hand-made wood veneer lamps.  Their concept is based on the belief that one must play and experiment with light in order to create the right settings and ambiances which will allow the user to create unforgettable moments in their lives.  The lights are wildly imaginative, playful and create wonderfully sculptural clusters when installed in multiples.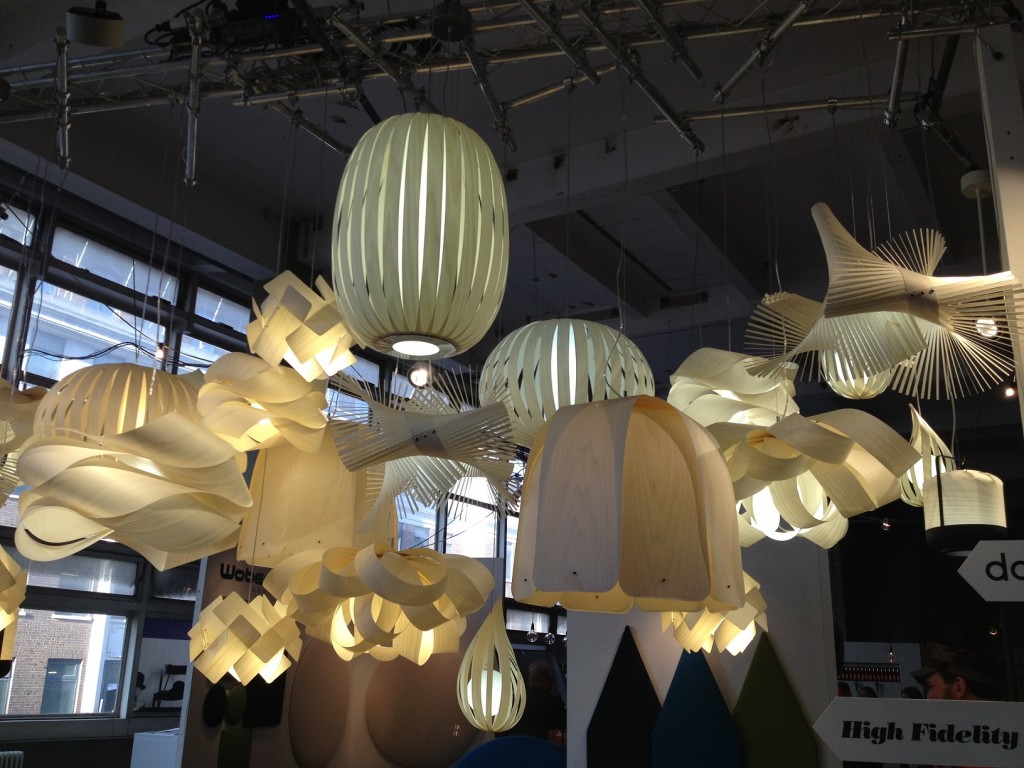 Another impressive clustered lighting installation was by Verona-born company Melogranoblu.  Part of the Hydra Collection, shining Sigma blown glass delicately hung on long silk coloured fringes, taking us back to the spirit of the first decades of the past century. The high quality, refined design and uniqueness of Massimo Crema's and Ermanno Rocci's products continue to be a source of inspiration for both the UK and international design communities.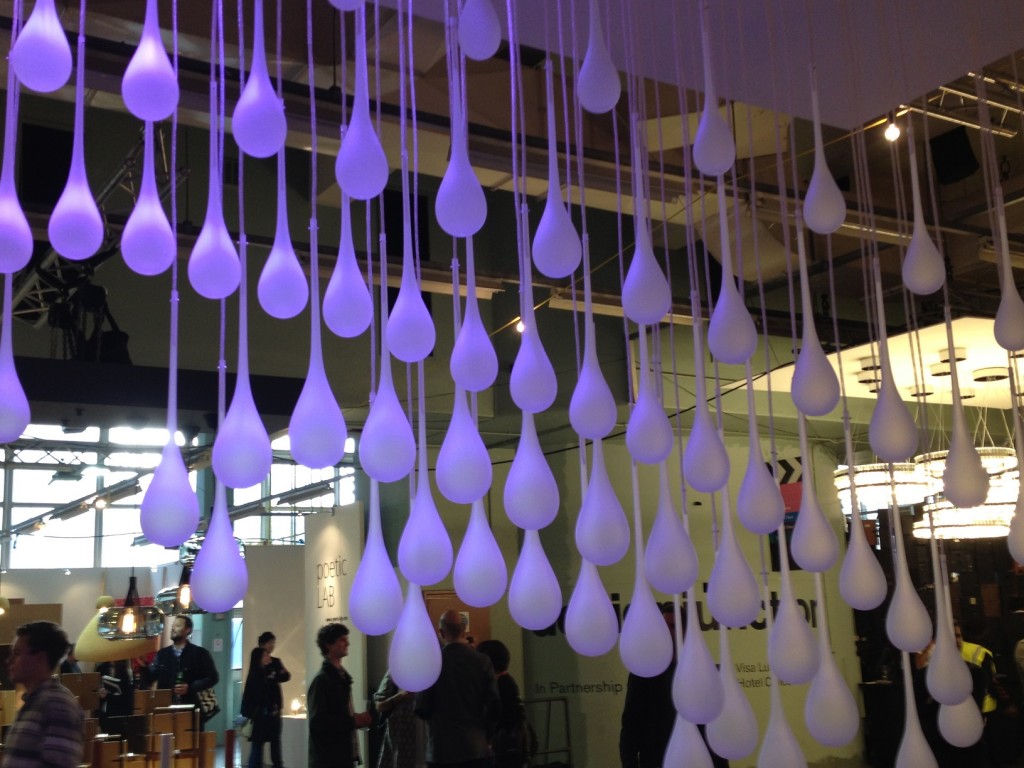 Other innovative lighting collections included Holloways of Ludlow's colourful display of David Trubridge's work; Muffin lights by Czech manufacturer Brokis; the elegant glass blown creations by Hertford studio Rothschild & Bickers; and the new Foldability collection from multidisciplinary East London design studio, run by Kyla McCallum.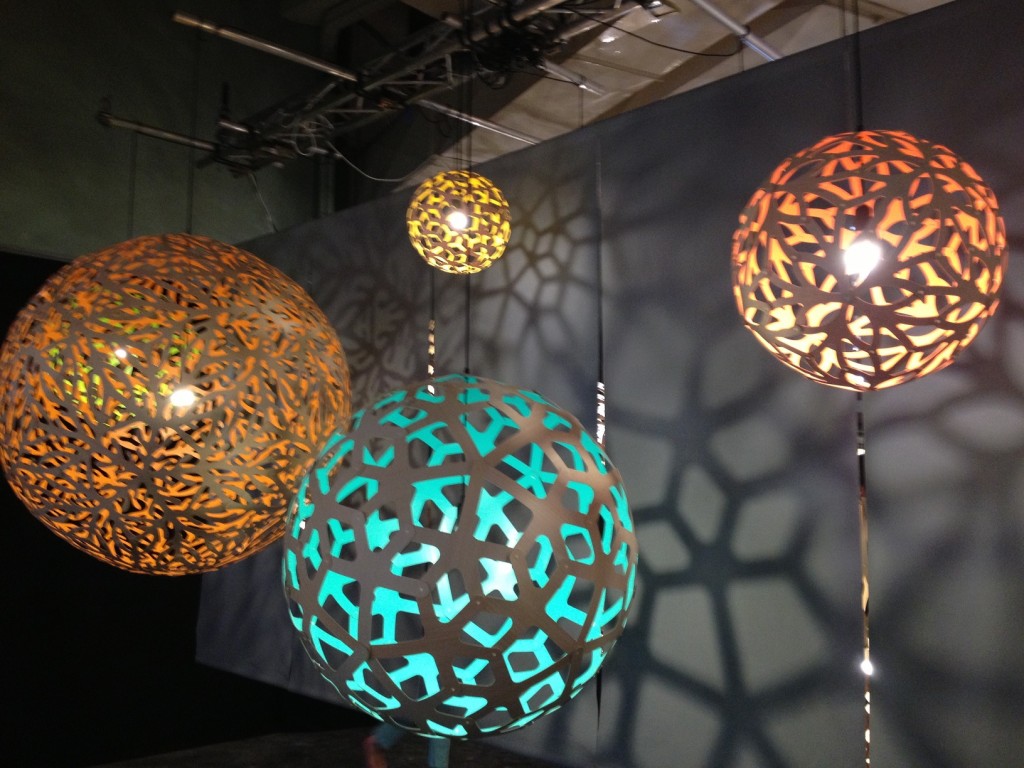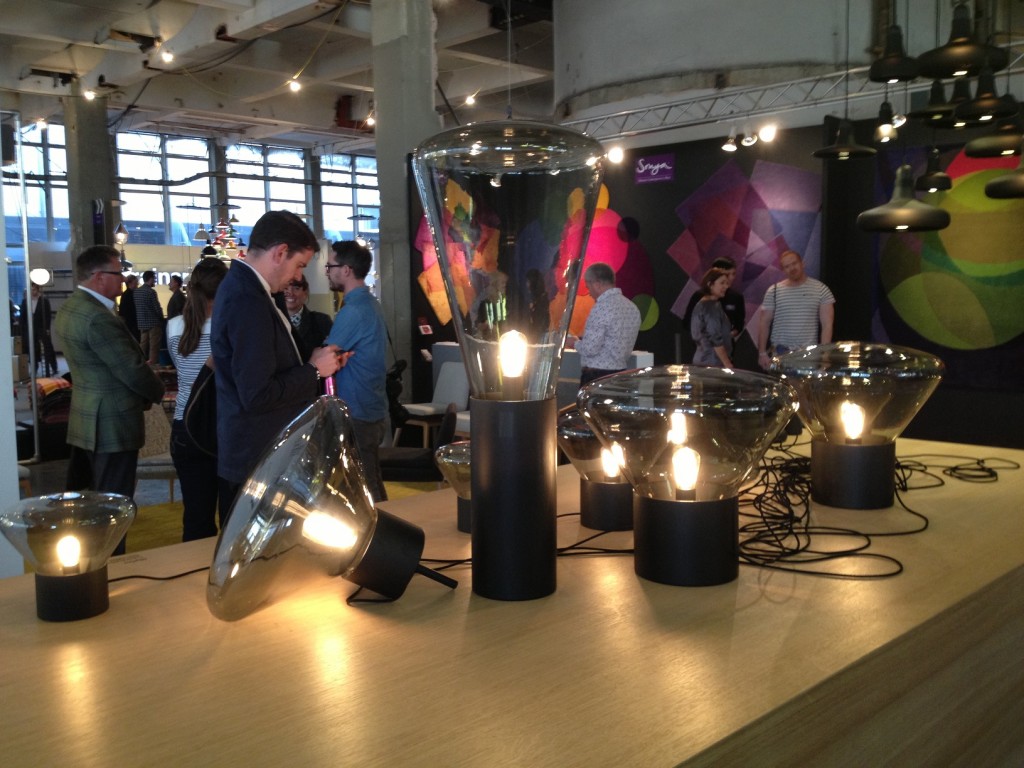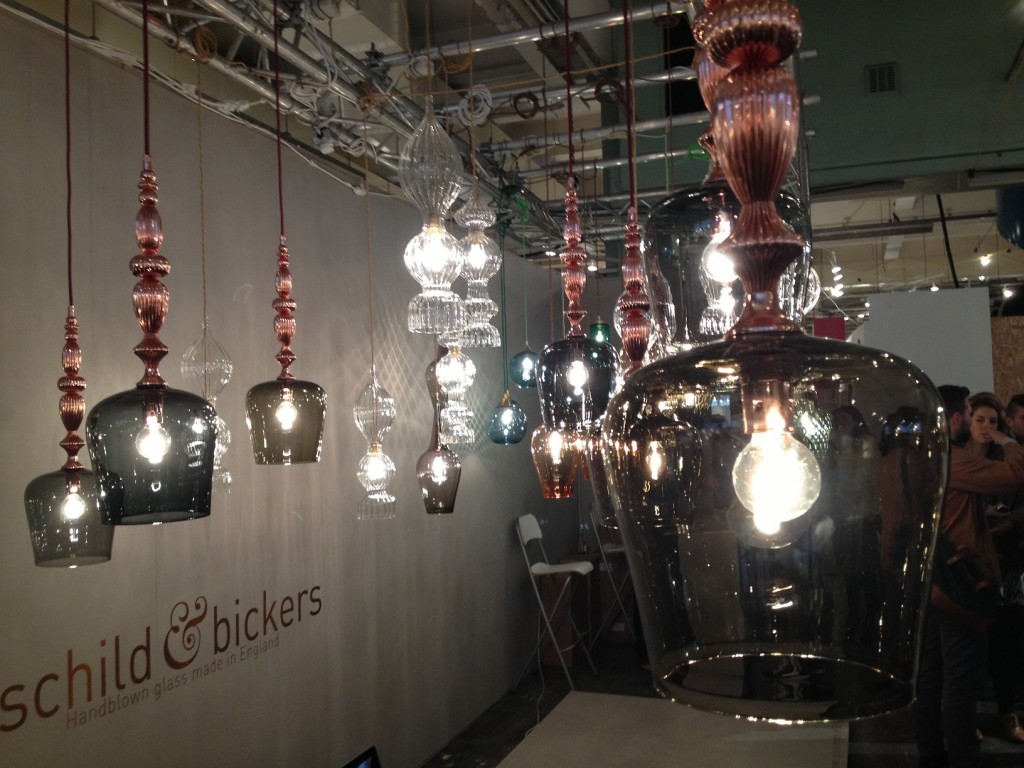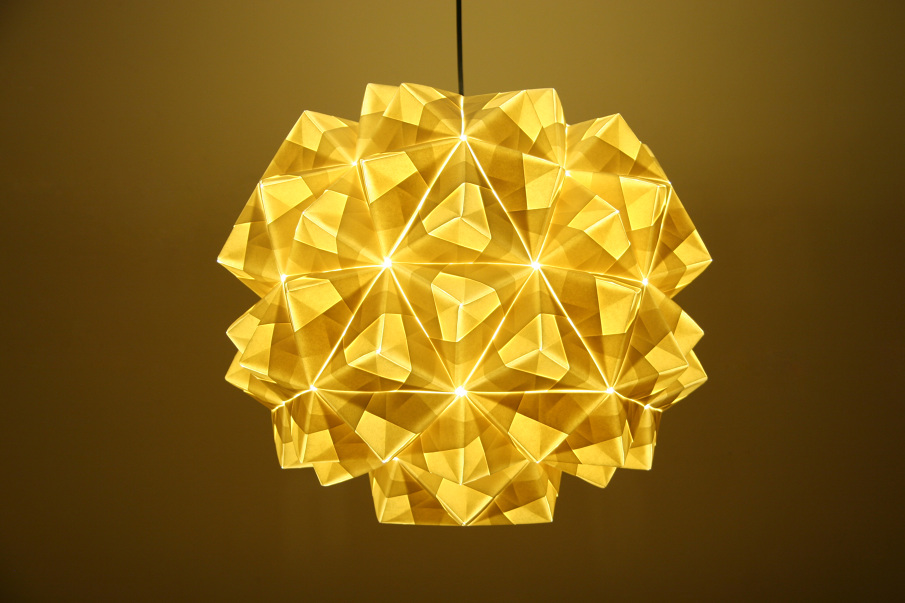 On entering the second floor, vistors passed three giant Anglepoise  lamps, with flashing disco lightbulbs,  dancing to the sounds of a DJ.  Simon Terry, Director of Anglepoise Ltd states: "After 70 years of Anglepoise tradition, and 150 years of manufacturing we have always felt that it was important as a family business to rejuvenate the ideas that made us innovators in the first place". The new models displayed at designjunction did just that.
On exploring hundreds of other designs in the vast building, the ones that stood out included Poke Stool by Kyuhung Cho at Innermost.  The bright and colourful stools boast a clever twist on the stacking stool.  A series of holes allow the stools to nest together for easy storage.  Simple, bold, and playful, the composition of different colours and variations to the rhythm lead us to create our own structure, like a geometric sculpture.  The Poke is made in Finnish natural birch and oak, finished with a hard wearing lacquer to create a solid and smooth surface.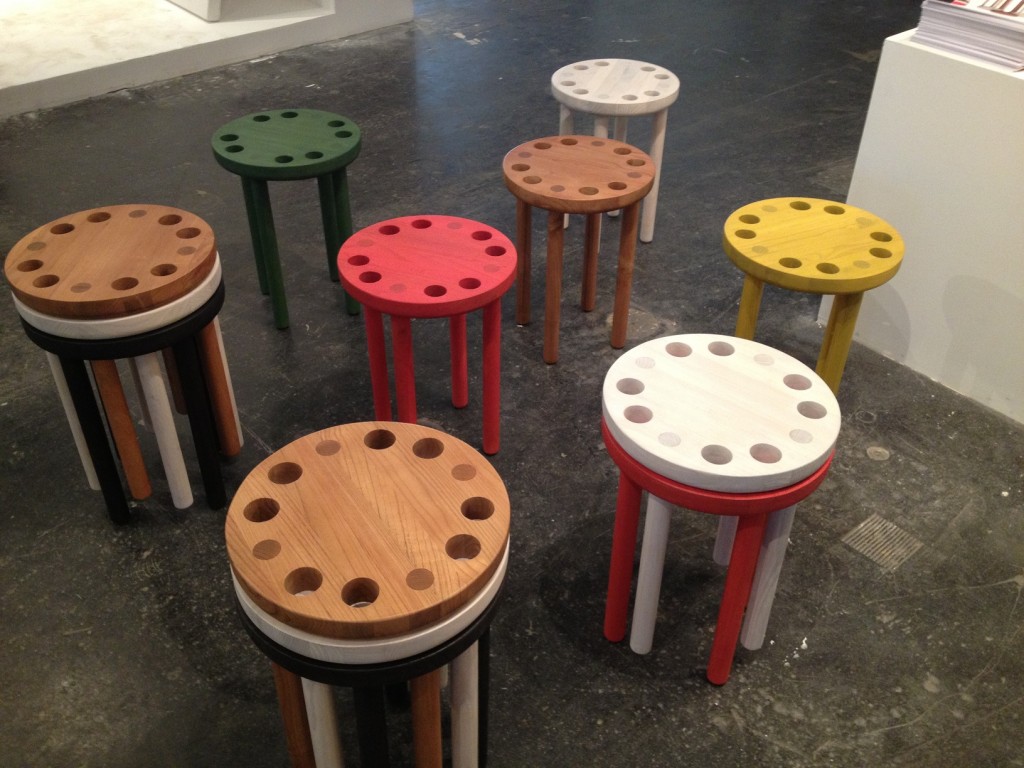 The crafted modernism of design collective Nobile and Wood, the sophisticated Ombro collection by STUDIOLAV, and the acute attention to detail in Dare Studio's furniture, were highlights in modern furniture.  London-based furniture company &ON, founded by Takes Fujita and Julian Mayor, exhibited the quirky mirrored Glenda Chair, and Architecture no.5, a bench made entirely of nuts and screws.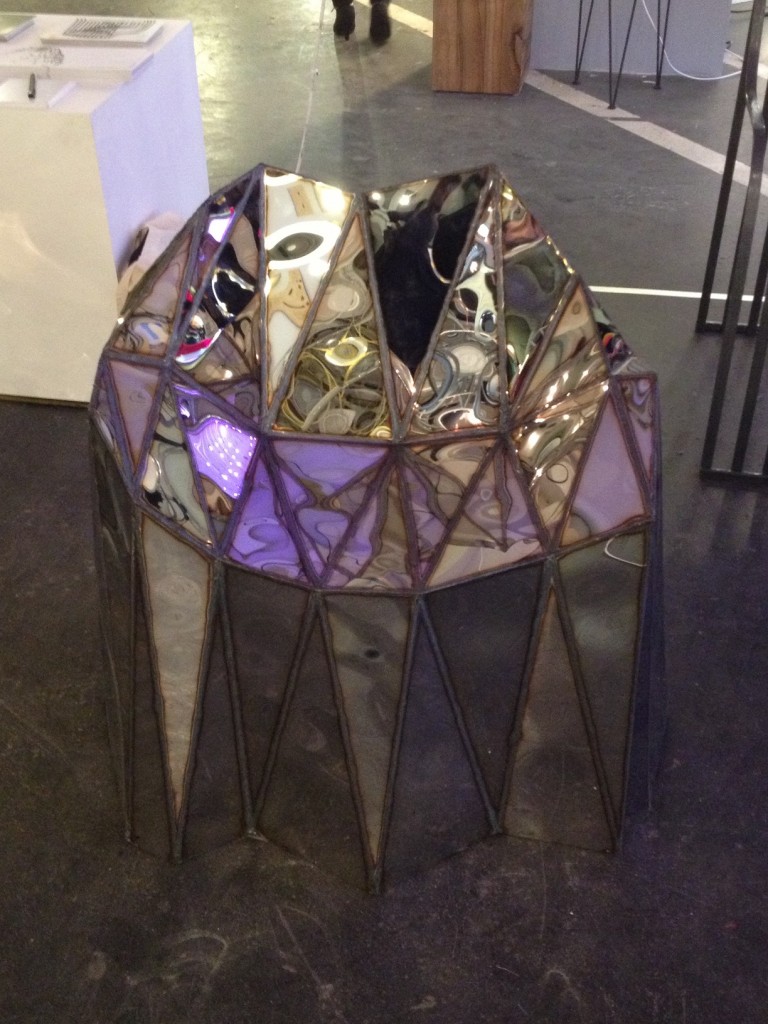 British industrial designer Ben Wilson has created the Donky Bike, an innovative bicycle that can carry heavy loads on front and rear platforms. "Donky bike is a versatile load carrier designed to be ridden easily and safely with whatever you need to take with you," says Ben. "Cargo load is carried on the frame, not the handlebars, so the steering and handling remain light and balanced. The Donky is made with a tough steel frame equipped with simple low maintenance components."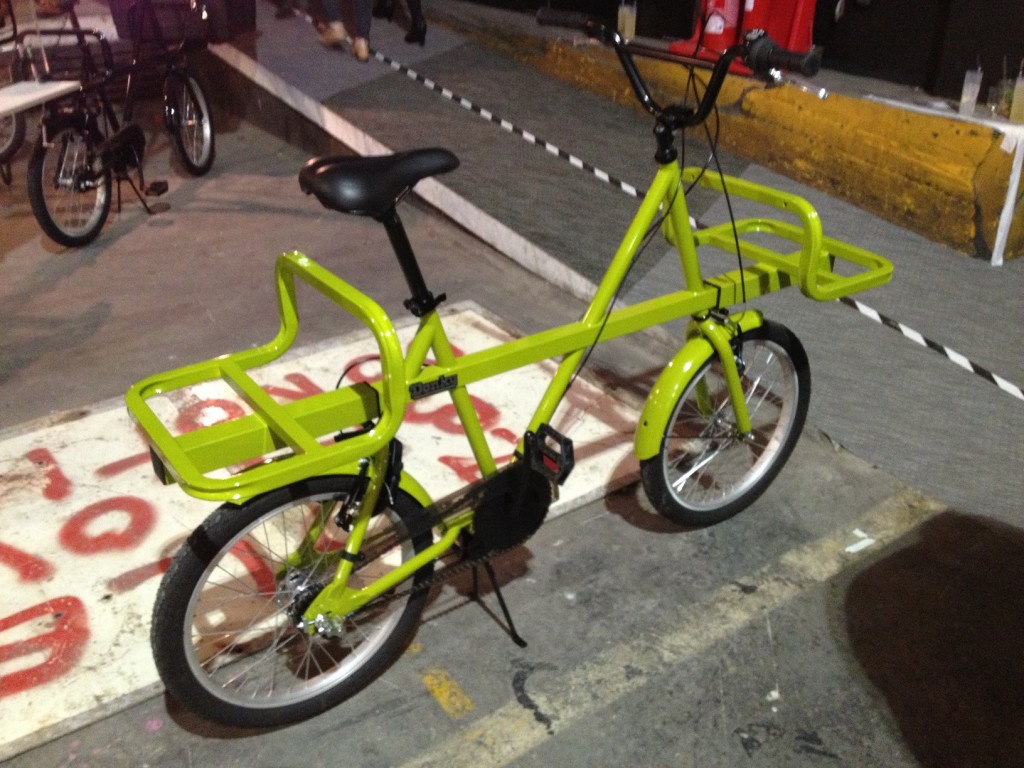 designjunction featured more than 150 brands.  Since its inception 2011, it has understandably achieved global success, transporting satellite editions of the show to other destinations including Milan and more recently New York.
Already looking forward to the next one!
words: Ingrid Reynolds
Categories
Tags