Safia Dickersbach visits Wiz Kudowor at his studio located in Dzorwulu, Accra (Ghana's capital city).
Safia Dickersbach is the founder of the production and curatorial platform SHOWCASE and a documentary filmmaker. Together with Bureau Africa, SHOWCASE has launched "The Black Stars of Ghana – Art District", the first in a series of documentary films that aim to open up the story of art within the African continent today. Dickersbach was born in Dar-es-Salaam, Tanzania, and is now based in Berlin, Germany. She is also the Public Relations Director of Artfacts.Net, a leading online database for modern and contemporary art.
"The Black Stars of Ghana – Art District" stages conversations with artists based within the African continent itself.  It resists simply imposing assumptions about what African art is from the perspective of being located solely in Europe or North America. It is this that makes it interesting and ground-breaking. Especially this year, an important one for African Art in the UK with two major art exhibitions at Tate Modern (Meschac Gaba and Ibrahim El-Salahi); and the forthcoming Contemporary African Art Fair (16-20 October 2013), at Somerset House, London (the fair is dubbed 1:54 after the number of countries in Africa).
In the first season of "The Black Stars of Ghana", which launched on August 19 2013, each episode will present a different artist living and working in Ghana, the first stop on an art tour across the African continent. A new episode will be broadcast every Monday. All episodes are simultaneously broadcast on This Is Africa and on Bureau Africa TV's Youtube Channel.
"The Black Stars of Ghana – Art District" documents conversations with a group of prominent and emerging contemporary visual artists in Ghana including Professor Ablade Glover, Kofi Setordji, Wiz Kudowor, Marigold Afuko-Addo, Larry Otoo, Gabriel Eklou, Samuel Kane Kwei, Kwadwo Ani, Kobina Nyarko, Alfred Mensah, Ndugu, and more. To watch click here: Bureau Africa.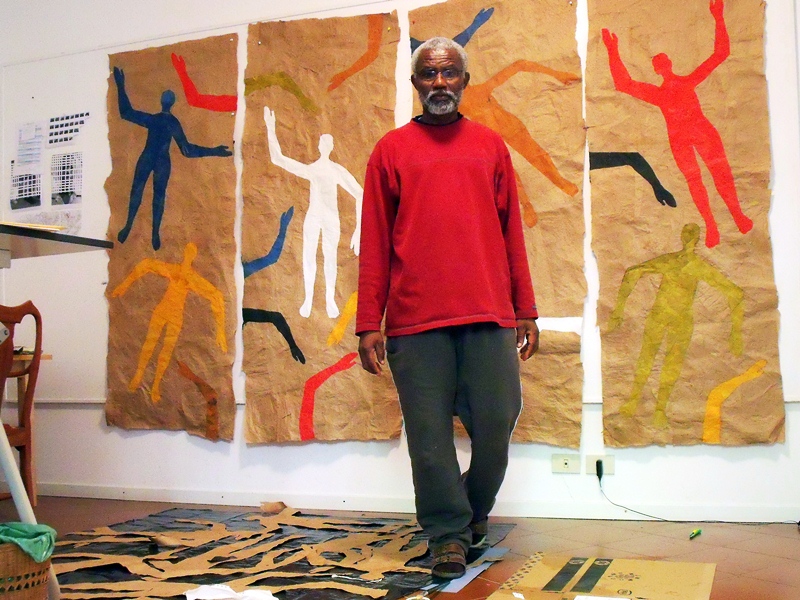 Kofi Setordji
Interview by Yvette Greslé
What was the impetus for the film series which begins with 'The Black Stars of Ghana – Art District'?
This interview project is part of a broader initiative by the curatorial platform SHOWCASE. The aim is to feature exciting contemporary art from regions often disregarded when art professionals located in Europe or North America are debating and deciding among themselves about who is who in the international art world.  Where is Africa on the stage of this "global" art world? What does it mean to talk about an "international art scene"?  I decided to work on a film series that presents to an international audience the depth, and diversity of contemporary art produced on the African continent.
There are more than 50 individual countries in Africa. Each of these has its own context.  I believe it is important to focus on a specific region and a specific topic. That is why I am concentrating on one country at a time. I deliberately did not choose a country I knew – such as my own home country, Tanzania. This was so that I would be able to approach the topic objectively and without any preconceptions. I've begun with Ghana which has been a great experience for me.


Gabriel Eklou and Safia Dickersbach
Who initiated the project?
I initiated the project through my production and curatorial platform SHOWCASE and so far I have financed it myself.
Where are the films going to be screened?
The films appear in a weekly sequence each Monday on Bureau Africa's Youtube channel. They are also presented in a feature article in the online magazine "This Is Africa", the leading online forum for African opinion, arts and music. The advantage of the internet is its global accessibility. I can reach people in over 100 countries worldwide and make the interviews which I did in Ghana available for research and permanent viewing.
How were the artists selected for the interviews? Who drives the process of selection?
I travelled to Ghana to do the research and to get to know the artists and the art scene there. Initially I asked the advice of Owusu-Ankomah, a well-known Ghanaian artist now living in Bremen, Germany, who connected me to Rikki Wemega-Kwawu, a truly gifted artist and art theorist. He and Professor Ablade Glover gave me valuable support and opened a lot of doors for me. The most remarkable new insight was the fact that after talking to different people in Ghana (and getting to know the art scene there) I had to significantly revise all my previous research notes and adapt the list of the artists I wanted to meet. Most of the Ghanaian artists who are exhibited overseas are not the ones who are well-known in their own home country. I realized how important it is to personally visit a region and to listen to the art scene and the people on site. Who is significant in the eyes of the local community?

Gabriel Eklou, Baobab in the wind, Acrylic on canvas, 2013.
There are a number of private and public art collections in Ghana. These include private collectors, national museums, the presidential palace, major bank headquarters, luxury hotels and government offices. There you don't find the work of Ghanaian artists, such as El Anatsui, Philip Kwame Apagya or Lynette Yiadom-Boakye all of whom are well-known in Europe or the U.S. Rather you find the work of artists such as those who are the protagonists in my documentary film series: Professor Glover, Wiz Kudowor, Larry Otoo, Gabriel Eklou, Kofi Setordji, Marigold Akufo-Addo and so forth. So there are different perspectives, whether you look from abroad or whether you look from a local Ghanaian perspective. It was important, for my project, to capture the Ghanaian perspective in Ghana. I did not want to impose any Eurocentric decisions, views or interests on the contemporary art scene in Ghana. All of these issues and questions informed my selection process.
Why did you decide to begin with Wisdom "Wiz" Kudowor? What is significant about him as a point of departure? It's interesting watching the preview of the interview with him, the idea of critical voices speaking out of the ground of the African continent.
It was not easy for me to get to meet Wiz Kudowor. When I first called him, he wasn't interested at all to meet somebody from Europe to talk about his art. Eventually he did open up and we met. He posed challenging questions, and demonstrated to me that for his generation of Ghanaian artists it is not about proving something in relation to Europe and the rest of the world.
From a series of pencil drawings by Marigold Akufo-Addo.
What do you think about terms such as African Art or African contemporary art?
As a term "African art" or "African contemporary art" is acceptable as long as it is used in a specific context. For example, you might use it to differentiate between European, Asian or American art. I prefer to speak about contemporary art from Ghana and the contemporary art scene in Nigeria and so on instead of mixing it all up as contemporary African art which is simplistic and rather a broad-brush.
What do you think is interesting or distinctive about contemporary art practices in Ghana, and their histories?
Current art practices in Ghana are informed by rich histories that reach back hundreds of years. Classical art traditions derived from historic kingdoms such as the Ashanti or the Ewe still influences contemporary artistic expression.  Ancient symbols such as the Adinkra play an important role, for example, in Gabriel Eklou's and Rikki Wemega-Kwawu's artworks. These kinds of symbols also inform special crafts like the Kente weaving tradition whose colour patterns, forms and shapes clearly influence Wiz Kudowor's and Ndugu's artworks. By drawing from a rich ancestral heritage, while creating art in an independent personal style, contemporary art in Ghana stages an interesting dialogue between history and the present.
Ndugu, Triptych, acrylic on wood, 2009.
To view the films click here Bureau Africa
Categories
Tags