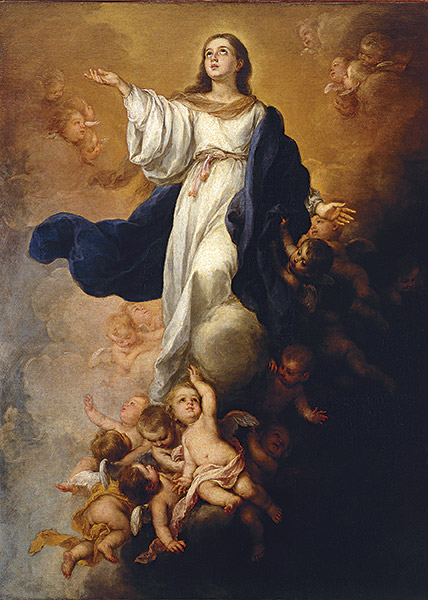 Walpole Immaculate Conception (Detail) Bartolome Esteban MURILLO. Oil on canvas. 195×145 cm, Spain. Circa 1680.
© The State Hermitage Museum.
Robert Walpole is recognised as Britain's first Prime Minister but he was also known for amassing an impressive art collection in his ancestral home of Houghton Hall. This collection was seen by many as the finest in Europe at the time, but his grandson's extravagances resulted in this collection being sold to Catherine the Great of Russia.
These works now largely reside in the Hermitage Museum in St. Petersburg but have been temporarily loaned back to Houghton for the current exhibition. The aim of this show is to recreate the original hang of the collection so that it's as close as possible to how it would have looked like when Robert Walpole passed it on to his descendants.
Even sans paintings, Houghton Hall is worth of a visit due to its intricately ornate ceilings, magnificent tapestries and landscaped gardens populated with contemporary artworks – most notably Jeppe Hein's water fountain on fire.
The exhibition itself is populated with recognisable names such as Van Dyck and others such as Moratta who may not be as famous as his Italian contemporaries yet was still an accomplished painter.
The stand out of this exhibition is Rembrandt's Portrait of an Elderly Lady; the detail and shading of her wrinkled skin, particularly on her hands, is exquisite. There is a superb Veronese on display and a version of Murillo's Immaculate Conception – it may be smaller than the one seen at the Dulwich Picture Gallery earlier this year but is still an arresting image.
All of the works aren't of such a high calibre, the copy of Raphael's school of Athens is a pale imitation and Chiari's version of Apollo and Daphne can't compare to Poussin's or Bernini's fantastic sculpture.
But the intent of this exhibition is not to bring together the finest artworks, but to offer a glimpse back in time to the collection that Walpole had amassed. And in this respect, this exhibition succeeds in highlighting some of the great works that were sold to Russia. It's a rare chance to see some treasures within their original settings.
The exhibition was due to run until September but has now been extended to November due to popular demand. It's a lengthy journey from London but worth it for this rare opportunity to see a slice of art history.
www.houghtonrevisited.com/
Words: Tabish Khan
Categories
Tags