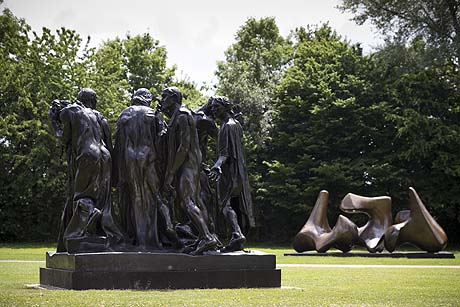 Auguste Rodin, Monument to the Burghers of Calais, 1889 with Henry Moore's, Three Piece Sculpture: Vertebrae, 1968. Photo; Jonty Wilde
29th March – 27th October 2013 Perry Green, Much Hadham, Hertfordshire SG10 6EE www.henry-moore.org/pg
On the face of it, Henry Moore and Auguste Rodin would appear to have little in common other than they were both sculptors. Moore created hulking abstract forms while Rodin was more interested in the intricacies of realistically representing the human form.
So it may seem strange to put on a comparative exhibition at Perry Green, the home of the Henry Moore Foundation. But the two artists lives did briefly overlap in time and Moore drew inspiration from Rodin during his formative years.
In one of the few indoor settings of this exhibition there is an interesting comparing of the two artists works. Moore's early sculptures and drawings seem to be attempts at imitating Rodin, but when placed side by side it's clear that Rodin was the superior draughtsman and realist sculptor. It's unclear whether this triggered Moore to take his art in a different direction but at some point he clearly recognised that his talents lay in capturing the essence of form rather than an accurate depiction.
Most of the works are outdoors and the exhibition path jumps from Moore to Rodin and back again for the length of the show, in an attempt to highlight both the contrast and similarities in the two sets of works. The works are all spaced apart so this juxtaposition never feels jarring but there are only a few where the similarities are evident – most notably in Rodin's Cybele placed near Moore's reclining figure, and th4e Burgher of Calais with Moore's Three Piece Sculpture.
It is Rodin who steals the show with his works, especially his small cast of the gates of hell and his Adam and Eve, writhing in torment and hiding her shame respectively. Yet it's a pity that Adam and Eve are not placed together as it would be logical to display them side by side to capture the moment of their collective fall from heaven.
Moore's work is also strong but the prevalence of his work in Britain and in London makes for a feeling of having seen much of it before, yet there are still works that are worth the journey to see. It's the monumental works that are the biggest draw having an oppressive and often claustrophobic feel to them such as The Arch that seems to draw the visitor in and going around it is never a viable choice.
Standing inside Large Figure in a Shelter makes you feel like this work is folding in on you and will soon envelop you. The gigantic large reclining figure and large upright form are massive and standing next to them is an experience that photographs can never do justice to.
Most of modern sculpture can trace its roots back to Cycladic art. The Cyclades were islands off of Greece where many ancient sculptures were found and most major museums will contain examples of Cycladic sculptures of the human form. Moore and Rodin represent the extremes of the two directions art can take from this beginning point. Rodin represents the peak of realistic representation, while Moore stands for the most abstract interpretation of the human form thus making this exhibition an excellent comparison.
Many of Moore's works are on permanent display making a visit to Perry Green worthwhile at any time of year. But the opportunity to see these works alongside those of one of the greatest sculptors of all time is not to be missed.
Words: Tabish Khan
Categories
Tags