Kuba Wieczorek, Nikki Amuka Bird – Welcome to Thebes, The National Theatre, 2010.
Kuba Wieczorek is a London-based photographer, and one of Fold Gallery's exhibiting artists. Fold is currently collaborating with The Hospital Club Gallery on an exhibition of works by Wieczorek. Contact FOLD directly about viewing Wieczorek's work: 15 Clerkenwell Close, London EC1R0AA www.foldgallery.com.
Wieczorek's portraits of actors in their dressing rooms focus on a moment of transformation, the embodiment of a stage character. The photographs are shot using a 5 x 4 plate camera: traditionally used for architecture, it requires absolute stillness at the moment of capture. Wieczorek's portraits produce intimate, affecting images of human subjects that suggest a dialogue with histories of portraiture not only in photography but also in painting. Visual details invite story-telling: including devices such as framing, cropping or the doubling of a figure reflected in a mirror. The blurring or foregrounding of objects from personal letters and notes to picture postcards or make-up jars are part of the historical language of portraiture and its relationship to identity, memory, and the charge of psychological states and emotional life. The dressing rooms appear as transitional spaces in which personal rituals and private thoughts; everyday life and ordinary objects; collapse into the world of the stage with its audiences, props, and rehearsed gestures and dialogues. The images suggest portraiture's historical relationship to the human condition, to performativity, self-fashioning, and what it is to be represented by others. Wieczorek  produces an ambiguous space in a highly charged moment of transition from person in the world to stage character. His photographs complicate the imagined relationships between performance and artifice; and the ordinariness and struggles of everyday life.
Interview by Yvette Greslé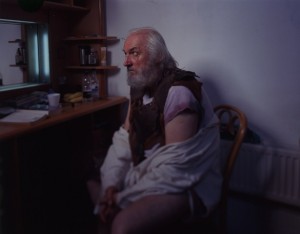 Kuba Wieczorek, John Stahl – Troilus and Cressida, The Globe theatre, 2009. 
What was the impetus for the photographs of actors?
I have always been fascinated by the theatre and the film world. What are the similarities between photography, theatre and film? What happens when those worlds collide?
Why do you think you're so interested in this?
When I photograph people I'm interested in trying to capture their real character. But actually sometimes you want to capture a character they might perform in certain instances; outside of everyday life. It's interesting when people are not in their everyday lives. All my work is very still. I try and break it right down to basics and almost make my subject feel a little bit uncomfortable. This is opposite to the ways in which a lot of portrait photographers work.
How do you create a sense of discomfort?
I think there is a practical way in which the subject is made to feel uncomfortable. I work on a plate camera, with big sheets of negatives, and a very slow shutter speed. It's a camera normally used by architectural photographers. People have to keep ridiculously still just so that I can get an exposed image. By making someone sit still for half a second (or a quarter of a second) you immediately create a sense of unease and actually a sense of unnaturalness. I have five or ten exposures per sitting. It's not a lot and so I have to be absolutely sure that what I'm getting is what I need to get. Plate camera negatives are extremely expensive and it takes a long time to create an image. Just having someone in front of the lens, and you not snapping around them, also creates a slight sense of unease. That's always fascinated me because that's when someone tries to relax in front of the camera. But when they try to relax they're not necessarily being themselves. In trying to collide the two worlds of theatre and photography I was fascinated by the moment of anxiety and fear (the moment of transition when actors become their character and it takes over). Normally it's within 5 or ten minutes of going onstage. All of my photographs shown here were taken within an hour of going onstage (the one of Ken Stott was taken a minute after he came off stage). The actors are already getting into character and they're not actually engaging with me. All I asked of them was you need to stay still for half a second. I'd be fiddling around and I'd say to them: 'Okay, can you hold that pose please'. And then I countdown (3, 2, 1) and take a photo. It's very Victorian actually. Victorians would use things like neck-braces, and the sitter would have to stay perfectly still.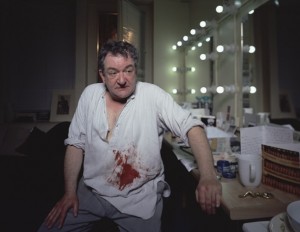 Kuba Wieczorek, Ken Stott – A View from the Bridge, Duke of York Theatre, 2009. 
In thinking about stillness, are you interested in Victorian photography?
I'm not actually particularly interested in Victorian photography but I'm interested in ways of slowing my work down. These works have come out of a way of working and not out of a specific art form. By working as a photographer for 20 years I've found that when things are much slower I get results which I wouldn't normally get.
Are there similarities between these works and the work you produce as a commercial or fashion photographer?
I try and instil the same sense of unease and stillness in my fashion photography. When there is the budget to do so, I love to shoot my fashion work on plate camera. Sometimes I get clients like Channel 4 who ask for the kind of work shot on plate camera. I did the Paralympics for Channel 4 and shot portraits of the Paralympic athletes. Conventionally you would expect photographs of athletes that capture movement but what I wanted to capture was an absolute sense of stillness. My subjects start to become someone else and that's what interests me. You get a remarkable sense of sadness, otherworldliness, or unease.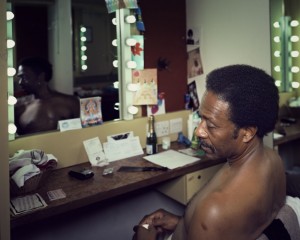 Kuba Wieczorek, Clarke Peters – Five Guys Named Moe, Theatre Royal Stratford East, 2010.
I like the photograph of Clarke Peters, preparing for 'Five Guys named Moe': The framing, the reflection, and the sense of introspection.
This was a very emotional photograph. Clarke Peters wrote the book for the musical 'Five Guys Named Moe'.  Here he is 20 years later in the revival of the show which originated at the Theatre Royal Stratford East in 1990. He returns to the theatre as Nomax, the main star. He was having his curtain call as I was taking the photo. He was stressed about going on stage, and stressed with me. He was saying to me: 'Please you've got to be quick now'. And I was asking him to be still for half a second more. This is a really special photo for me.
The idea of photographing actors in the actual physical space of their dressing room is interesting. It's a very private space.
I love architectural photography as much as portrait photography. I love imagery that tells stories. All of the details of the dressing room are absolutely integral to the image for me. There's a photograph of John Simm with a handwritten letter from his daughter. The actors make this space their own. Some are very busy. Claire Skinner's space is populated with lots of things. And others are completely minimal.
Kuba Wieczorek, Claire Skinner – Mrs Affleck, The National Theatre, 2009. 
The mirrors, and their reflections are interesting. They make me think not only of the history of portraiture in photography but also of painting.  
They all have interesting reflections, I think. In working with a tool like a plate camera where you have selective movements you can pick out certain details which a normal camera can't do.
Are you very interested in portraiture particularly?
Portraiture is a major interest. The next project is called 'Leaving Home'. I'm photographing people the day they move from their family home (after they've sold it), a very emotional time. I'm shooting these all from the plate camera. I've photographed a family who've lived in a house since 1935. The man was 14 when he moved in. I'm interested in that moment when emotion takes over, and everything is stripped back. You can't fake that stuff. You can't fake leaving your family home after you've lived there for 60 or 70 years. It's rawness that I'm photographing. That's what absolutely fascinates me. Someone asked me are these reportage or are they carefully set up. I think it's a mixture of the two.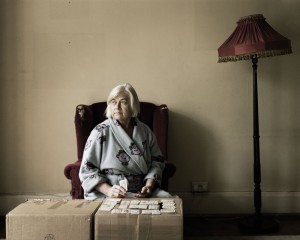 Kuba Wieczorek, 'Patience', 2012. A photograph from the new project – 'Leaving Home'. 
You're really interested in ideas about authenticity, integrity, truth. How do you think about performance then?
I am interested in those things. It's interesting to think about performance in this way. I never force performance. As well as fashion photography I shoot a lot of posters for Channel 4 and I shoot a lot of actors. The big thing is that I never force things. By slowing things down the performances come out naturally. You can guide things, and I'm fascinated by aspects like framing and colour. The photographs about the actors in their dressing rooms was always a very dark series for me because of the nature of the spaces. It became a very dark project.
I love for people to come back to my photographs and to come back to things in them. For me, the strongest artwork is work you want to come back to again and again. I'm not interested in artwork that is a quick fix. It's about coming back and being fascinated by something you may not have picked up on before. Why is that postcard there? Why is her expression like that? Why is he doing press-ups before going on stage?
Kuba Wieczorek, Russell Tovey – A Miracle, Duke of York Theatre, 2009. 
Fold Gallery, 15 Clerkenwell Close, London EC1R0AA www.foldgallery.com. Their next show 'Magic 8 Ball' opens at the gallery on Saturday 7th September. The Private View is on Friday 6th September, 6-9pm.
For more about The Hospital Club:  www.thehospitalclub.com
Categories
Tags