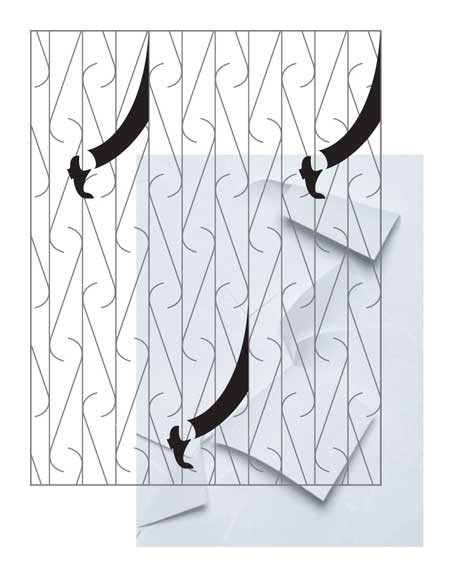 Sanya Kantarovsky, The Fifth Librarian, 2013, Lithograph and silkscreen on paper, £50. Courtesy of Studio Voltaire, London.
On the occasion of Frieze London 2013, Camden Arts Centre, Chisenhale Gallery, Institute of Contemporary Arts (ICA), Serpentine Gallery, South London Gallery, Studio Voltaire and the Whitechapel Gallery are delighted to announce the continued participation of Allied Editions.
Each Gallery will feature a portfolio of limited-edition artworks, comprising editions and multiples by renowned British and international artists including Charles Atlas, Judith Bernstein, Sanya Kantarovsky, Theaster Gates, Kara Walker, Hilary Lloyd and Rosemarie Trockel. These rare, yet affordable artist editions, originally created in relation to exhibitions and projects, have been specially made and donated by artists in support of each public Galleries' Exhibition and Education programmes.
A number of new editions will be launched exclusively for Frieze London . These will include Peter Saville for Studio Voltaire, Nick Relph for Chisenhale Gallery, Beatriz Milahazes for Whitechapel Gallery, Jockum Nordström for Camden Arts Centre and Lutz Bacher for the ICA. With prices starting from as little as £25, many of the editions have been specifically developed to make owning or collecting high quality contemporary art accessible and affordable to both established and new collectors.
Iwona Blazwick OBE, Director, Whitechapel Gallery, said:
'Public galleries have found, within – and extending from the 20th century tradition of the artists' print, a new entrepreneurial spirit for the 21st century and source of generating Institutional self-support. We are delighted to be working together on this initiative for Frieze Art Fair and to be giving everyone the opportunity to own an affordable work of art by a renowned contemporary artist.'
To support these Public Gallery initiatives, the Directors of each institution will each make their appearance on the stand to speak to the public, personally advocate for their Galleries and sell Editions to visiting buyers.
The Directors taking part in Allied Editions are: Jenni Lomax OBE, Director of Camden Arts Centre; Polly Staple, Director of Chisenhale Gallery; Gregor Muir, Executive Director of The ICA; Julia Peyton-Jones OBE Director and Co-Director, Exhibitions and Programmes and Hans Ulrich Obrist, Co-Director, Exhibitions and Programmes and Director of International Projects of Serpentine Gallery; Joe Scotland, Director of Studio Voltaire; Iwona Blazwick OBE, Director of Whitechapel Gallery.
In addition to Frieze London all Editions can be purchased directly from the participating galleries:
Camden Arts Centre
Address: Arkwright Road, London NW3 6DG
Email: info@camdenartscentre.org
Tel: +44 (0)20 7472 5500
www.camdenartscentre.org/bookshop
Chisenhale Gallery
Address: 64 Chisenhale Road, London E3 5QZ
Email:mail@chisenhale.org.uk
Tel: +44 (0)20 8981 4518
www.chisenhale.org.uk
ICA
The Mall, London SW1Y 5AH
Email: Vicky.steer@ica.org.uk
Tel +44 (0)20 7766 1425
www.ica.org.uk/editions
Serpentine Gallery
Address: Kensington Gardens, London W2 3XA
Email: editions@serpentinegallery.org
Tel: +44 (0)20 7298 1511
www.serpentinegallery.org/shopping
Studio Voltaire
Address: 1a Nelson's Row, London, SW4 7JR
Email: info@studiovoltaire.org
Tel: +44 (0)20 7622 1294
Studiovoltaire.org
www.studiovoltaire.org/shop.htm
Whitechapel Gallery
Address: 77-82 Whitechapel High Street, London E1 7QX
Email: jomelvin@whitechapelgallery.org
Tel: +44 (0)20 7522 7882/7888 whitechapelgallery.org
www.whitechapelgallery.org/shop
South London Gallery
Address: 65 – 67 Peckham Road
London, SE5 8UH
Email: mail@southlondongallery.org
www.southlondongallery.org
T +44 (0) 20 7703 6120
www.friezelondon.com/visitors/
Allied Editions is located in the Frame section of Frieze Art Fair.
Categories
Tags