August 21st -SALON Performance by ANNE PIGALLE, 7.30 -11pm @ Paper Dress Vintage 114-116 Curtain Rd London EC2
About Anne Pigalle
Like Edith Piaf , The Last Chanteuse grew up at the back of Montmartre in Paris, France. Her teenage years were spent playing guitar in an all girls punk band and watching films.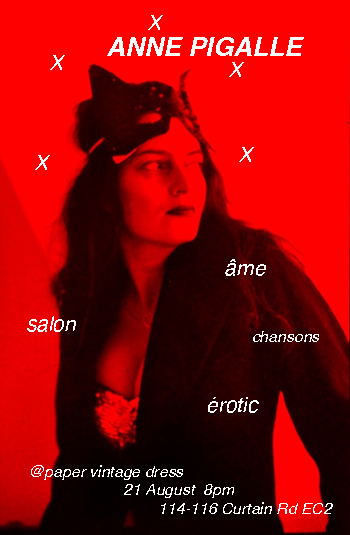 Anne Pigalle moved to London, recorded with Michael Nyman and Adrian Sherwood and then went on to sign a recording contract with Trevor Horn's record label ZTT, with whom she recorded an album and a few singles. Hailed as the QUEEN OF BOHEMIA, she went on to tour Europe and Japan. Her self styled photo in 1985 in front of the red velvet curtain has become iconic.
Anne Pigalle moved to LA in the 90's, she developed her film idea with the late Donald Cammell and returned to London where she produced some experimental music pieces as well as some classic songs, erotic poetry, paintings and some beautiful self portrait polaroids, exhibited at the Michael Hoppen Gallery (the show Amerotica voted 4th best in The Times in 2006 ); her role as a multi media artist became apparent and influential.
2011 saw the release of the trilogy : L'Amerotica I and II as well as L'Ame Erotique, a compilation of poetic and surrealists vignettes declaiming the values of personal love and erotic experiences in a world of generic and stolen ideas.
In 2012, she starts recording her new album, which should set the "record" straight.
2013, an interlude album : Madame Sex : Anne paints each cover individually, she calls it the Art Cd, The Art of Sex – THIS is a SALON PERFORMANCE with AMEROTIC POETRY and SONGS, in association with Paper Dress Vintage, to celebrate the new Cd MADAME SEX -£6 in advance – £8 at the door -BAR available August 21st – 7.30 -11pm @ Paper Dress Vintage Curtain Rd 114 -116 LONDON EC2 TICKETS available HERE
Categories
Tags