Anne Pigalle Photo Derek Ridgers
Soho was London's daring and dirty soul, the place for free spirits to dispel the drab world beyond it, drink, or even dip into sex and sleaze. Nowadays, it's property moguls, chains and upmarket restauranteurs on the make rather than those offering illicit pleasures up dingy staircases – or any of the other characters that made Soho a bastion of bohemia. Many have spoken up against the slick sterilisation of Soho, but Anne Pigalle is different. First, her voice is sexy, in a husky, Gallic way, whether she's reciting her deliciously filthy poems, or – as she has done over the years – singing in one of those intime Soho clubs that are fast disappearing. Second, she's taking a stand against this 'acceleration of gentrification' with her art. A show of around 40 works – new and old – reveals that art to be as colourful and seductive as Soho's disappearing spirit.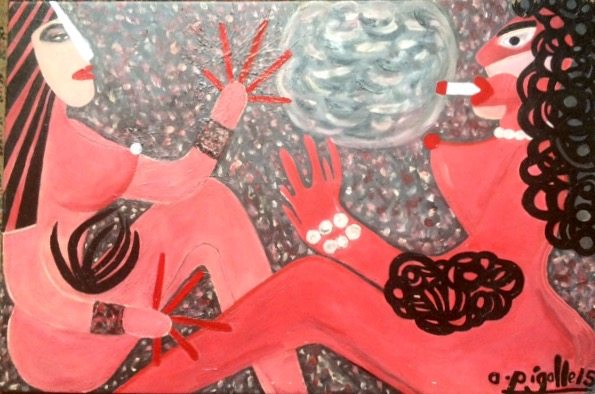 Les P'tites Femmes de Soho
The title of the show plays on the song Les Petites Femmes de Pigalle, about the Paris area where she came from and which has much in common with Soho. The venue is We Are Cuts, an übercool hair snipping business that traces its Soho roots to 1984, and has long given space to art. Pigalle found other galleries 'wanted to take control of the art', but these guys said 'you can be as weird as you like'. Yet weird isn't quite the right word for her artistic practice. Whether from external observation or internal contemplation, she has honed a unique glimpse into innate sexuality, building a vivid, trash-glam aesthetic with her recurrent use of reds, pinks and golds, sometimes spiked with kitsch trinkets and faux jewels. You can trace the inspiration of Matisse in her often naively simple lines and forms, charged with desire. But she explores seedier sides of women and lust, with other French roots such as Toulouse-Lautrec and Degas. And crucially, she does it as a female artist. She explicitly celebrates the almost-extinct Soho life-form, the prostitute, in works like Do The Street (2009), where her subject is sassy and confident, but also punky and strange, seen with a touch of psychedelic vision.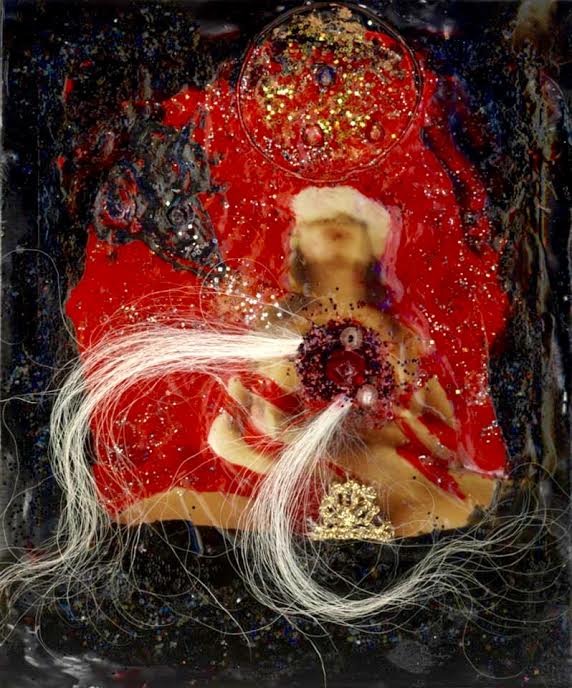 Photo Me Red (Polaroid) 2005
Anne Pigalle came to London back in the days of punk, and the punk aesthetic still echoes in her visual art. But that is just one of many aspects. In 2006 she first showed Polaroid selfies, nude but with masks and jewellery to tempt a lost lover back. Photo Me Red, for example, shows an experimental and semi-abstract approach where the photographic image becomes the heart of something bigger in an almost Rauschenberg use of mixed media to create a dark, sensual, enveloping mood. As for canvases, she's been painting them since 2005 when art dealer David Grubb asked her to knock out 50 quickies in a fortnight. Well, you wouldn't expect them to be anything but small, but again, they are big on creating a sexual language with mixed media. These, however, are not brooding, but forward and explicit – in l'Arche de Noe, that male member is set level to an expectant female form's head, while in Pink Lash, gold and pearls spell out the royalty of them coming together.
Pigalle is multi-media artist. Sadly, we won't see any of her little sexual sculptures, but we do get a taste of her work customising clothes with a Vivienne Westwood skirt with Dick and Sperm Pearls (2012). She also references her music – Beauty is So Binding (2014) floats lyrics from her hopefully-imminent album over a look-here striped background above the city.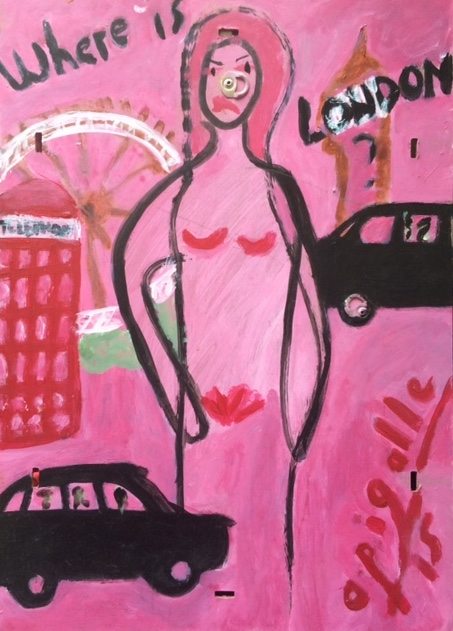 Where IS London _ 2015
Her message about what she says is her 'frustration about the destruction of London and specifically Soho' is voiced most directly with recent works, such as When? ('when are people going to wake up and take action?' she asks), or 'Where IS London?' with cliché city icons, both personifying a bewilderment in simple female forms. But all her works reference something that London is losing – the yearning of desire, the thrill of the illicit, the beauty lurking in night's grotty shadows. It may be too late to save Soho's naughtiness, but Anne Pigalle's work leaves a brilliant trace of its evaporating pleasures.
Les P'tites Femmes de Soho is at We Are Cuts, 33A Dean St, London W1 17th March to 30th April
Anne Pigalle will perform at the preview, 6.30pm 16th March 696w
annepigalle.wordpress.com/
www.wearecuts.com/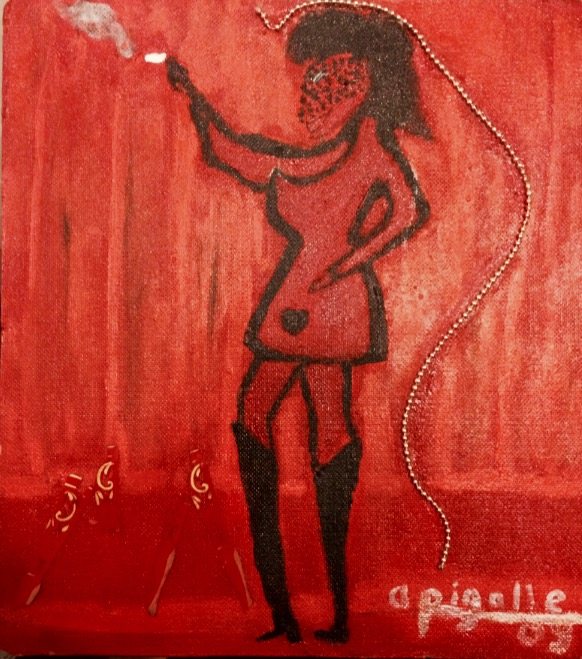 Do The Street 2009
Categories
Tags