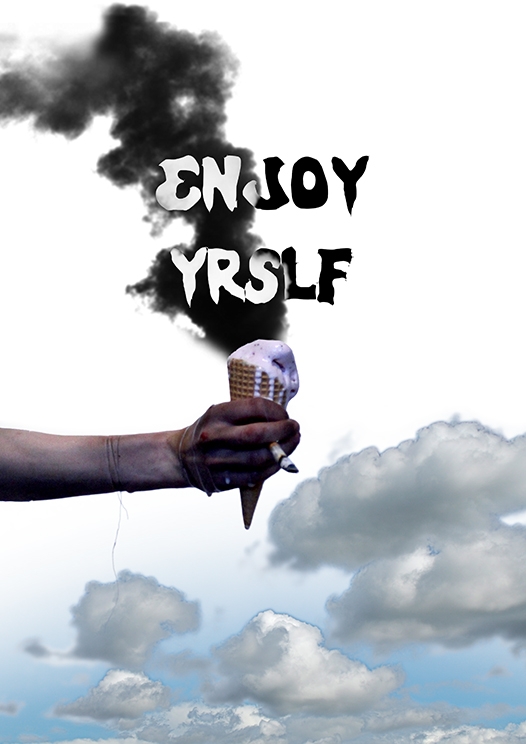 Anita Delaney, ENJOY YRSLF Digital Print, 16.5 x 23.22 in. / 42 x 59 cm
17th August 2013 6 Copperfield Street London SE1 0EP
Ceri Hand Gallery are launching their inaugural annual Summer Fete at the gallery this Saturday featuring a spectacular table top sale with original art works for under £250, by over 50 artists.
New sculptures, paintings, drawings, photographs, textiles, ceramics and artists books will adorn table-tops and walls of the gallery, including new works by artists including:
AGGTELEK, Henny Acloque, Diana Ali, Kjersti G. Andvig & Lars Laumann, Sam Ayres, BAZ, Charlie Billingham, Sarah Bowker-Jones, Oliver Braid, Jonny Briggs, Mel Brimfield, Helen Brown, Edwin Burdis and Heather Phillipson, Agnes Calf, Fiona Chambers, Nina Coulson, Calum Crawford, Adrian Dannatt, Anita Delaney, Deuce Deuce, Todd Diciurcio, Dominic from Luton, Samantha Donnelly, Alex Farrar, Grant Foster, Robert Foster, Patrick Galway, Paddy Gould and Roxy Topia, Susie Green, Julia Hayes, Catherine Herbert, hobbypopMUSEUM, Matthew Houlding, Kevin Hunt, Helena Hunter, Candice Jacobs, Ned James, Jasmine Johnson & Alice May Williams with Rachel Pimm, Amy Jones, Doug Jones, Harminder Judge, Sophie Jung, Sam Keogh, Jonathan Kelham, Matthew de Kersaint Giraudeau, Hannah Knox, Rebecca Lennon, Jen Liu, Rachael Maclean, Gemma Marmalade, Dominic Mason, Andrew Maughan, James McLardy, Sarah Messenger, Eleanor Moreton, Liz Murphey, Hannah Perry, Nathaniel Pitt, Juneau Projects, Bernd Reichert, Liam Richardson, D J Roberts, Pierre-Robert, Matt Rowe, Assunta Ruocco, Jamie Shovlin, Emily Speed, Joanne Tatham & Tom O'Sullivan, Sam Treadaway, Sam Venables, Ricarda Vidal, John Walter, Cecilia Wee, Matt Welch, Welch/Whitaker, Bedwyr Williams, Jen Wu, Yangjiang Group.
A special gallery stall will be run by ESP (Extra Special People), Eastside Projects and Grand Union (Birmingham).
Artist's performances will run throughout the day, from a Fish Wives street fight with real fish and live opera soundtrack (Gemma Marmalade) to a Tombola with melting Iceland prizes (Matthew de Kersaint Giraudeau). Sam Keogh will perform Taken from/Put in Oscar's Bin, Ned James and Nathaniel Pitt will set up a production line with his family, creating anarchy badges for 6 hours straight, before they can go on holiday and Robert Foster will be the artist in stocks for the day. Artists games will include 'Guess the weight of the cake' by Dominic from Luton, who has created a cake in the likeness of gallery owner Ceri Hand; Tarot readings will be provided by John Walter; a 'Curatorial agony aunt service', and a 'CV filler' Tombola will be provided by ESP and Grand Union. Join in the Lazy Susan painting club with An Endless Supply or take a punt on 'Leaders of Men' interactive poster games by Jonathan Kelham.
Refreshments include 'Ice Cold Ingres' ice lollies by Adrian Dannatt; free Borscht soup by Sam Ayres or pull up a pew for 'Cake & Alternative Finance' with Academic/Curator Cecilia Wee.
Sam Venables & Kevin Hunt will park their touring BMW containing a solo show of new work by Calum Crawford outside and the day will conclude with Dominic Mason's 'Mega Pinata' lowered from the ceiling, filled with art works as prizes for the keenest destroyer!
Ceri Hand Gallery Summer Fete 2013 Performance programme
Megan, Charlotte, Angela and Nathaniel Pitt, as directed by Ned James The Futility and Beauty 12.00pm – 2.00pm
Nat:
"Hi Ned, Ceri Hand is advertising projects for an event called Summer Fete, any ideas? I'm taking my family to London that day on route to Paris."
Ned:
"THE BEAUTY AND FUTILITY OF AN ANARCHY BADGE" A PRODUCTION LINE – YOUNGEST DAUGHTER DRAWS OUT THE ANARCHY SYMBOL – OLDEST DAUGHTER COLOURS IT IN – YOUR WIFE CUTS IT OUT – YOU MAKE THE BADGE – REPEAT"
Helena Hunter Eye Tunes 12.30pm, 2.30pm, 4.30pm
Helena Hunter presents a series of pop up performances throughout the day, each lasting about the length of a pop single. The soundtrack for the performance is a mix tape of songs with the eye as a central theme. Cassette tapes are available to buy on the day and will feature hits such as Bette Davis Eyes, Hungry Eyes, Angel Eyes, Sexy Eyes and more!
Gemma Marmalade Fish Wives 2.00pm
Performed for the very first time at Ceri Hand Gallery, Fish Wives is a new 'street fight' performance by artist Gemma Marmalade which combines the artist's wry humour and an unpalatable display of live female aggression. The title references an Italian historical ritual from the island of Linosa, Italy, which each year sees opposing matriarch flagellate each other with fish until a victor is decided. In this viscously entertaining performance, artist Gemma Marmalade and muse will compete against the backdrop of a live operatic commentary, egged on by spectators until the performance reaches its penultimate conclusion.
Robert Foster in Stocks 3.00pm – 5.30pm
Robert Foster will be spending the afternoon of the Summer Fete in front of the gallery in stocks. Banished from the Fete by Ceri Hand Gallery's own Master of Ceremonies, Doug Jones, Foster will be subject to no end of humiliation and shaming as the audience are invited to pelt him with rotting fruit and veg…
(Cursing and heckling are positively encouraged)
Sam Keogh Taken from/Put in Oscar's Bin 3.30pm
By nature, Oscar the Grouch is messy, hypocritical and antagonistic. In 'Taken out of/put into Oscar's bin' these traits are activated as the figure of Oscar is sculpted through a constellation of conflicting metaphors, associations, histories, biographies and descriptions of materials. Through a considered use of grammar and syntax these various threads are matted together to present a textural impression of Oscar, an appearance of his messy figure entangled in the senses of the reader.

Categories
Tags