Musician Charolotte Morman with Naim June Paik Sculptural piece
Image via: WordPress
Transmitted Live: Nam June Paik Resound opens 9 August–19 October 2013
Talbot Rice Gallery
University of Edinburgh
Old College, South Bridge
Edinburgh EH8 9YL
Exhibition co-curated by Nam June Paik Art Center and Talbot Rice Gallery
No other artist has had greater influence on the use of technology in art than Nam June Paik; he prophesied changes that would shape the ideas, 'Participation TV,' 'Random Access Information,' and 'Video Commune.' Transmitted Live: Nam June Paik Resounds celebrates the 50th anniversary of Paik's first solo exhibition, Exposition of Music – Electronic Television (Wuppertal, 1963), when the artist brought television in the realm of art for the first time, presenting it as a tactile and multisensory medium. As part of the countercultural movements of the 1960s, Paik believed that artists should humanise technology, get their 'fingers in and tear away the wall' of the establishment. Paik, a trained musician, treated technology as a material part of his repertoire, which later expanded to include video, satellite transmissions, robots and lasers.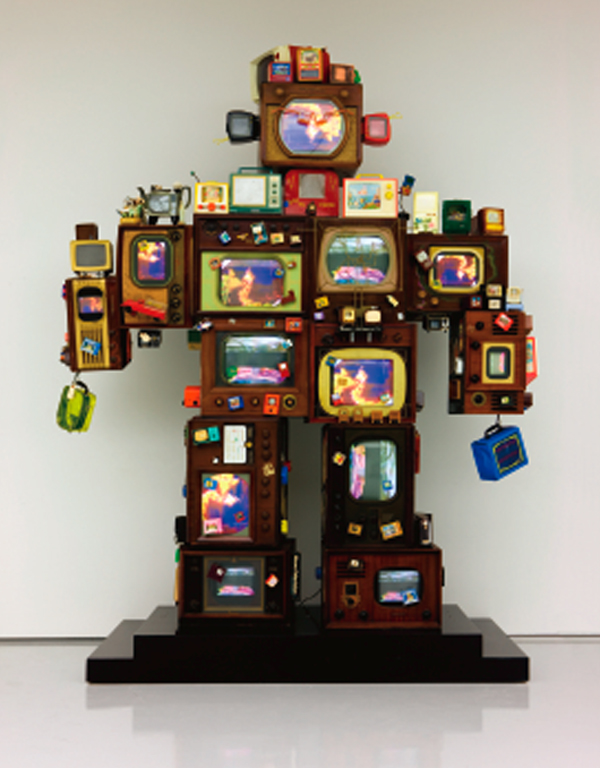 Invited by the Edinburgh International Festival 2013 with a grand theme of 'art and technology,' Nam June Paik Art Center will fill Talbot Rice Gallery, University of Edinburgh, where such notable historical figures as Charles Darwin and James Clerk Maxwell attended, with electromagnetic waves to reverberate with the diverse forms of Paik's practice. Drawn primarily from the Nam June Paik Art Center's collections including videos, sculptures, photographs and archival materials, the exhibition is intended to shed new light on the artist Paik, who was a rigorous but always humorous thinker and experimenter at the same time. As the first Paik exhibition in Scotland, the birthplace of electromagnetic theory and television technology, Transmitted Live will demonstrate how revolutionary the artist remains for contemporary audiences in encouraging creative engagement with technology.
In the opening week, a special programme of performances will take place as an integral part of the exhibition to broaden its amplitude. Four international contemporary artists selected for the performances, namely, Takehisa Kosugi (Japan), Byungjun Kwon (Korea), Okkyung Lee (Korea), and Haroon Mirza (UK) are those who have participated in the Nam June Paik Art Center's projects before, reinvigorating Paik's artistic spirit in terms of truly transcending the boundaries of music, visual art and performance art. The works of Paik embodying the innovative artistic exploration of technology will resound throughout the city of Edinburgh and beyond.
www.eif.co.uk/paik
www.njpartcenter.kr
www.trg.ed.ac.uk
Categories
Tags