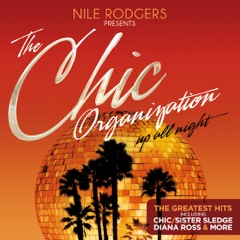 Nile Rodgers Presents The Chic Organisation Up All Night (The Greatest Hits)
Format: 2CD ??????????"Nothing gets a crowd going like a CHIC groove…"
I know I Know we are an Arts Website , BUT its summer and we wanna dance and what better record to do that too than the new
Album from Nile Rogers and CHIC "Up all Night" all you have to do to have a chance of winning a signed copy of this record is answer the question below:
Q What is the name of the number 1 single Nile Rogers created with Daft Punk ?
Send your answer to Mark@FADwebsite.com putting GOOD TIMES in the header .

Overview
?Guitar maestro, producer extraordinaire, hippest man on the planet: Nile Rodgers is all these things and more. Recently No.1 across the world with Daft Punk's 'Get Lucky', the Nile Rodgers story goes back to 1976 when he formed The Chic Organization with bass player, Bernard Edwards. Since that time he has become a one man hit factory. From working with and co-­?fronting Chic to branching out with Sister Sledge, Sheila & B Devotion and Diana Ross, Nile Rodgers has sprinkled his magic on musicians from many generations coming right up to date with Daft Punk.
Release Info
As a co-­?writer and collaborator on Daft Punk's massive number 1 comeback single and album, now is the perfect time to take Nile's music to a greater audience. This 2 disc collection of classics highlights some of the greatest moments in the illustrious career of Nile Rodgers, with an impressive eleven UK top ten hits including 'Le Freak,' and 'Good Times,' by Chic, as well as Sister Sledge's 'We Are Family,' and Diana Ross's 'Upside Down'. Brand new sleeve notes are included, written by journalist and producer Christian John Wikane. His overview of Chic's career is brought right up to date as he compares the massive early success with the recent global resurgence of Nile Rodgers and Chic:
"Jump-­?cut to 26 May 2013 when Nile Rodgers stood onstage in Bristol's Castle Park and heard a crowd of thousands serenade him with an a cappella rendition of "Get Lucky".
The scene was not that different from 1979 when 60,000 CHIC fans would chant the "CHIC Cheer" in packed stadiums. The words and melodies might change, but the fact remains the same: nothing gets a crowd going like a CHIC groove "(Christian John Wikane, sleeve notes) Nile will be touring with Chic throughout the summer more details :www.nilerodgers.com
Categories
Tags