Is hip- hop art? What is hip-hop? What is art? Or better question- what is JAY-Z doing performing in an art gallery? On the 11th of July, hip hop emcee, Jay-Z took it upon himself to stage a 6 hour performance inside the walls of Manhattan's Pace Gallery. Ostensibly, Jay has been known to be quite the art collector sitting amongst some of the most top knotch high rolling debonaires bidding on cool works, such as Warhol's and Picasso's in order to add value and prestige to his already stunning collection.  Hip- Hop and art, or music and art for that matter, have been intertwined for countless years, but this unique performance vividly takes the relationship to the next creative paradigm. Intimate, raw, and full of swagger, J even included legendary performance artist Marina Abramovic to join in on the eclectic mix, allowing for a striking contrast, while simultaneously evoking braided similarities within these overlapping artistic realms.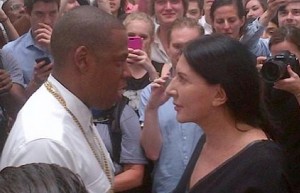 So back to one of my original questions: Why is Jay-z stomping around Pace's white cube walls as oppose to an arena where millions of more fans could observe his radical rhymes? What contemporary barriers within the art scene is he trying to bust down? And of course, the one FAD always enjoys to kick around- is it art? Check out this cool video which attempts to sum up the 6 hour event.
Jay-Z is notorious for breaking many of the established rules in both the realm of contemporary hip hop and business. While creating a collection of head bopping hits and representing Brooklyn to the fullest, his newest album Magna Carta Holy Grail  continues his explorations in rule breaking and rule making. It is obvious that the Jigga man's music is highly inspired by the realm of 'fine' art as he makes references to talented legends in all aspects of his work almost constantly. For example, (as if the above video was not enough)his new album cover is a firm, respectful nod to the sculpture, Alpheus and Arethusa by Battista di Domenico Lorenzi (Italian, ca. 1527/28–1594) which is part of the  Metropolitan Museum of Art's permanent collection.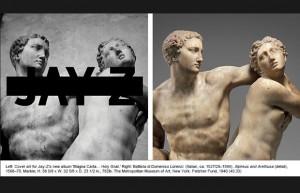 I cannot help but wonder why he chose this particular sculpture as the story behind the creation of this piece provides for an interesting metaphor. According to Roman mythology, the river god Alpheus pursued the nymph Arethusa until Diana changed her into a fountain. This group was carved to go above a fountain in the villa Il Paradiso at Pian di Ripoli, near Florence, which belonged to Alamanno Bandini, Knight of Malta. Hmm….do you think Jay envisions himself as a Roman God- twisting and 'wrapping' his way around the game, conjuring all of the lavish ladies to swoon over him? She does somewhat resemble a very rustic rendition of a Roman Beyonce.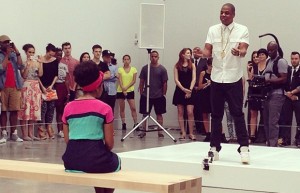 No matter the case-he is so progressive! Jay-Z is also well aware of the power of repetition, imagery and making the right connections with his audiences. During the Watch the Throne tour with Kanye West, he and 'Ye performed the Hit-Boy-produced "N***as in Paris" up to 12 times for audiences all over the world, making it clear to fans that they were breaking records doing so.
Even though it is an interesting topic to dart around, whether or not this is in fact 'art' is not the primary issue at hand. What is important, is that people are asking this question and questions like these. Are you a fan of Jay-Z? Am I? Your answers, nor mine, do not matter. What matters is that this is happening- so let's talk about it! I do feel it is necessary to have creatives like Jay-Z. Go- getters who push all the limits while remaining positively curious and fearless enough to venture down different avenues of expression. From selling cd's out of his trunk in the graffitied streets of Brooklyn to marrying the queen B of R and B, as a dedicated business man, entrepreneur and forerunner of hip-hop lyricism, Jay is consciously taking things in a new funky direction, and I am loving it!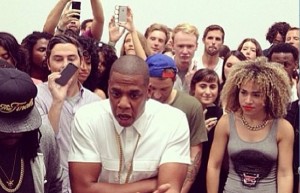 images via:www.complex.com
Words: VC
What do you think about Jay's new artistic adventure? How does your art push boundaries? Feel free to comment below!
Also:
For more info on Pace gallery:www.pacegallery.com
Another cool article about Jay's art collecting hobby:www.artspace.com
Categories
Tags