This exhibtion, ON DECK, perfectly exemplifies one of the greatest sports invented in American culture -baseball! Yes, I know. Usually known as one of the most boring sports to be infiltaretd into the legion of the international athletics, but leave it to Marc Straus gallery to spice things up a bit. ON DECK is a group exhibition referencing baseball terminology for the next batter in line. Fourteen artists from ten countries will queue up for this year's summer show at MARC STRAUS providing an overview of the gallery's 2013-14 season programming. Nine artists are on the gallery roster with an additional five represented by their first inclusion in a US gallery. Please join us to hear the crack of the bat as these fourteen give us a glimpse of the future.
THOMAS BANGSTED (*1976) was last included in the gallery in a two-person show with Jeff Wall. He meticulously uses large-scale 8 x 10 inch film to craft his images. Often the final compositions are amalgams of numerous exposures of the same location shot over a period exceeding two years. His compositions thus record a history of a place shaped by his choices. Bangsted's work is owned by museums and collectors in the US and Europe.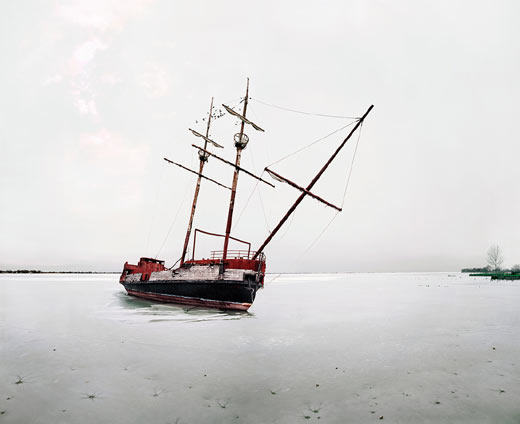 Thomas Bangsted Anchor Bay, 2006/08
KARLYN DE JONGH's (*1980) chromatic multipanel paintings were included in the exhibition "Personal Structures" at Palazzo Bembo as part of the 2013 Venice Biennale. Each panel symbolizes her feelings on a particular day in her life: its width and hue illustrate the intensity of her emotional relationship experienced. De Jongh began this series of paintings on December 1, 2011 as a means to heighten awareness for the present and to express the pattern of psychological versus actual time. Her texture is gestural and reminiscent of Herman Nitsch's hefty impasto, evoking an intimate contact between the hand, paint and wood, and thus delineates the artist's struggle against the momentum of time, even before the paint dries. This is de Jongh's first show in the US.
JEFFREY GIBSON(*1972) is a Native American whose works offer a dialogue between canonized modern geometric abstraction by artists such as Albers and Stella, and traditional artwork of Native cultures. In May 2013 he was the featured Arts section article of the Sunday edition of The New York Times. He is the subject of several solo museum exhibitions this year alone. He is in the collections of the Eiteljorg Museum, the Smithsonian Institution, the National Gallery of Canada, the Museum of Fine Arts Boston, the Nerman Museum, and the Denver Museum of Art.
CHARLES HINMAN (*1932) is one of the luminaries of Shaped Canvas painting. He had immediate success in 1964 with acquisitions by MoMA, the Whitney Museum and more. His paintings are explorations of light, shape and structure. ON DECK will include Castor and Pollux, a masterpiece from 1966, along with new work, providing tangible evidence of over five decades of landmark innovations.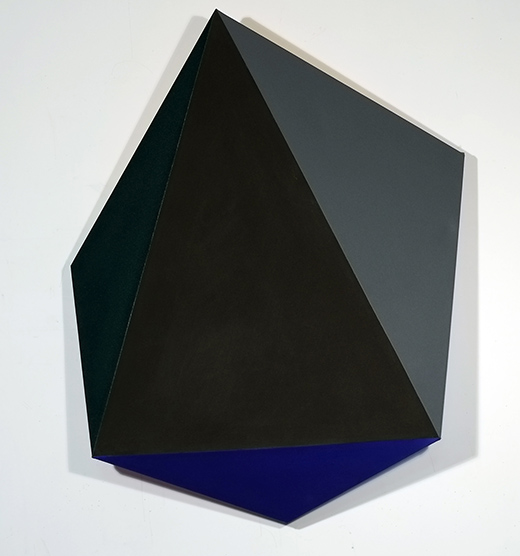 Charles Hinman: Indochinite, 2013
CHRIS JONES (*1975) is a British sculptor represented by two mural size wall works, The Invisible Index and The Design of Pursuit. Creating sculptural imagery from fragments of newspapers, advertising posters, and magazines, Jones records the way in which we assimilate and process the world using our own personal histories and memories. The Sunday NY Times wrote in 2008: "At the core of [the work's] appeal is a knack for crafty design, inspiring a sense of enchantment and awe — intense and engaging. … Material transubstantiation…is another alluring quality of this piece."
ANGELIKA KRINZINGER (*1969) is an Austrian photographer exhibiting her work in the US for the first time with five new photographs from her series MUTTERMILCH. Krinzinger eternalizes perishable Old Master paintings in technically elaborate digital photographs, focusing on specific subjects such as hands or breasts. Her series tenderly evokes our basic instinct of maternal care and affection and successfully bridges the gap between two chapters of art history.
MARTHA MYSKO (*1982) is a recent Cranbrook graduate whose first show at the gallery in 2012 included room-size sculptural installations and wall works assembled from found domestic matter: painted carpets, outdated TVs and iMacs, half of a couch. Martha redefines space, breaching conventions of sculpture and painting. As one critic put it: "the work engages a painterly language that plays on the desire to fix a gestural moment in time through materials, which is inevitably impossible."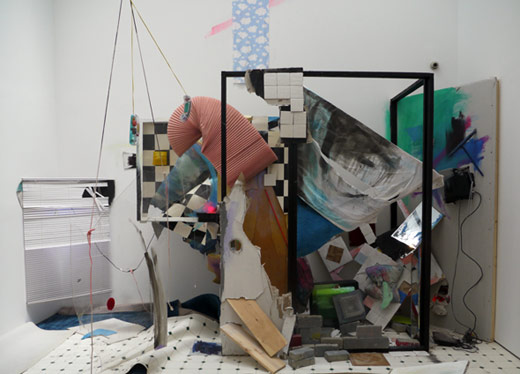 Martha Mysko: The Lock Out 2, 2012
JONG OH (*1981) is a Korean installation artist who uses wood, metal, glass, threads and gravity to compose abstract spatial drawings. His minimal three dimensional structures are delicate explorations of light and visual perception. Oh was last shown in the gallery in opposition to important minimal sculpture from the 60's: Sandback, Bell, Barry. He had a recent one person show at Jochen Hempel in Berlin.
MORITZ PARTENHEIMER (*1979) is a Munich-based photographer who recently completed an ISCP residency in Brooklyn. For ON DECK Partenheimer traveled to rural Florida to capture the mundane and often overlooked beauty of American suburban edifices. Continuing the tradition of the Neue Sachlichkeit (New Objectivity), Partenheimer is an important young voice in German photography. His first monograph will be published in 2014 with the Helmut Newton Foundation, Berlin. His works are in the public collections of the Munich Pinakothek der Moderne, the ADAC Collection, and the Allianz Collection.
ANTONIO SANTIN (*1978), educated in Spain, incorporates pictorial lighting effects reminiscent of Velazquez and Caravaggio. His still lifes span Spanish Tenebrism, 20th Century Expressionism, and Postmodern hyperrealistic portraiture. The viewer encounters strangers in odd instants, described in brilliantly crafted oil compositions. His new series raises pertinent issues about beauty and domesticity, and about empathy and distancing. His work is in numerous international collections.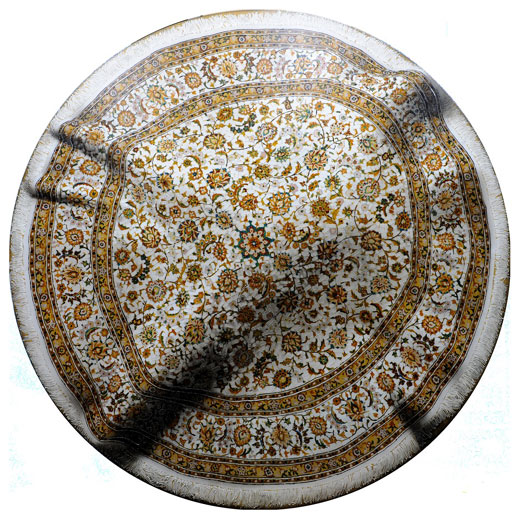 Antonio Santin: Fiebre Amarilla, 2011
JONATHAN STANISH (*1983) is a recent Pratt MFA graduate. His sculptures crystallize and express the influence pop art and media culture have on our contemporary life. Stanish employs ubiquitous imagery, such as tourist postcards or pop idols, placed on raw clay before firing. Affixing his perspective of our time on material thousands of years old, the artist redefines this popular material in a contemporary setting.
DOLLY THOMPSETT (*1969) is a British painter using upholstery fabrics as painterly ground and stimulus for deeply meditative visionary imagery. She inflicts domesticity on painting, allowing vegetable and fauna ornamentation to orchestrate the composition. Dolly's work is in several important collections, among them the Zabludowicz Collection, UBS, Ernst & Young, Neuberger Berman. She is currently teaching at Goldsmiths College of Art, London.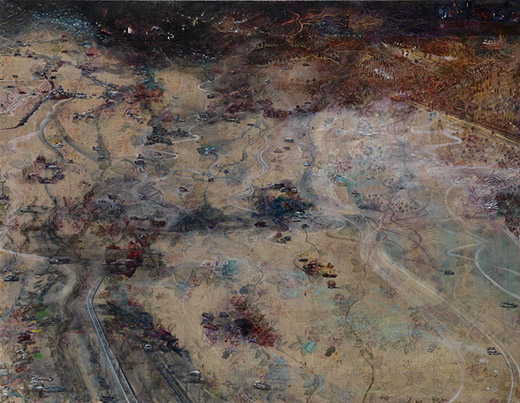 Dolly Thompsett: Endless Highway, 2011
ZLATAN VEHABOVIC (*1982) holds a Ph.D. in painting from the distinguished Zagreb Academy of Fine Arts and has been traveling Europe recently serving as a cultural ambassador presenting Croatia's entry into the EU. Vehabovic portrays exceptionally intense emotional stills that are informed by movies or photographs but manipulated and diverted until he has imbued them with deep personal connotations. The artist is the winner of numerous awards including the Croatian Chamber of Commerce Award and the Grand Prix at the International Association of Art Critics.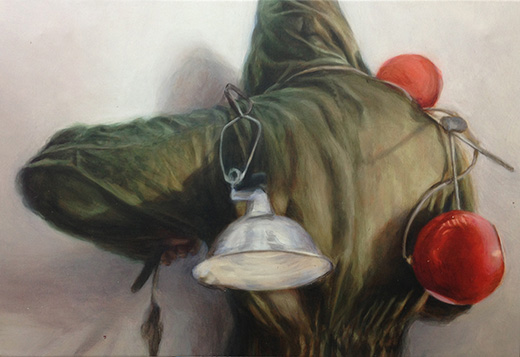 Zlatan Vehbovic:Untitled, 2013
ENTANG WIHARSO (*1967) is a leading artist from Indonesia and currently represents his country at the Venice Biennale. His grand metal sculptures and large-scale narrative paintings are informed by popular iconography of political, social and historical realities, cultural myths and the Candi reliefs at Sukuh Temple. "I depict the condition of humans who are often divided by complex, multilayered political, ethnic, racial, and religious systems." His work is in numerous international collections. He is represented By Arndt in Berlin and Primo Marella in Milano and Beijing. MARC STRAUS will present the artist's first solo show in the United States in fall 2014.
For more info or to view more works: marcstraus.com
Categories
Tags