Last week, artist Rich Simmons was gracious enough to take time away from his hectic work schedule to sit down with FAD to answer some questions concerning his second show at Imitate Modern gallery, 'Inner Outsider' now exhibiting until the 3rd of August, and to also fill us in on the latest developments and anticipated future growth of his 'Art is the Cure' online platform .
Exploding into the commercial art scene in 2011 with his witty graffiti piece 'Future ***King', where he depicted Prince William and Princess Kate as Sid and Nancy of the Sex Pistols in the Southbank skate park, most people would be surprised to know that artist Rich Simmons actually suffers from mild Autism, social anxieties and insatiable urges to change the world through the only way he knows best- his art. Primarily known as a street/graffiti artist, Simmon's style is quite difficult to characterize or to place in the normal 'artistic box' which most critics attempt to do. Inspired by a variety of art movements, fashion, music, and our present technological revolution, Simmons has learned the true trick of the contemporary artistic trade. Continuously adapting to the trends of the art world, while still managing to hold on to his own artistic vision, he has also been  intelligent enough to incorporate past business skills into the whole equation- his career seems to be at it's most exciting peak- with only more to come!

Image courtesy of: Legged-lame
Self taught at an early age, Simmons has dedicated his life to art and to inspiring others to create and to use artistic expression as a positive tool to overcome negative emotions and feelings of helplessness. In 2008, inspired by one girl's reaction to his Myspace page, who claimed 'Rich's work and his philosophy towards art as therapy helped save her life' he created 'Art is the Cure' as a way to continue sharing this story and stories like these to keep the circle of inspiration in full flux.
 Modest and full of humility, Simmons has always considered himself as the 'shy art kid in school'. However, immeasurable ambition has always been embedded in his personality. He recalls around the age of 17, telling his guidance counselor when asked what he wanted to be when he was finished with school he replied, 'I want to be Banksy and go on tour with Blink 182!'. Whether joking or not, by 2011 (at the age of 25) he was involved with one of the biggest shows at Opera gallery, 'The Street art show' where his work was featured alongside huge names like Jean- Michel Basquiat, Keith Haring, Swoon, D*face– and of course Banksy. Within the same time frame he was ironically situated within arms length of the lead singer of Blink 182, Mark Hoppus, at an art opening in London.  He calmly introduced himself as if they had been friends for years, and insisted to make him a piece from the heart as a 'Welcome to England' present, and they have been collaborating closely ever since.
Achieving Peace, 2013
What would you say is your 'style' of work and what separates you apart from other graffiti artists?
My style now is primarily 'street art and graffiti'. But I have been drawing and creating art since I was a young kid. I have always been in my own 'art bubble' as art for me has always been a positive way to deal with social anxieties and depression. I would escape into the pages of my sketch books, drawing from comic books and life and would even sketch my friends as Simpson's characters in between lessons to get some extra pounds for treats at lunch. As I got older I became really interested into surrealism and surrealist artists such as Salvador Dali. This then led me to discover cool and quirky pop artists like Andy Warhol. By the time I was 17, I began looking at street and graffiti artists like Banksy, Andy Howell, and Shepard Fairey, which then led me to using stencils and spray paint. I also love other contemporary forms of art and fashion from Damien Hirst to Alexander Mcqueen and punk music- especially blink 182! So, I guess you could say my background is actually an eclectic mix of a wide range of styles and art genres, where I have plucked bits and pieces of what I like from each era and category and braided them all together to form my own unique fingerprint, a fingerprint which is only continuing to evolve.
When was your first break?
When I was around 20 my flatmate Zoe took me to London (we lived about two hours North) where I witnessed my first street and graffiti art fair. Even though I had been stenciling on my own and had seen a variety of graffiti pieces on the Internet- it was nothing like seeing the pieces in person.  When I saw my first Banksy in real life and not on a computer screen- I was so overcome with inspiration that I knew I had to start taking my stencils from my room to the streets! Soon after,  I moved to London and started doing pieces outside on a much grander scale, but I never liked attributing my name until I knew I had gotten my craft down perfect.  In 2011, just before the royal wedding, I had a funny idea that involved Prince William and soon to be Princess Kate and I was finally confident enough to make my work public. Because of my marketing and business background, (as I used to own my own clothing line) I knew how important it was to let people in on what I was doing and when I was doing it. So I contacted numerous newspapers and magazines informing them of my plans, and exactly when and where they could catch me in the act. Almost immediately, I was being watched recorded and interviewed- on the spot. Opera Gallery found out about the whole thing and contacted me to do a show-  the madness hasn't stopped ever since.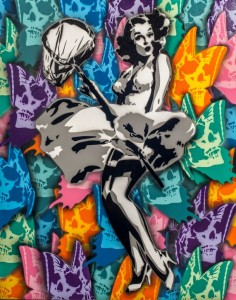 Chasing Butterflies, 2013
How did you get involved with Imitate Modern Gallery?
I consider myself incredibly lucky to have the opportunities that Opera gave me. I have learned so much since my first show with them, but I  felt I was not being challenged enough there. They were having alot of big shows and doing things where I didn't feel like I could learn the most. I compare it to a footballer leaving a huge premier league team where they barely get to play, to dropping down to an ambitious championship club where the opportunities to play are endless- allowing for more growth and development.  The artist StiK (who showed with me at Opera) introduced me to Intimate, and  I was immediately attracted to their platform which is predicated on promoting young and emerging talent.  Imitate Modern is edgy, unique and continues to bring in and foster exceptional talent. They support me tremendously and give me my freedom, while still managing to push me in all of the right artistic directions.
Calvarium Palpilio, 2013
How is 'The Inner Oustider' different than your first show, 'Just be you tiful' in 2012?
After my first show in October 2012, Imitate Modern told me I had another show in June 2013. At that time, I had just made this butterfly skull piece inspired by these haunting dreams I had been having which had been waking me up daily, forcing me to create. I told them I wanted to have a show which explored these internal struggles and the metamorphosis of therapeutically turning pain into art. My last show also dealt with these issues but there were much more beautiful -pop undertones. This time, I am exposing a bit more of the darker side. I am increasingly coming more in touch with how struggles and torments, if harnessed correctly, can lead to the most beautiful and inspiring productions of art. My style has changed, and will continue to change,  and I want to involve all of my friends, family and fans in these changes keeping them updated with my  journey- with high hopes to inspire theirs. People have already been asking what is next for me and this is great, because it is a huge challenge and forces me to continue to grow and to adapt.
Art is the cure has evolved so much since 2008,  where do you see 'Art is the Cure' in a few years?

I started Art is the Cure in 2008 and was primarily going to schools in attempts to promote art therapy within the community, but there is only so much that one person can do. I wanted to initiate the infiltration of art as positive therapy and then take a step back to allow the community to take more of a part in the evolution. Since the beginning of it's origination, I have always had ambitions to take it further and further and to connect as many people as possible. Because it all originated on Myspace, I decided to take things back to technology. I am not the biggest fan of facebook's rigid platform and wanted to create a new platform where people could access their own creativity and tell their own story. It is all about the inspiration- we are here to inspire eachother and to keep the cycle going. Sometimes I feel down and need to feel inspired and then I read someone's story or someone tells me how I have changed their life- and it is such a great feeling! I should not be the only person who gets to feel that! In this technological age, the only way I can have the greatest effect with this philosophy is through a technological platform like 'Art is the Cure.' I started it with a partner of mine this month, who is a genius with technology (something I am terrible with!)  we already have so many participants and there is so much more that we want to do! For example, we are in the process of creating more interactive apps where people can literally draw their own designs or paint their own thoughts, whatever they want! We just want to create a site where anything is possible- to connect, create imagine and inspire. Everything that I sell at this show goes to supporting myself and then all the rest to the cause!
What do you think your next show will be about?
'Superheroes!'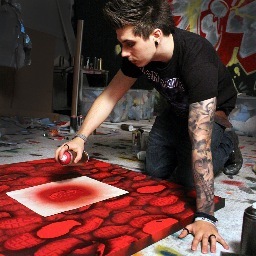 Image courtesy of: Blogspot
To know more about 'Art is the Cure' visit: www.artisthecure.com
You can also like them on Facebook: www.facebook.com/artisthecure
To view a video on Rich Simmons and his commentary on the royal wedding: www.youtube.com
Cool article on the Future ***King: www.dailymail.co.uk
For more information on Imitate gallery and upcoming exhibtions visit: imitatemodern.com
Categories
Tags