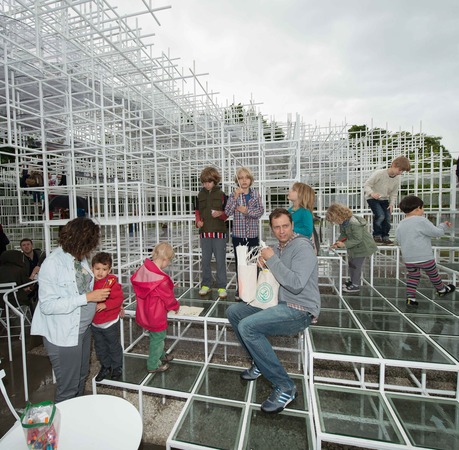 Ehtifal, presented by The Serpentine Gallery in collaboration with Qatar Museums Authority, 4 – 6 July 2013
Courtesy of QMA. Photo credit: Hugo Glendinning.

Internationally acclaimed novelist Hisham Matar, Sudanese artist Ibrahim El-Salahi, whose show opens at Tate Modern this month, and the virtuoso Egyptian violinist, Waeil Abo Bakr, are in the line-up announced for EHTIFAL, a free programme of Arab literature, debate, music and art from 4th – 6th July. Presented by the Serpentine Gallery in collaboration with Qatar Museums Authority, EHTIFAL is part of Shubbak, London's Arab contemporary arts festival.
EHTIFAL (an Arabic word that means 'celebration') will culminate in a free open-air family festival, as a special celebration of Qatar UK 2013 Year of Culture, on Saturday 6th July in and around the Serpentine Gallery Pavilion 2013, designed by Sou Fujimoto.
Pop-Up Mathaf
The first two days of the Festival will be hosted jointly by the Serpentine with Mathaf, the Middle East's first museum of modern and contemporary art, based in Doha, in a special Pop-Up programme:
Pop-Up Mathaf: Mapping Arab Literature in London
Thursday 4th July 7 pm – 9 pm
Chaired by Pop-Up Mathaf curator Deena Chalabi, the opening event will take place at the London Review Bookshop in Bury Place, and will feature contributions from celebrated Sudanese artist Ibrahim El-Salahi, authors Hisham Matar, Ma'n Abu Taleb, Etel Adnan and Sophia Al-Maria, publisher Margaret Obank and Serpentine Co-Director Hans Ulrich Obrist.
Pop-Up Mathaf: Tashweesh and Waeil Abo Bakr
Friday 5th July 8 pm – 10 pm
Two special performances take place in the extraordinary setting of the Serpentine Gallery Pavilion 2013, designed by Sou Fujimoto.
Palestinian audio/visual collective Tashweesh present their most recent sound and video performance: a fractured narrative exploring a contemporary moment full of desire and disaster and, on this occasion, incorporating recent histories of Arab London. The result will be a collision between sound and video, field recordings, archive material, vocals, breaks and soundscape.
Egyptian virtuoso violinist known for touring with Led Zeppelin and Peter Gabriel, Waeil Abo Bakr will present a set with five musicians against a backdrop of archival images of his 30 years as a musician and promoter of Arab music events in London nightclubs.
EHTIFAL FAMILY FESTIVAL: Celebrating Qatar UK 2013 Year of Culture
Saturday 6th July 12 noon – 5 pm
Artists and designers from London and Qatar will come together to present a special day of cross-cultural adventure in English and Arabic for children and families. With the Fischli/Weiss sculpture, Rock on Top of Another Rock, co-commissioned with Qatar Museums Authority, as the focal point of a specially created fantasy landscape in Kensington Gardens, children will be able to participate in storytelling, live illustration, interactive games and histories relating to Qataris living in London, as well as hands-on building activities for the whole family.
The Ehtifal Family Festival is presented as part of the programme for Qatar UK 2013, a year-long celebration of the relationship between the two countries, by Qatar Museums Authority and the British Council, as a special contribution to the Shubbak Festival of Contemporary Arts in London.
Categories
Tags