The Veil, 2012, mixed media, 150 x 190 cm,
Permanently breaking his spinal cord after falling from the 6th floor of a building in Iran at the age of 24, three years later, Afshin Naghouni fled to England to seek refuge from his tragic break, wars and revolutions. Alone and disabled in a wheelchair with only 350 pounds in his pocket in a country which was not his own, he rose to the challenge of making a career from his art- and not from his disability.With embedded artistic talents and thirsts to create, Naghouni first received support from mentor's such as John Ritchie (Guy Ritchie's father) and the Princess Trust. Years later it is safe to say that has successfully transformed his trials and tribulations into a well earned reputation as an established and highly acclaimed artist living and working in London.
Distant from his native land for many years, not only has losing all feeling in his wrists and fingers affected his evolving technique, but it is also at this stage in his life where he is not afraid to execute works which explore poignant and provocative themes. At first glance, many of his figurative captions seem visually pleasing, but take a step closer and Naghouni's canvases reveal darker, more sinister ideologies implanted within every carefully woven brushstroke. Touching on sensitive global subjects, he subjectively and objectively questions the oppression and exploitism of Muslim women while taking into consideration the liberation of women in western cultures. On this same note, he is fascinated by the consumption of capitalist cultures and the hidden complexities of how we become what we wear, and what we wear becomes even more important than the person who wears them.
Brimming with a cool demeanour, a pure soul and genuine passion, Naghouni took the time to sit down with FAD at Go Figurative, where he just recently finished a solo exhibition. Eager to tell his story of how he rose to fruition from the ground up, he answered some questions about his life challenges, his evolution of his artistic technique and choice of content and how it is now 'surreal' for him to be exhibiting with  artists like Banksy.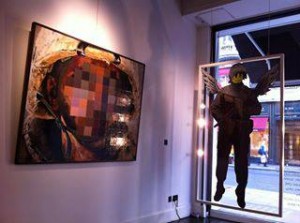 Image courtesy of: Opera Gallery
When did you first start painting?
I have been painting all of my life. I made my first oil painting when I was nine years old.
How has your accident affected your technique or your style of painting:
When I was 24 I was at a party with some of my friends in Iran and the police came to break things up. We all fled and ran to the 6th floor of the building where I accidentally fell, landing on my back and severely breaking my spinal cord. I was put in the hospital for three months and my whole life completely changed. Many Iranian officials wanted me to place blame on the authorities where I potentially could have received much fame and credit, especially as I was a practicing artist at the time. But, I did not want to gain success for my career in this way, if I wanted to make it as an artist I wanted to do it on my own- not because some higher authority helped me. Before the accident I had full function of my wrist and of my fingers which I don't have now. I used to paint in very fine detail and played it very safe, but now I am forced to execute bolder and more intense brush strokes with a deeper expressionistic approach than before. But what has not changed is the fact that I have to be involved in every step of the process of my paintings. I love the physicality of paint and have learned to embrace the challenges producing large paintings calls for. Even if I cannot reach the top, I will physically turn them upside down in order to complete the painting. Although the adaptations I have made, there are things that I wish I could be able to do. For example, I would love to roll the canvas out on the floor and walk on it and around painting the composition in this way. But this is just something I physically cannot do, and is something I have accepted but I do not allow it to hold me back.
What made you want to move to England after your first show in Tehran in 1996?
From 1996-1997, things in Iran were just getting progressively worse and I had to make a choice where I was going to move. I had always had good thoughts of England as I had visited here a few times with my parents when I was a child. I also could speak English, as oppose to French so this also helped influence my decision to move here.
With my show in Tehran I was very lucky and sold almost everything. I had no idea how what kind of health care or support I would be receiving in England, so my father and I took all of the money I had received from my sales, from my car I had sold,  and then some extra from a house my mother had sold in Iran. With all of the exchange, this still only added up to be about six or seven thousand pounds.
How did you finally receive support?
I had applied to an political asylum when I first arrived in England, but until my application was acknowledged I was sent to live in a specialized spinal injuries center. After about three weeks, my father finally felt comfortable enough to leave me return back to Iran. We had about 500 pounds left where he took 150 for himself(so that he would be able to get back to Iran) and left me with the rest. So it was me, my wheelchair and 350 pounds in my pocket- and nothing else.
I didn't hear anything from the asylum for 2 and half years and I didn't get a penny during this time! To their credit, after I was discharged from the hospital 6 months later, I was put into a nursing home where I did have a roof over my head and people to look after me. But the environment was a very mix level of people, some of which suffered from very traumatic mental and physical disabilities where I was left with no one to communicate most of the time.
Were you able to produce any work in this time?
I was able to go to Ryman's and buy really cheap art supplies and sometimes the staff would bring me pieces of cardboard which I would paint on them and  sell to people on the streets so I could buy more art supplies and cigarettes.
So when would you say is your big break? Or has it come in increments?
When I came into London in 2000, as I had been living in Dartford for 2 and half years at this point, I was still completely broke. So, I applied for support from the Princess Trust which gave money for young people who wished to start their own business. I put on my application that I was an artist and that I needed money for supplies, a camera, to set up a website, etc. They did not agree to give me a grant, but they did provide a loan with no interest (about 4 and half thousand pounds). When you get this loan you are matched with a mentor who will help guide you when setting up your business. They were not familiar with someone wanting to set up a business to be an 'artist' so it took them a while to find a mentor who wanted to take the time to work with me and who believed in what I was doing.

Chastity, 2012 mixed media. 150 x 190 cm,
Who did your mentor end up being and in what ways did he help you?
After a few weeks they contacted me and told me that someone was interested- someone who had seen my work and liked it! Of course I was extremely intrigued and they told me it was John Ritchie- Guy Ritchie's father, whom naturally had a huge amount of connections and really helped me to get my foot in the door. He was involved with a UK based youth charity that ran an art fair every year featuring over 200 new and emerging artists. We had become friends and would met regularly, but for the first five years (from 2001-2006) I never sold one thing! I am still convinced to this day that the only reason why I was kept on the roster was because of my connections to John.
What changed?
Before I had always made paintings that were very safe and did not entirely challenge my audiences. I decided to go back to University at London Metropolitan and started to become more involved with social and political projects which had more of a relevance to me and to all of the challenges I had been through.  I will never forget when I was first exposed to an image of this Iraqi boy whose face had been completely burned. The colors on his face were these beautiful purples and pinks which completely contrasted to his condition and I was so inspired that I knew I had to do something with the image. So I took the picture and repeated the image all the way across this six foot tall canvas and then painted a very close up picture of his face with beautiful pastel colours, where you could see parts of the photographed image through the brush marks. This was meant to be my graduate university project but because I had been so disappointed by not selling in the art fair for the past five years, I figured if I at least had submitted a piece that really took a stand and meant something to me and where I came from, then I would at least gain some satisfaction out of my participation.
My friends tried to tell me that I was not going to sell a piece that was so controversial but I was so used to not selling that I just didn't care anymore! I had nothing to lose! To my amazement, the piece titled, Abstraction of Reality sold before the private view even opened! Before, I was producing somewhat 'safe works' mainly because I thought this was what people wanted.
After I sold this, it was like a switch had been flicked on and I knew that I had to start painting for me and no one else! When I finally gained this perspective and continued to paint things which inspire me, which challenge my viewers and inspire them- I feel better about myself and my work.
The year after I submitted the Abstraction of Reality, I continued to sell at the fair every year after- each year selling more and more. Recntly, the owner of Opera gallery approached me and said he wanted to work with me. This was so surreal to me, as this was a gallery, amongst many others, that I had approached years before over and over and they didn't even reply to my letters! And now the owner was coming after me!
 So how are you now involved with Go Figurative?
I had in the past asked Estelle Lovett, a highly acclaimed art critic and a very good friend of my wife's, to help me with my career (before I started selling like I am now) and she always slighted my work. She was actually one of the people who inspired me to go back to school to focus on colour theory and figurative painting.
Once that internal switch or flame turned on, after I sold the piece of the Iraqi boy, she got in touch with Sally, the owner of Go Figurative and finally put in a good word for me.
What inspires you to paint now?
I am usually triggered by little things. For example, when I see women in London dressed in burkas I sometimes feel my blood starting to boil and I get very angry- but I realize that I have to let people be free- you either believe in freedom or you don't. As bad as the problems in Iran or Syria are- this is not as big as problems which the whole world faces on a day to day basis. My works helps me to deal with all of this pain. Physically when I am working I am cut off- when I start working I don't stop. Last night I was working until about 4am in the morning and right after this chat I will be going back home to go back to work- I release myself into it and release myself into it and then I feel comfortable for a little while until I fill myself back up again.

Reflection, 150 x 160 cm, Mixed Media, 2012,
What is next for you?
I do have an exhibition coming up in Tehran in September but I am not allowed to go back to Iran nor do I really think it is a good idea. Since November I have been being filmed for a documentary which will open at the Amsterdam Film festival in the fall. I used to be very cautious about telling people of my accident and having people know that I am in a wheelchair because I have never wanted people to feel sorry for me. But now that things are finally moving in the right direction for me I feel comfortable enough to talk about my tragedies which have led me to triumphs and I am only looking forward to putting more of my work out for all to see. The point of my work is not to send a sort of powerful message, the point of my work is to make my audiences stop and question what they see, and to become challenged by my work – and if that happens to people then I think I have done my job as an artist.
For more information on Afshin Naghouni visit: http://www.gofigurative.com
Categories
Tags