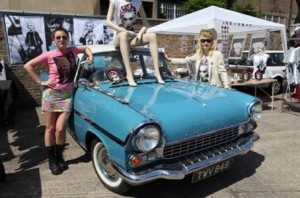 Image courtesy of: Time Out
Vauxhall Art Car Boot Fair
Date: Sunday 9th June 2013
Time: 12 – 6pm
Address: Brick Lane Yard, Corner of Brick Lane and Buxton Street, London E1
Tickets: £5 – available on the door
Celebrating 10 years of fun and frivolity, the UK's hottest annual art fair, the Vauxhall Art Car Boot Fair is gearing up to be another un-missable event, featuring over 70 renowned artists including Sir Peter Blake, Gavin Turk, Emin International, Polly Morgan, Mat Collishaw, Bob & Roberta Smith, Pam Hogg, Pure Evil, Marcus Harvey, Billy Childish, pitching up to personally sell their original and limited edition works of art at authentically bargain prices. The Art Car Boot Fair is a fun and exciting one day event combining a car boot sale and an art fair where there's something for every pocket with works typically on sale for between £10 to £1,000.
Sir Peter Blake comments that: "I've been involved in the Vauxhall Art Car Boot Fair since the first one 10 years ago and I'm always delighted to work with Vauxhall. Since then I've been involved every year; it's a clever way to make art accessible and affordable to everyone. "
Just a few things to check out:
Marcus Harvey's Turps Banana print edition leads the charge with an exclusive print from Nigel Cooke. Plus. STOP PRESS!  A timely, very limited special edition of Marcus Harvey's infamous and celebrated 2009 work 'Maggie', probably the most innovative contemporary depiction of Margaret Thatcher.
Gavin Turk will present something new for 2013 plus a retrospective of all his previous Vauxhall Art Car Boot Fair works, celebrating his 10 years of featuring at the event.
Joining the line-up this year is classy cobbler Tracey Neul. Well known for her collaborations with artists and designers, she'll be pitching up alongside artist collective Le Gun and outsider art champions The Museum of Everything, both of whom have had artworks featured on Tracey Neul limited edition shoes.
Denis Chick, Director of Communications at Vauxhall Motors said, "The concept of turning up in your car and selling is quintessentially British.  Vauxhall Motors is proud to be involved with the Vauxhall Art Car Boot Fair as it enters its 10th year and will exhibit cars from its past and present, including the Velox, 30-98, Cresta, and the exciting new ADAM.  June's event will be another show-stopper."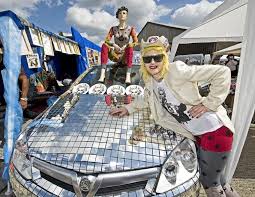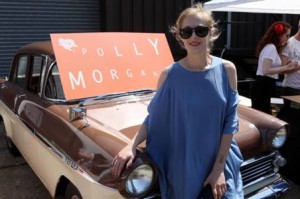 Image courtesy of: Fused                                                                       Image courtesy of: Beautiful Crime
About Vauxhall Motors
Vauxhall Motors has been manufacturing vehicles in the UK continuously since 1903 and has recently launched the Vauxhall ADAM, Mokka and Cascada.  Vauxhall's range spans all mainstream sectors of the vehicle market with best-selling model names such as Corsa, Astra, Meriva, Zafira and Insignia regularly topping the sales charts.
About Vauxhall Art Car Boot Fair
Originated and produced by Karen Ashton, a curator and independent art consultant and writer, the ideas behind the Art Car Boot Fair developed out of Joshua Compston's 'Fete Worse than Death' and Gavin Turk's 'Livestock Market' and 'Articultural Shows', Hoxton based events that blazed a trail in the late 90's. The first Art Car Boot Fair picked up where they left off with the intention of re-introducing some summer fun and frivolity into a thriving but increasingly commercial London art scene.
For more information concerning the event please visit: www.artcarbootfair.com
Available via: http://media.vauxhall.co.uk
Categories
Tags