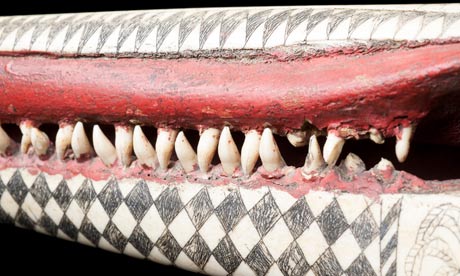 A rough-toothed dolphin skull with scrimshaw decoration. Photograph: Natural History Museum

This article titled "Museums put oddball objects on show" was written by Maev Kennedy, for The Guardian on Tuesday 21st May 2013 18.53 UTC
Oddball objects that are normally hidden away in museum curators' stores – including a working guillotine carved by Napoleonic prisoners of war from a cow bone left over from dinner – are going on display for the first time at museums across England.
Each of 10 museums taking part in the First Time Out project is to display one of the most unusual or downright weird treasures that curators have retrieved from their stores. For the project, each object will then move on to a new location in another museum and be placed among different exhibits.
Peterborough Museum's guillotine was carved in macabre detail, even down to a basket waiting for a chopped off head, by French POWs held at Norman Cross near the city, from 1803 to 1815. Many of the prisoners became skilled carvers and craft workers, using scraps of rubbish including straw, wood, and left-over bones from meals, and handmade tools, including glass fragments, to make toys and ornaments to sell to visitors.
Peterborough Museum has about 700 such pieces, the largest public collection in the world.
Kew Gardens is putting out one of the rarest publications in its collection, by one of the most famous authors. Charles Darwin's first book was a slim, privately printed volume of extracts from his letters sent home from HMS Beagle, written 24 years before the book that would change the world of science, On The Origin Of Species. The book, one of fewer than 100 copies printed, has never been displayed outside Kew's library. It will be shown for the first time beside the original letters, before it moves to the Lightbox gallery and museum in Woking.
The Natural History Museum is to display a skull that it inherited in 1936 from the vast collections of Baron Rothschild. It has only recently been identified as the skull of a rough-toothed dolphin, finished with paint and scrimshaw – patterns incised on bones by sailors enduring long whaling trips.
An expert on such decoration, from the National Maritime Museum, has tentatively dated it – by the images of ships – to around 1850, but its creator will never be known, nor how it ended up in the Rothschild collections.
The Wellcome collection has dug out a cigar holder carved in 1864 from meerschaum clay, which was commonly used for making pipes. It shows in detail the coronation procession of Ludwig II. He became famed for his increasingly extravagant building projects, until he and his doctor were found dead in the lake at one of his castles, fulfilling his remark: "I wish to remain an eternal enigma."
Newcastle's Discovery Museum is exhibiting one of the earliest lightbulbs. It was made by Joseph Swan in 1881 and at the time cost a staggering 35 shillings, roughly equivalent to £130 today.
Swan had, on 20 October 1880, demonstrated his discovery to an astonished audience in Newcastle. One young man at the demonstration, John Holmes, was so awed he applied unsuccessfully to become Swan's assistant, but then he set up his own domestic lighting business in the city.
He went on to invent the quick-break light switch, the ancestor of almost all those in use today. It will be shown alongside the bulb.
guardian.co.uk © Guardian News & Media Limited 2010
Published via the Guardian News Feed plugin for WordPress.
Categories
Tags