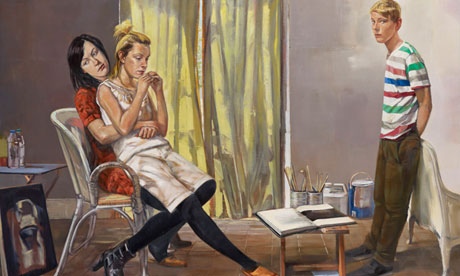 Detail from The Uncertain Time by John Devane, one of only two works shortlisted for this year's BP Portrait award. Photograph: National Portrait Gallery/PA
This article titled "Two studies of family go head to head for BP Portrait award" was written by Mark Brown, arts correspondent, for The Guardian on Monday 22nd April 2013 23.01 UTC
Two artists of the same age and tackling the same subject – their children – will do battle for one of the UK's most popular art prizes, it was announced last night. The National Portrait Gallery said that only two works this year were shortlisted for the BP Portrait award: John Devane's portrait of his three children Lucy, 25, Laura, 20 and Louis 15, and Suzanne du Toit's portrait of her eldest son Pieter, aged 35.
The smaller shortlisting – it used to feature four works – coincides with a change in the prize money this year. There will be no third prize, and the first prize pot has been increased by £5,000 to £30,000. The runner-up will receive £10,000.
Sandy Nairne, director of the gallery and chair of the judging panel, said: "These two outstanding portraits show the strength of painted portraiture today. Thanks to BP's continued and generous sponsorship, the new level of prizes can be awarded and the works can be shared with thousands of visitors."
Devane, 58, a painter who teaches at Coventry university, is shortlisted for The Uncertain Time, which was painted over three years. It aims to show how children emerge from childhood and begin to assert their independence revealing something of their adult lives.
The three figures "are presented as if they are awaiting some kind of event," said Devane, who added that his points of reference included Samuel Beckett, Courbet, Chardin, Degas and Balthus.
Du Toit, also 58, born in South Africa and now living in Berkshire, is nominated for Pieter, one of a series of portraits of her family. The artist said she allowed her son to find his own pose, the only condition being that his hands featured prominently. "I look to the body to provide as much expression as the face," she said.
This year, 1,969 entries were submitted from 77 countries; 55 have been selected for the annual exhibition running between 20 June and 15 September.
guardian.co.uk © Guardian News & Media Limited 2010
Published via the Guardian News Feed plugin for WordPress.
Categories
Tags