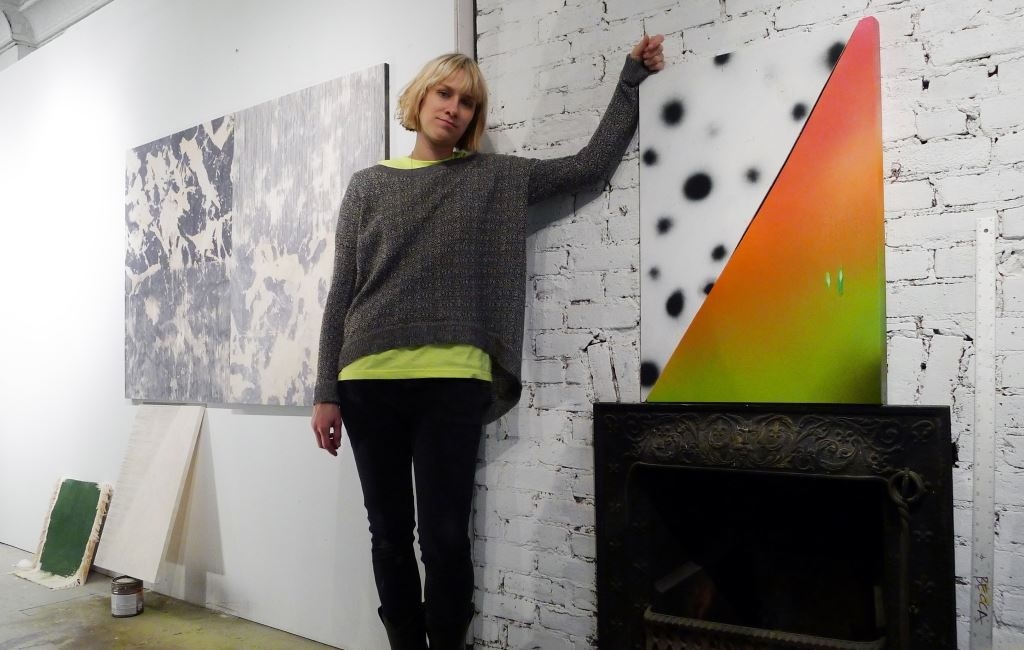 Rebecca Ward, cow tipping, 12th April -18th May 2013, Ronchini Gallery 22 Dering Street – Mayfair LONDON W1S 1AN www.ronchinigallery.com
1. If you weren't an artist, what else would you be?
A tiger or a bird.
2. Can you tell us more about your work and what are the main ideas you would like to express?At its core the work is about the construction or deconstruction of an object and its relationship to a surrounding architecture (the frame in the case of a painting). I'm borrowing concepts from art historical movements like arte povera, support surface, and color field painting and incorporating their ideas into my practice. For example, sourcing discarded and varied materials as a political statement is something I embrace. Certain paintings have feminine qualities or more organic shapes as a result of bleaching, dyeing, and removing the warp from the canvas. I am combining these organic gestures with the hard edges of abstraction and consequently pitting two seemingly opposed ideas up against each other.
3. How do you start the process of making work?
I have some coffee and turn on talk radio. I put away my electronics and open the windows. Sometimes I do a bit of sweeping.
4. Do you consider the viewer, when making your work?
I do consider how work will be perceived by someone other than myself, in a larger social context, or in a different environment.
5. Why Cow Tipping ?
I am an 8th generation Texan if that explains anything, and cow tipping is taken from the title of a work in the show. I'm fascinated by bizarre pockets of cultural phenomena and using titles like this allows me to attribute a small amount of narrative to otherwise abstract paintings. The fact that tipping a cow is the stuff of urban legends makes the practice all the more intriguing to me.
6. What will you be showing at Ronchini Gallery ?
Painting, sculpture, installation, and things that straddle the line between all three.
7. Anytime, any place – which artist's body would you most like to inhabit?
Marcel Duchamp during his "retirement" phase.
8. What was the most intelligent thing that someone said or wrote about your work?
From Stephen Maine's catalogue essay for the show at Ronchini: "Even at this early stage of her career, Ward is clearly in command of what Meyer Schapiro describes as 'the imaginative aspects of the devices for transposing the space of experience on to the space of the canvas, and the immense, historically developed, capacity to hold the world in mind.'"
9. Are you looking forward to your upcoming show with Carla Accardi?
Of course. It's an honor and completely flattering to be paired with a female artist who paved the way for abstraction in Italy.
10. Do you like being the ' inaugural show ? Is this becoming a 'thing' ?
Beginnings are exciting times. I am certainly ok with it. If it becomes a thing I am ok with that too.
11. What's next for you?
I'm looking forward to a solo show at Barbara Davis Gallery in Houston, TX, (October) and a group show at Aperto Gallery in St. Petersburg (June). This summer I'll be settling into my new Williamsburg studio and going camping/swimming as much as possible.
12. Finally if you had $75,000 to spend on art what would you buy and by whom ?
I would love something from Virginia Overton or Anna Betbeze.
REBECCA WARD: cow tipping with ARTNESIA at Ronchini Gallery 12th April – 18th May 2013
More Details:bit.ly/105Wjau
Categories
Tags