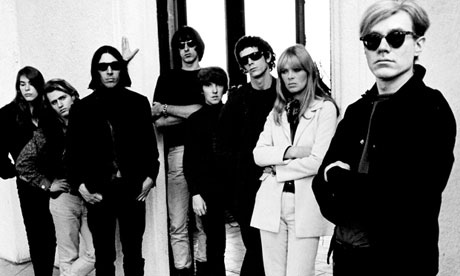 A mirror of life and death … Andy Warhol with Gerard Malanga, the Velvet Underground and Nico in Los Angeles, c1965. Photograph: Steve Schapiro/Corbis


This article titled "Andy Warhol's iconic New York anti-films come to London" was written by Jonathan Jones, for theguardian.com on Thursday 4th April 2013 12.07 UTC
This weekend the ICA will be showing new prints of some of Andy Warhol's most famous films – Sleep, Vinyl and Chelsea Girls. These consciously crude and raw films of the 1960s New York avant garde have been restored by MoMA and the Whitney Museum of American Art and the only surprise is that they're getting such a short outing at a single London cinema. A national release of some kind is called for, surely?
I say that, but I have never actually seen Chelsea Girls. And yet I feel as if I have watched it many times. I got to know and love it indirectly when I was 15, through a vinyl album by Nico that I bought at a record shop in Wrexham. The song Chelsea Girls was the best on the record – full of pungent images of low life at the Chelsea hotel.
Sorry to ramble. It's just that I first encountered Warhol and his world through music, rather than films. I'd seen a soup can painting or two in books – but it was the band Warhol sort-of-managed, the Velvet Underground, that obsessed me. Nico, generally described by music critics as "a German model and chanteuse with a cool robotic voice" (I paraphrase) appeared in Federico Fellini's film La Dolce Vita before gravitating to Warhol's Factory and singing on the first Velvets album.
The visual world of Warhol's 1960s films – from the lyrical gaze he casts on his lover's slumber in the five-hour-long anti-film Sleep to the bohemian rhapsody that is, I imagine, Chelsea Girls – is a place I pictured in my mind long before I properly encountered his images. As a teenager, I would lie about listening to Venus in Furs and Heroin and imagining the dark romantic milieu conjured by Lou Reed's words and John Cale's modernist musical attack. This imagined version of Manhattan still colours my passion for New York and its art.
It also shapes my feelings about Warhol. The artist that name conjures up for some people – a celebrity-obsessed hack, a cynical businessman, the Mickey Mouse of pop art – has never really resonated with me. Sure, he had his bad side, even his wicked side. But when you've spent a large part of your adolescence wallowing in the poetic music of the Velvet Underground, you can't help thinking the artist who discovered and helped them must have been a sensitive man, even a visionary.
So go and see Sleep, or just listen to Nico intone on the Velvets' "banana" album: "I'll be your mirror / Reflect what you are, in case you don't know … "
You will understand that Warhol was a true mirror of life and death.
guardian.co.uk © Guardian News & Media Limited 2010
Published via the Guardian News Feed plugin for WordPress.
Categories
Tags