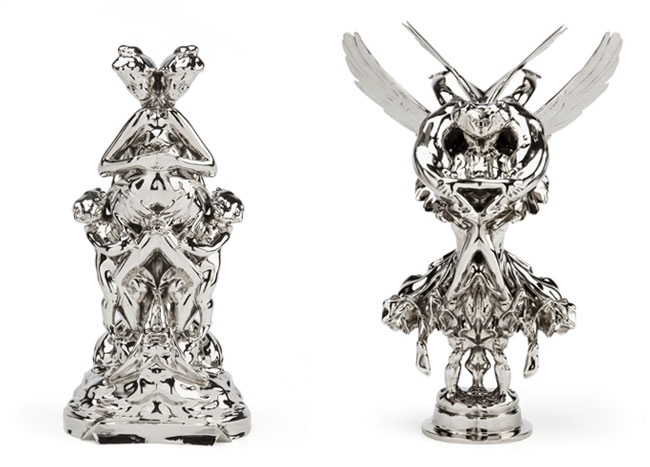 3rd April – 11th May Galerie Perrotin, Hong Kong
On display will be Will Delvoye's famous Twisted Dump Truck in laser-cut laced stainless steel, a never before shown series of bas-reliefs, alongside new bronze sculptures, mirroring themselves, reiterating the principle of Rorschach plates, that reactivate the mythological figures of, for instance, the XIXè s. French artists Antonin Mercié ("Gloria Victis Rorschach") and Emile André Boisseau ("La Jeunesse Rorschach").
Wim Delvoye has developed an art that offers a reinterpretation of artworks of the past while laying down a lucid and amused glance at contemporary society. He explores art history, Gothic cathedrals and sculptures of the 19th century, from Bosch and Brueghel to Warhol, simultaneously revealing the beauty of daily objects. With a Baroque gesture between homage and irreverence, he appropriates and deforms the motifs that inspire him.
From the down-to-earth redeployment of Gothic motifs to contorted and twisted crucifixes, Delvoye's popular and decorative art, which has its roots in subversive and ironic reinterpretations of past styles, has found a particularly trenchant echo in the Paris Louvre's collections in 2012.
www.perrotin.com
About The Artist
Born in 1965, the Belgian artist Wim Delvoye works in varied mediums and is perhaps best known for his "Cloaca" series which, with a seriousness reminiscent of scientists' laboratory experiments, sheds light on the digestive process. In 2009, Delvoye was invited to create a monumental work for the Peggy Guggenheim Collection during the 53rd Venice Biennale and solo shows were held in 2010 at the Musée Rodin in Paris and in 2011 at the Palais des Beaux-Arts in Brussels. With each of these exhibitions, he has erected an ever taller tower, a series that reaches its pinnacle to date in 2012 with the spectacular "Suppo" under the pyramid at the Louvre, Paris, a full 11 meters high (on the occasion of his solo show "At the Louvre").
About Mark Westall