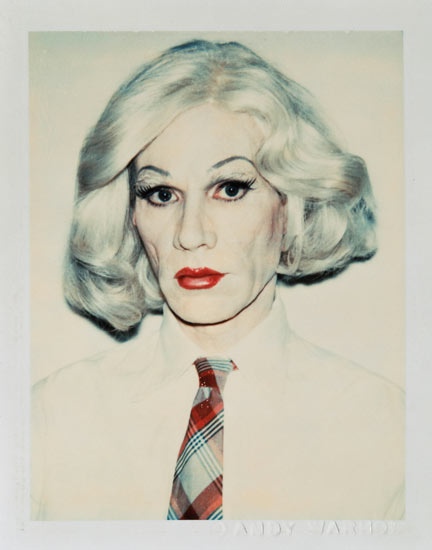 Andy Warhol: Self-portrait in Drag, 1981. Photograph: The Andy Warhol Foundation
This article titled "The 10 best … photographic self-portraits" was written by Sean O'Hagan, for The Observer on Saturday 23rd March 2013 16.00 UTC
1. | Andy Warhol
Self-portrait in Drag, 1981

Warhol's pop art depended on photography. He used found photographic images as the basis for many of his silk-screen paintings, but he also took thousands of Polaroids. Some became the source material for his commissioned portraits, but most were filed away in his archive – a kind of intimate visual record of his life. His most famous self-portrait features an exaggerated version of himself in a fright wig, but the series of self-portraits he made of himself in drag in 1981 is both more restrained and more formally accomplished. Here, the persona of celebrity blankness he so carefully cultivated is refined to an almost self-parodic extent: a mask of a mask.
American artist Francesca Woodman began taking photographs aged 13, and had created hundreds of small, intriguing self-portraits by the time she took her own life, aged 22, in 1981. Often she captured herself as a blur of movement or a partially concealed presence, but here she faces the camera looking vulnerable, while her shadow self is imprinted on the floor. Surreal and ominous, this intimate self-portrait speaks of personal fragility and artistic self-containment.
3 | Giles Duley
Becoming the Story: Self-portrait, 2011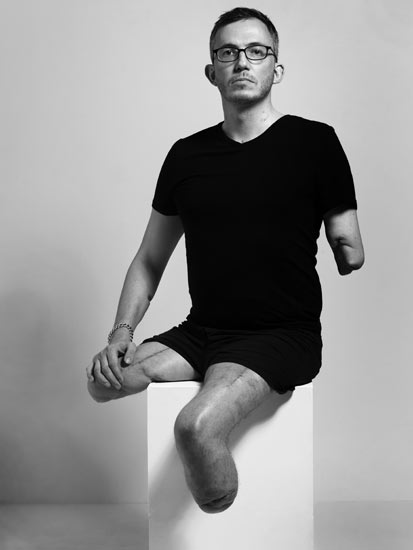 Nearly nine months after being blown up by a landmine in Afghanistan, Duley made this powerful black-and-white self-portrait. "When I was still in intensive care, I had an idea in my head of a photo I wanted to take – a self-portrait… I called the idea 'my broken statue'." As well as echoing classical Greek and Roman sculpture, it speaks powerfully about what Duley has gone through and where he is going – as a person and a photographer.
4 | Hippolyte Bayard
Self-portrait as a Drowned Man, 1840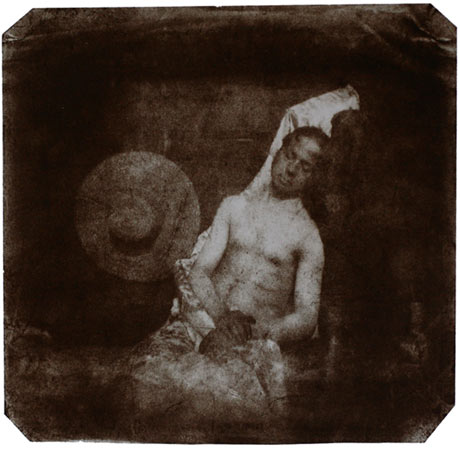 More than 100 years before conceptualism Bayard made the first staged self-portrait, in which he posed as a decaying corpse in a French morgue. The prank had a serious message, Bayard having invented a method of producing photographs just before Louis Daguerre, who was hailed by the French Academy of Sciences as one of the founding fathers of photography. Bayard's method required long exposures in which sitters were requested to keep their eyes closed rather than blink. It was perfectly suited to this melodramatic self-portrait, on the back of which he wrote: "The corpse which you see here is that of M Bayard…The government, which has been only too generous to Monsieur Daguerre, has said it can do nothing for Monsieur Bayard, and the poor wretch has drowned himself. "
5 | Weegee
Self Portrait in Police Van, c1940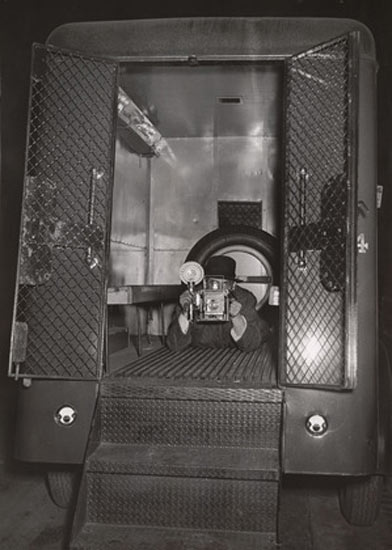 Before his first book, Naked City (1945), brought him fame, Arthur "Weegee" Fellig made a meagre living shooting crime scenes, car accidents and the general seediness of New York's Bowery district in the early hours. A tabloid ambulance chaser, he was renowned for arriving at crime scenes before the police. Here he poses mischievously as himself in a police van with his 4×5 Speed Graphic camera and flash, using the one technical trick he had ever bothered to learn – a flash bulb to capture his subject against a dark background.
London-born Coplans first found acclaim as a painter in America, then, after a long hiatus in which he taught and wrote about art, he took up photography in 1979. It was, he said, " a medium to build an identity out of a composite personality, to find an artistic identity". Back with Arms Above is one of many self-portraits of sections of his body, excluding the face, that are almost monolithically sculptural. His work addresses ageing and masculinity in an often surreal way while dramatically subverting the traditional idea of self-portraiture by literally turning his back on the camera.
7 | Trish Morrissey
Hayley Coles, June 17th, 2006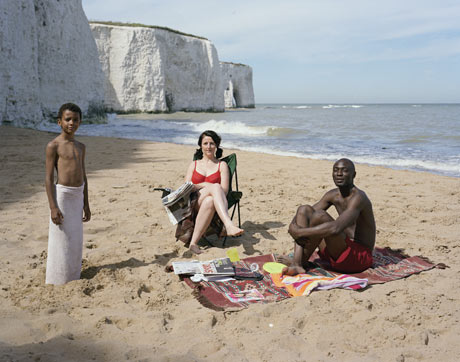 For her series Front (2005-2007), Morrissey travelled to various beaches in the UK and around Melbourne, looking for family groups. She then asked if she could take the place of one of the female family members, borrow her clothes and be photographed – by the woman she had replaced. Morrissey's photographs are distilled performances that ask all sorts of questions about the role of sitter and photographer, the role of photography in creating fixed ideas of family, and the nature of the self-portrait when pushed beyond its usual boundaries.
Nan Goldin once said: "I photograph myself in times of trouble or change in order to find the ground to stand on in the change." This intimate self-portrait was taken in a detoxification clinic, where Goldin was undergoing treatment for drug and alcohol addiction. Her face is blurred, but her hand, which grips a pillow stamped with the name of the institution in which she is confined, is sharply in focus. A small Mexican crucifix, or milagro, hangs on the wall above her bed. A portrait of personal uncertainty by one of the most unflinching visual diarists of our time.
In the 1960s, Lee Friedlander photographed the world around him relentlessly, and his street photographs are punctuated by a series of self-portraits that, like New York City, 1966, often seem accidental. Friedlander caught his own reflection in shop windows, in the wing mirrors of cars, and often as a shadow cast on a wall or pavement. This one, though, is not just a personal self-portrait but a metaphorical one. The shadow cast by Friedlander on the back of an unaware pedestrian is the shadow of the predatory photographer in action. A photograph of what it takes to be a great street photographer.
10 | Gillian Wearing
Self-portrait as My Father Brian Wearing, 2003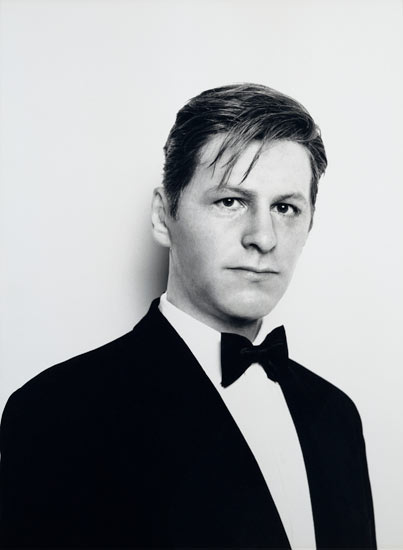 British artist Gillian Wearing has made a series of self-portraits called Album in which she disguises herself as members of her family – mother, father, uncle – or as younger versions of herself. In this intriguing portrait she poses as her father when he was a much younger man, dressed in a formal suit. By excavating the family photo album for her staged self-portraits, Wearing plays with identity and genetic likeness while simultaneously masking herself. The result is both knowing and unsettling.
guardian.co.uk © Guardian News & Media Limited 2010
Published via the Guardian News Feed plugin for WordPress.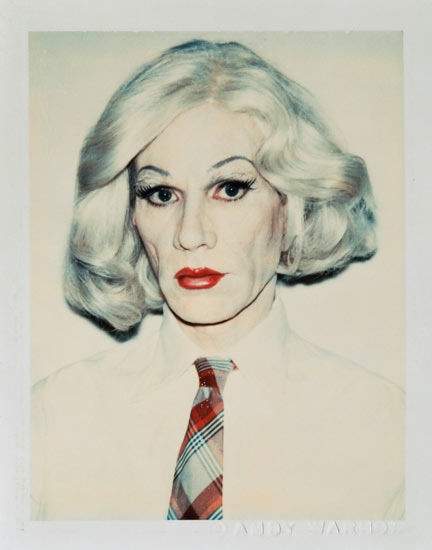 Categories
Tags