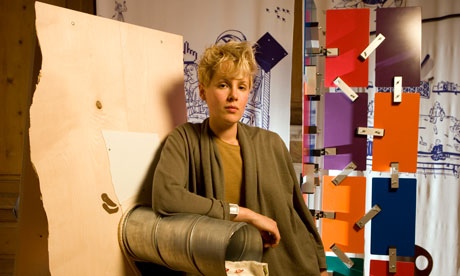 The Venice Biennale will feature work by Helen Marten, born in 1985. Photograph: Richard Saker
This summer The Venice Biennale will showcase an emerging generation of young British artists who, according to the Biennale's curator, Massimiliano Gioni – noting an "exciting time for art in London over the past year" – are "dealing with media culture in an innovative and unusual way".
Gioni namechecked artists James Richards, Ed Atkins and Helen Marten – all of whom, coincidentally, were the subject of shows last year at the Chisenhale Gallery in east London. Born in 1982, 1983 and 1985 respectively, the three are the youngest artists chosen by Gioni for the exhibition, entitled The Encyclopedic Palace.
According to Polly Staple, director of the Chisenhale, "you don't often see such a level of recognition for a new generation on an international stage.
"The common factor, perhaps, is that all these young artists grew up with the internet. It's inside them. Because of that, they have a particular attitude to the way images and objects are made, dispersed and distributed.
"There is a term going around at the moment, which I use with real hesitation: 'post-internet art'. It is something of a catch-all term, but it does hint at the way artists such as Richards, Atkins and Marten work with the moving image and computer-generated images completely naturally, with total ease."
They are joined in Gioni's exhibition – which features more than 150 artists – by an unusually large number of mid-career and senior British figures, many of them women.
They include Sarah Lucas, the former bad girl of Britart who is now, perhaps of all her peers, most frequently named by younger artists as an influence. Tacita Dean will also be featured, along with Cathy Wilkes and the most senior British artist in the show, the 68-year-old sculptor Phyllida Barlow. Work by Steve McQueen – rapidly becoming better known for his feature films than his art – and Mark Leckey, another influential figure for younger artists, will also be included.
Gioni's exhibition, split between the central pavilion of Venice's Biennale Gardens and the city's vast former arsenal, forms the central spine of the Biennale. The other component is the 88 exhibitions mounted by individual countries, each in its own national pavilion.
Continue Reading THis Article over at The Guardian
Categories
Tags