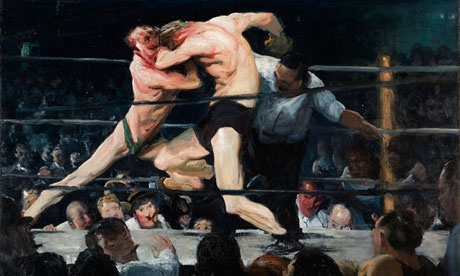 A detail from George Bellows's 1909 painting Stag at Sharkey's, showing a clandestine boxing match on Broadway. Photograph: The Cleveland Museum of Art


This article titled "Royal Academy stages retrospective of neglected US artist George Bellows" was written by Mark Brown , for The Guardian on Tuesday 12th March 2013 17.46 UTC
The Royal Academy will on Saturday open the first retrospective in the UK of works by George Bellows, an artist who never quite became the household name many believe he should be.
The exhibition has boxers energetically clattering the living daylights out of each other, German first world war soldiers dispassionately severing the hands of a young Belgian and a horrifying image of an African American being burned alive by a mob. "At the end of the show there are some lovely portraits of women," promised the co-curator Ann Dumas to anyone ground down by the violence. "There was another side to him."
One barrier to fame for Bellows was dying young, from appendicitis aged 42 in 1925. After his death the obituaries proclaimed Bellows one of the greatest of all American painters – a man more famous at the time than his friend and contemporary Edward Hopper.
Now British audiences will be able to see what Bellows was all about with an exhibition of 71 works of art that will include his most famous painting, Stag at Sharkey's, from 1909, which shows a clandestine boxing match at a members' club on Broadway.
"It is an amazingly energetic and visceral painting. The composition is so powerful," said Dumas. "Flash forward and you think of Francis Bacon almost. He must have painted it quite quickly because it has so much gusto and the way that the paint is applied, you think the brush can hardly have left the canvas."
Bellows was one of a number of painters depicting life as it was, the desperation and diversity and grittiness of life in New York as it emerged into the 20th century. Except Bellows pushed it further and Stag at Sharkey's in particular established him "as a really gutsy, formidable force as a painter on the New York scene. I think people were very shocked by the works. There really hadn't been anything like this in American painting before."
Bellows is known for his boxing paintings even though he probably only did about six out of 700 or more works.
He is also known for his social conscience, and the show includes lithographs he did for leftwing publications and a small room of paintings showing German atrocities in the first world war.
Dumas said Bellows was a macho guy and a kind of a tough "all-American" painter. But "I hope this exhibition shows that he's more complex than that, he's more layered and he knew a great deal about European Old Master painting."
• George Bellows (1882-1925): Modern American Life is at the RA 16 March – 9 June
guardian.co.uk © Guardian News & Media Limited 2010
Published via the Guardian News Feed plugin for WordPress.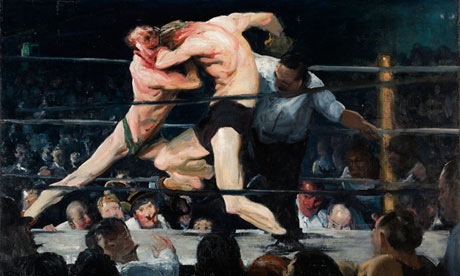 Categories
Tags