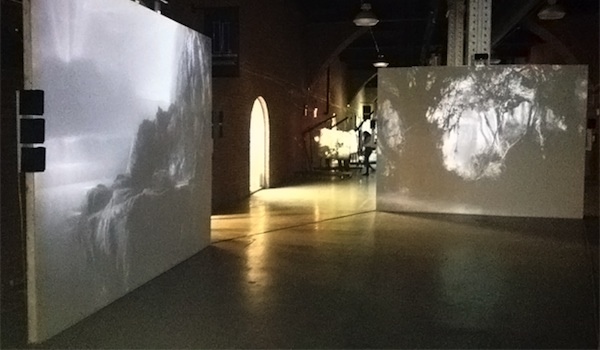 In its third year, Moving Image keeps on getting better. The fair's location, at the 27th street Tunnel Building, gives new media a proper exhibition space in its dark and quiet passageway lined with dozens of individual viewing stations and several installations. Its casual commitment from dealers who can leave their viewing stations unmanned, gives an added plus to dealing with the art fair overload. All in all, Moving Image has all the makings of a solid future in the now convoluted fair landscape.
"It's time to change things up from the same old fair model," Caitlin Moore, Director of Los Angeles' Mark Moore Gallery, told us yesterday during Moving Image's opening. With so many fairs across the country, Moore mentioned, "Our collectors are confused about where to go." The gallery has turned its attention to fairs outside of Los Angeles, and with Moving Image, they wanted to trumpet their roster's five video artists, something that can't be done at just any brightly-lit, noisy fair. Those are difficult conditions to achieve at fairs like Pulse or The Armory Show, where Mark Moore Gallery has previously shown.
That sentiment of doing justice to the medium was reiterated by many dealers we spoke with throughout the fair. "There's no art-fair noise," Postmasters's Magda Sawon told us, adding that that's necessary because, overall, "Video's a serious medium".
The fair does, indeed, have an air of seriousness. Walking through the fair, it's actually dark, and a little spooky, making it unlike any other fair in town. Outside of the occasional hums and grunts emanating from some video installations, the space is quiet as a church. No wonder, then, that it feels so much like a religious procession to walk from one end of the tunnel to the other.

Greta Alfaro, "In Ictu Oculi" (2009)
That seriousness lends itself well to the fair's audience. More than collectors, whose taste can seem whirlygig, the fair intends to cultivate curators as its base. "Museums are the audience for video," Interstate Projects Director Tom Weinrich mentioned, when asked about who's visiting the fair.
Knowing its base, Moving Image has consistently done well well at featuring a wide-spectrum of historical video art from the likes of P.P.O.W. and the Video Data Bank. The Video Data Bank's selection this year is a gem: Two Faces (1972), a six-minute-long video of Hermine Freed playing with, hiding from, and occasionally kissing her reflection, that invites comparisons between Francesca Woodman and a more contemporary, iPhone self-portrait aesthetic. This year, too, Moving Image has deepened its ties to the museum world by inviting El Museo del Barrio to curate a selection of works by Puerto Rico-born Edin Vélez.
More than the attraction of curators, or the proper place of video, there's another, simpler reason why dealers like to participate in Moving Image: it's laid back. In a time of too many fairs, it's easy to stretch yourself thin. Dealers noted that they appreciate not needing to be on-site at all times, especially when they're participating in more than one fair this week alone.
In a time of too many fairs, it's small touches like this that can distinguish each fair from one another. Dealers, it seems, would be prefer to choose fairs that play up their interests, do justice to their artists, and, ultimately, leave wanting to come back again. Via: ArtFCity
Moving Image New York until Sunday March 10th , 2013 Waterfront New York Tunnel
269 11th Avenue Between 27th and 28th Streets New York, NY 10001
www.moving-image.info/
Moving Image Gathers No Moss, as Video Art Fair Pushes the Medium's Boundaries: ArtInfo
Old Favourites and new surprises at Moving image : hyperallergic.com
Categories
Tags