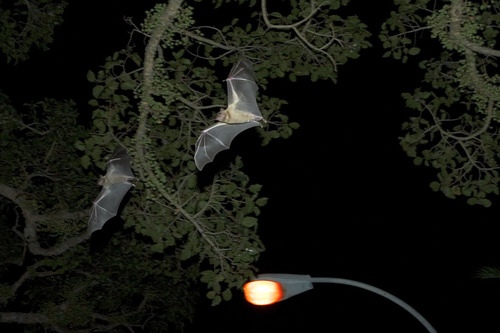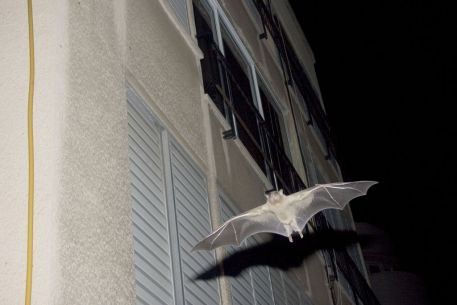 Moving Image New York March 7th – 10th , 2013 Waterfront New York Tunnel
269 11th Avenue Between 27th and 28th Streets New York, NY 10001
Jan Tichy works at the intersection of video, sculpture, architecture, and photography. Attracted to the nocturnal and that which the darkness both conceals and divulges, Tichy's work perpetually shifts between the visible and invisible, commanding our attention, not just our sight. Tichy makes one see what we are meant to disregard while simultaneously examining personal, physical and national borders. His installations and videos often deal with political and social issues; past works have drawn attention to race relations, secret prisons, abandoned oil fields, housing projects, and the use of nuclear power.
Bats is composed of two 35mm slide projections on adjacent walls. Each carousel cycles through 80 images of bats flying through the night sky of Tel Aviv, set against the utopian architecture of the 'White City'–the modernist core of Tel Aviv with the largest concentration of Bauhaus architecture in the world. Over the course of several years, Tichy photographed these usually dormant or invisible creatures, learning their habits and mannerisms, ultimately creating an amateur chiropterological study. The installation is one of Tichy's most important works and resides within three major institutional collections including MoMA, New York and the Tel Aviv Museum of Art.
Tichy's work is included in six international exhibitions this spring: Material Translations, The Art Institute of Chicago; Aircraft Carrier, Storefront for Architecture, New York City; Jan Tichy, Helen Day Art Center, Stowe, VA; La Città Nuova. Beyond Sant'Elia. A Hundred Years of Urban Visions, Villa Olmo, Como, Italy; The Eye of the Blackbird, Art House, Tel Aviv; and Beginning of a Collection, Ashdod Museum of Art, Israel.
Tichy's has had solo exhibitions at the Museum of Contemporary Art, Chicago; the Museum of Contemporary Photography, Chicago; the Wadsworth Atheneum Museum of Art, Hartford; the Tel Aviv Museum of Art; and the Center for Contemporary Art, Tel Aviv, among many others. Born in the Czech Republic, Tichy immigrated to Israel in the mid-1990s for several years before moving to Chicago, where he now works and teaches at the School of the Art Institute.
Categories
Tags