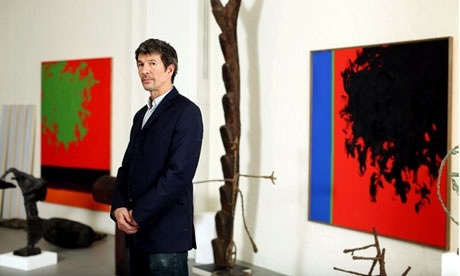 Iconoclasm runs in the family … Alex Turnbull. Photograph: Graeme Robertson for the Guardian
This article titled "William Turnbull: punk in the genes" was written by Stuart Jeffries, for The Guardian on Tuesday 26th February 2013 08.36 UTC
When 23 Skidoo played Womad in 1983, they committed commercial suicide. The post-punk industrial funk band were at the height of their indie cachet, but they elected to come on with heads shaven and faces camouflaged, before submitting the audience to a wall of noise using scrap metal and tape loops. Punters expecting to throw shapes to trendy funk at a genial multicultural gathering were, to put it mildly, disappointed.
"About a third of the crowd fled," recalls Alex Turnbull, 50, who with brother Johnny remains 23 Skidoo's creative hub. "Johnny and I had been travelling in Asia, and so we played some gamelan music, too. We'd also just kicked out a singer and guitarist. It was the kiss of death."
For the past few years, Alex has been wondering if the iconoclasm he brought to his music career is an inherited trait. During that time, he has been putting together a film about his dad, the modernist British sculptor and painter William Turnbull, who died last year; it will air on BBC4 in March. Like Bart Simpson, although with more affection, Alex refers to his dad by his first name. "Bill cared if people didn't like his work," he says. "But do you change what you do if they don't? No. That was Bill. My brother and I inherited that gene."
The pair have worked together as music producers and happily recall refusing to produce Robbie Williams or the Spice Girls; they were also teenage skateboard champions and both have a lifelong devotion to martial arts. "In fact," says Alex, "I started off planning to make a kick-arse British kung-fu movie and instead made this art documentary about Bill. We thought our anti-commercial tendencies came from a punk sensibility. But it turns out we had a genetic predisposition to anti-establishment practices."
Alex tells me about his dad's confrontation with arguably the most powerful man in 1950s art, the American critic Clement Greenberg. "Greenberg came round to our house in Camden Square [in London]. He started telling Bill what he should do to improve a work. Dad lost patience and kicked him out. He made a powerful enemy. For years, Bill couldn't get a show in New York, and nobody collected him there. It was west-coast collectors who paid for me and Johnny's childhood."
Reading this on mobile? Click here to view video
We're sitting in a Shoreditch studio surrounded by 60 years' worth of William's art, some of which is about to go on show in the house and grounds of Chatsworth House in the Peak District. On the floor is a horizontal bronze relief that looks like a 3D map of bomb targets. Perhaps it is: having been a wartime RAF pilot, William had a very different perspective on landscape than the likes of Constable, as he explains in his son's film. "His lifelong interest in space and spatial perspective was fuelled by flying," says Alex.
Nearby is a patterned bronze figure. Towards the end of his life, William worked with acid and fire: using a foundry, he would heat bronze and then, using a blowtorch, apply acids to give the surface coloured patinas. "He brought a painter's eye to sculpture," says Alex. When shown outdoors at Chatsworth, the hope is that these exquisitely patinated colours will be enhanced by Derbyshire's shifting light.
On the wall are two abstract paintings from 1958, demonstrating that William was one of the first British artists to embrace abstract expressionism. "A Moroccan painter was looking at them the other day," says Alex. "I said, 'They look as though they could have been painted yesterday.' He replied, 'Or tomorrow.'" This is the central theme of Alex's film. Called Beyond Time and narrated by his friend Jude Law, it insists on the timelessness of William's art. As a member of the Independent Group – a body of postwar British artists, architects and theorists that included Richard Hamilton, James Stirling and Eduardo Paolozzi – William helped change the way we see art today.
"They set the tone for how we assimilate art now," says Alex. "In the 50s, there wasn't much room for crossing boundaries. Bill was a polymath at a time when that was a dirty word, shifting between sculpture and painting and putting both in a symbiotic relationship. Now crossing boundaries is everywhere: think of hip-hop. Johnny and I were in a band whose name referenced a William Burroughs short story. Burroughs used, as we did, cut-up techniques, collaging and sampling. We were oblivious to the fact that a lot of that aesthetic was in what Bill did until I made the film."
As Alex says this, I recall the bass riff he wrote for 23 Skidoo's 1983 song Coup, which was sampled to great commercial success on the Chemical Brothers' Block Rockin' Beats 14 years later. Don't they owe you a few bob for that Grammy-winning song? Alex laughs: "At the time, I didn't mind. If it happened today, now I've got parental responsibilities, I might have felt differently."
Did your parents encourage you to be artists? "They encouraged us to draw, but never pushed us into art. For them, it had been a world of penury, and they didn't want that for us." William was often short of money: when his sculpture was selected for the British pavilion at the 1952 Venice Biennale, he couldn't afford to attend.
Born in 1922 in Dundee, William was the son of a shipyard worker. "He didn't fit in," says Alex. "He played violin and was very artistic in depression-era Dundee. He was put on this planet to make art. He painted the mahogany furniture at his home blue when he was about 12. Imagine the beatings he got for that." William was taught art at evening classes by Fred Mould. An illustrator at Dundee's comic book publishers DC Thomson, Mould got him a job at the home of the Beano and the Dandy. "It was there that he was introduced not just to draughtsmanship but to the work of Cézanne, Van Gogh and Monet. They spoke to him."
After being demobbed, William won a place at London's Slade art school, moving to Paris afterwards where he met Picasso, Braque and others; he also became friendly with Alberto Giacometti. One great pleasure for Alex in making the film was meeting and interviewing William's first wife, the pianist Katharina Wolpe, with whom he lived in Paris. The film also includes tantalising footage of Alex and Johnny's mother, Kim Lim, the Singaporean artist William married in 1960, soon after she arrived in Britain to study sculpture. She died in 1997. "I remember her carving in the garden in a boiler suit, just as I remember dad learning how to weld for his steel sculptures. Now you come up with the concept and get someone else to realise it. Personally, I like the hands-on aspect. She enriched Bill's creativity and gave him new horizons – he'd never have gone to Japan without her. "
Although Alex's fondness for his parents shines through in the film, he didn't want to make a hagiography or an art world Who Do You Think You Are? "I never wanted to appear in the film. I didn't want to do a son's journey into my father's world." We do hear him, though. Alex scrapped one soundtrack, replacing it with 23 Skidoo music. "The classical music we originally used did the art a disservice – taking away its cutting ege." Why is a 23 Skidoo soundtrack better? "Like Bill's art," says Alex, "it doesn't evoke an era. It stands outside time."
• Beyond Time is due to air on BBC4 on 11 March. William Turnbull's work is at Chatsworth House, Derbyshire, 10 March to 30 June.
guardian.co.uk © Guardian News & Media Limited 2010
Published via the Guardian News Feed plugin for WordPress.
Categories
Tags