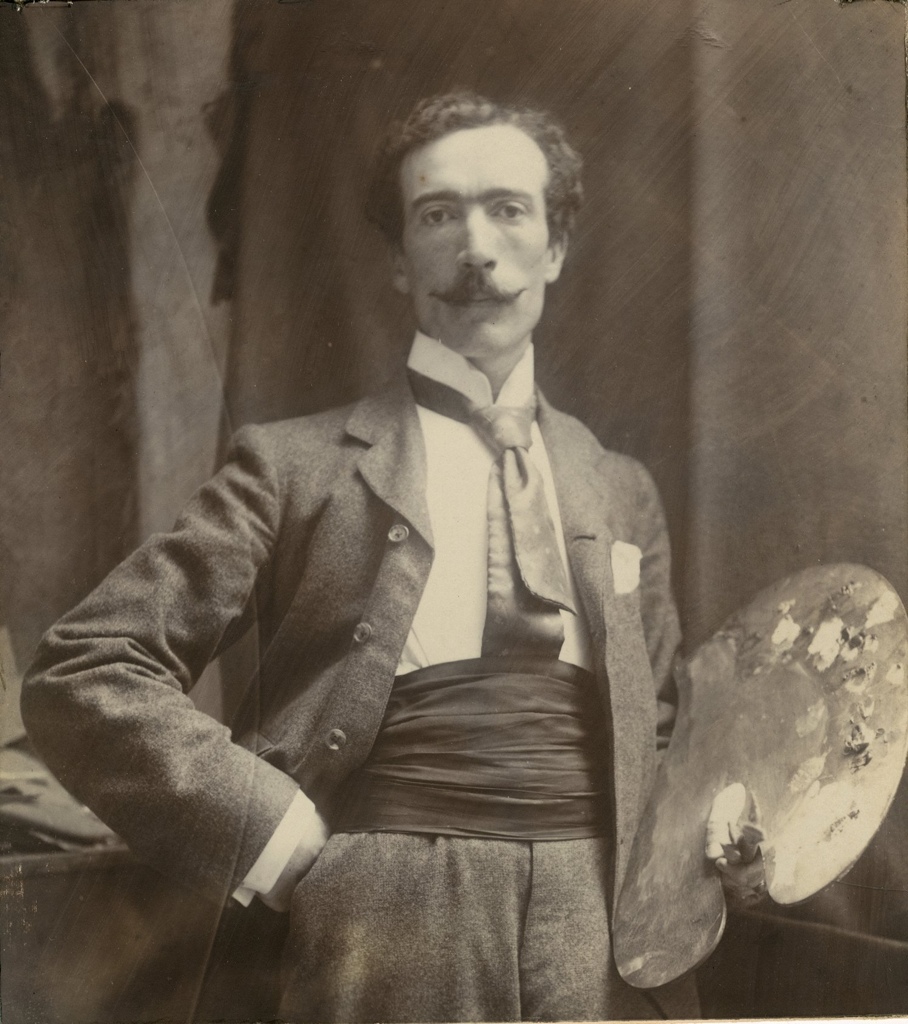 Sydney Lee at St Ives, August 1897. Photograph.
Private collection.
27th February – 26th May 2013 Tennant Gallery and Council Room at The Royal Academy
From the Shadows: The Prints of Sydney Lee RA offers a long overdue reappraisal of the work of one of Britain's most underrated painter-printmakers. Sydney Lee (1866-1949) was widely acclaimed for his impressive and technically accomplished works, but despite his many achievements, Lee did not gain lasting critical acclaim. This display of over 50 prints and 2 major paintings brings to light this important and influential artist, whose pioneering contribution to the history of British printmaking is now being acknowledged for the first time. The exhibition coincides with the launch of the first publication on Lee, written by the exhibition's curator, Professor Robert Meyrick, Head of the School of Art at Aberystwyth University.
Sydney Lee travelled extensively throughout Britain and Europe in search of accessible subjects both epic and picturesque, from ancient buildings to sublime geological formations and natural prospects. The Colosseum in Rome, the Italian Alps and the old windmills of Kent all provided opportunities for Lee to explore the play of light on timeworn rock, brick or plaster with an effervescent tonality, stylistically unparalleled by any of his contemporaries. Lee also did much to advance printmaking as an original expressive art form. He was a seminal force in the revival of wood engraving and an early British exponent of the colour woodcut in the Japanese manner. His prints, ambitious in both scale and experimentation, especially pushed the boundaries of traditional printmaking practice.
The son of a prominent Lancashire cotton trader, Lee studied at Manchester School of Art and afterwards trained in Paris. Before the age of thirty he had positioned himself among London's artistic elite with a house and studio on Holland Park Road in Kensington. An active member of the Royal Academy, Lee was elected Royal Academician in 1930, served as Treasurer from 1932-1940 and represented the Academy at countless official events, including visits of royalty and heads of state. This is the first exhibition devoted to Lee's art since 1945, and until now his prints have never been catalogued. The exhibition and accompanying book aim to illuminate the work of this unsung artist, drawing Sydney Lee out from the shadows.
ABOUT THE TENNANT GALLERY
Lying on the north side of Burlington House, the Tennant Gallery is a dedicated space within the Royal Academy for the display of works on paper, for which light levels must be carefully controlled. A changing programme of displays drawn from the Royal Academy Collections and the work of Royal Academicians runs throughout the year. The next display, Sir Hugh Casson PRA (1910 – 1999), will run from 31 May – 25 August 2013.
Categories
Tags