Lichtenstein on Sprite 2013 Mixed media on vintage metal sign 58 x 84 cm (22.8 x 33″)

Everybody Says Thank You Very Much (White III) 2012 Mixed media on panel 107.5 x 107.5 cm (42.3 x 42.3″)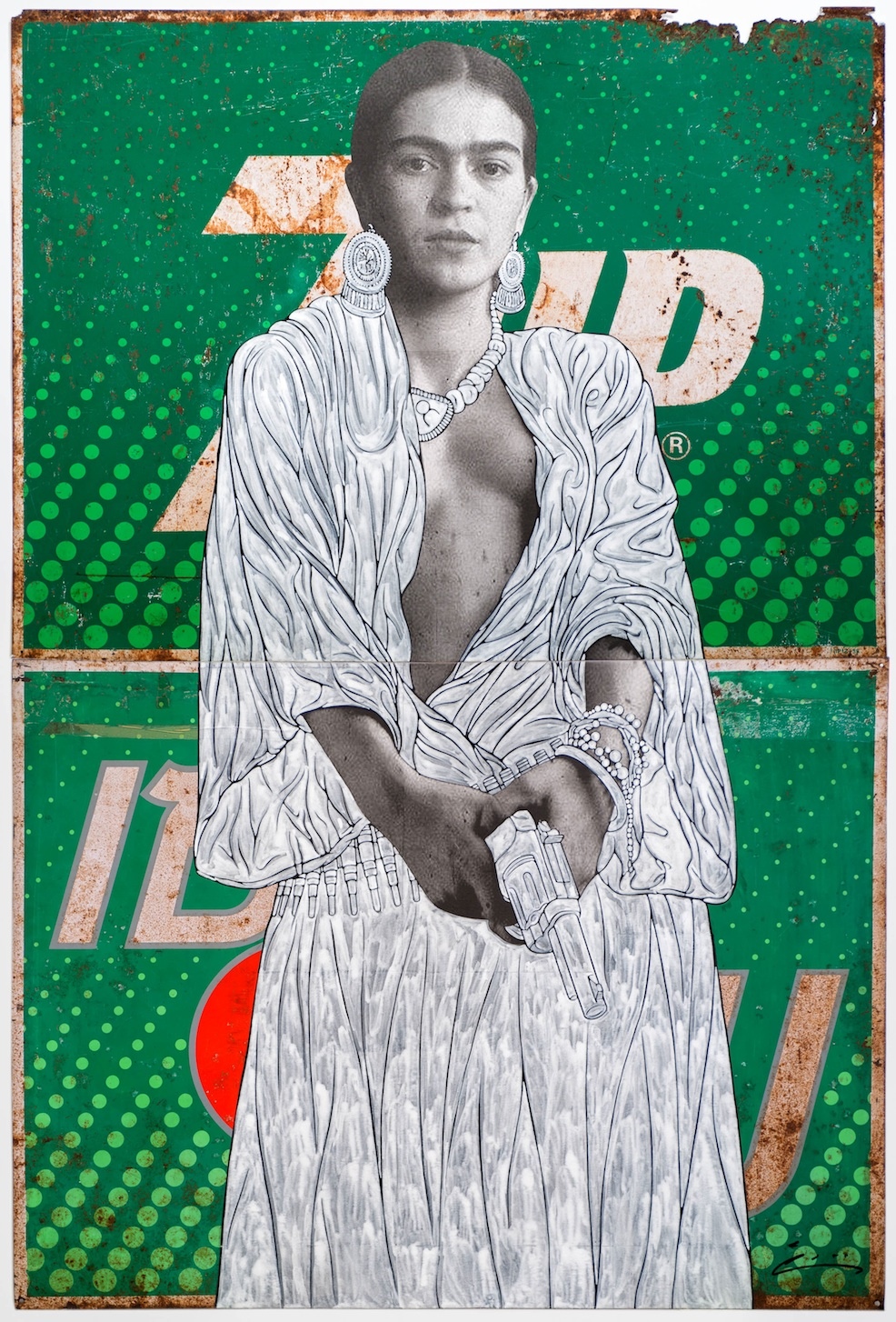 Frida with Gun on 7Up 2013 Mixed media on vintage metal signs 128 x 88 cm (50.3 x 34.6″)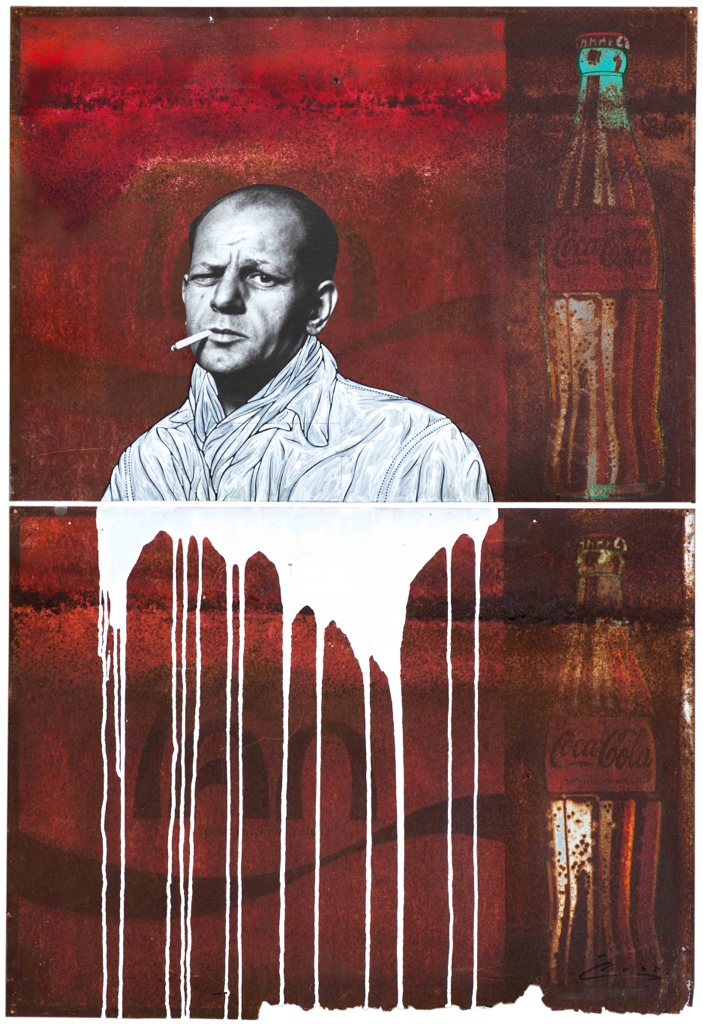 Pollock Drips on Coke 2012 Mixed media on vintage metal signs 133.1 x 94 cm (52.4 x 37″)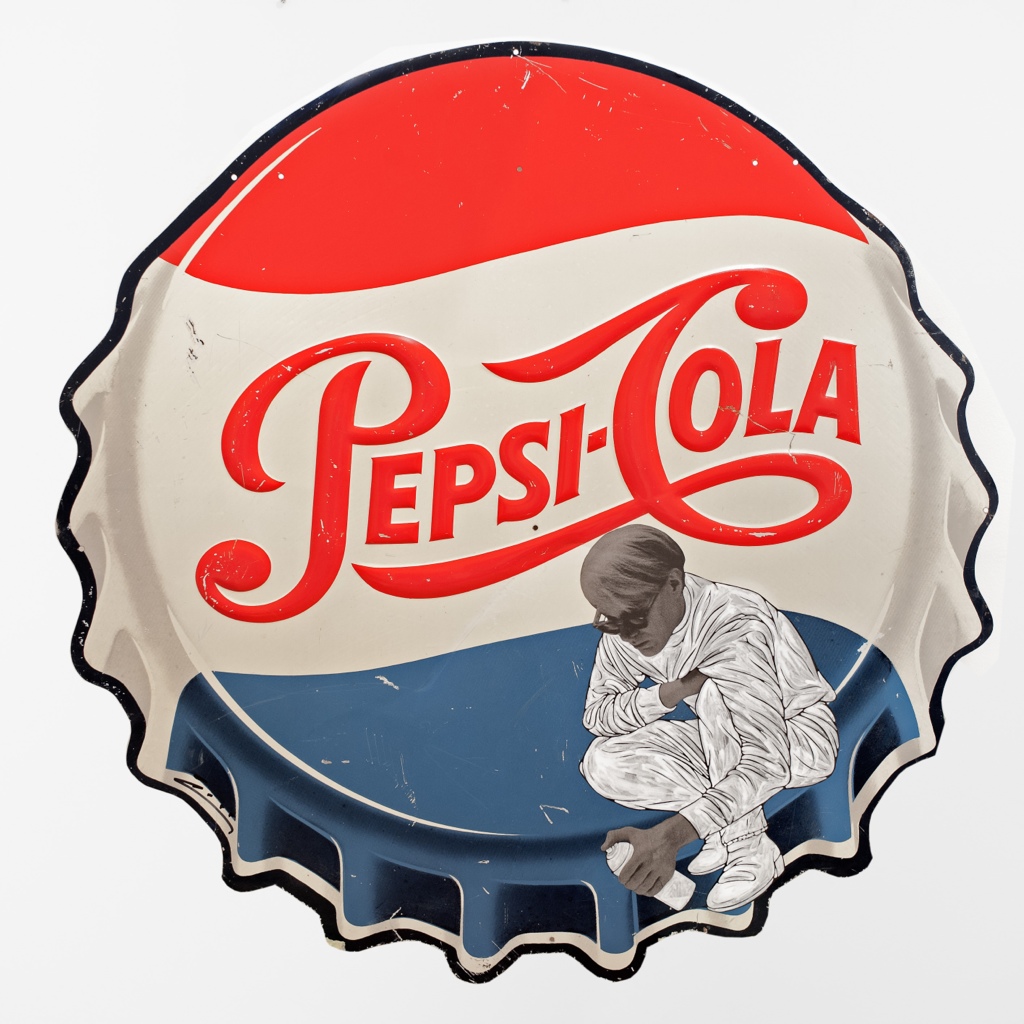 Pakpoom Silaphan Warhol on Pepsi Sign 2013 Mixed media on vintage Pepsi sign
117.1 x 117.1 cm (46.1 x 46.1″)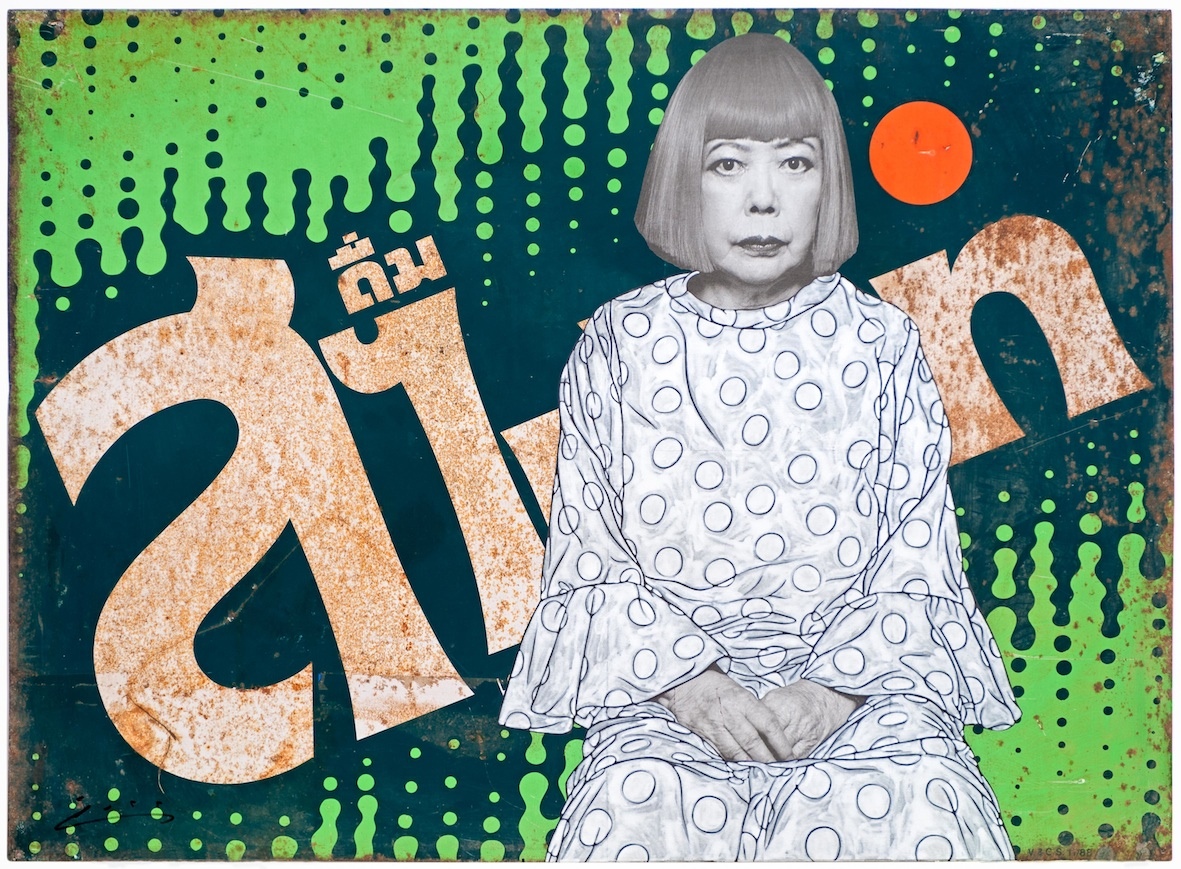 Yayoi Kusama on Sprite 2013 Mixed media on vintage metal sign68 x 88 cm (26.7 x 34.6″)
– Could you tell me where the title of your upcoming solo show at Scream 'Empire State' comes from?
The title Empire State has been chosen as an implicit nod to the influence of American brands (Coca-cola, Pepsi) and Warhol, but also has connotations of capitalism and globalisation that is an integral part of my work.
– How long have you been working towards this solo exhibition, and what are your favourite pieces that you've created for it?
I've been working intensely since last Spring on making new works for the Singapore and India Art Fairs where Scream exhibited my work, and then producing the works for my show. I prefer working under pressure so I've been working constantly for several months. I don't have a particular favourite piece – I'm excited about this show as it's bringing together several different bodies of work so I'm interested to see them exhibited together.
– You recently exhibited at India Art Fair, and created an image of Gandhi for the fair, which was published in the Financial Times. Do you usually adapt the images you use according to the market you're planning to exhibit or sell them in?
Gandhi is a figure I very much admire and I made a work featuring him a couple of years ago. This was an opportunity to revisit this iconic figure, but exhibiting the work in Delhi was an appropriate and interesting placement for the work. As a general rule I don't cater to the market – I make the pieces I want to make.
– As an artist originating from Thailand, who uses vintage Thai advertising signs for Western products such as 7up & Pepsi as 'canvases' for his work, how do you marry the influences of east and west in your work?
Many of the signs I use in my work I've collected while I was living in Thailand, so many of them have Thai text juxtaposed with the universally identifiable logos of Pepsi, Coca-Cola etc. I like to combine these strands as I hope to highlight the influence and exchange between East and West, and how these brands have such a wide global reach.
– Your new images feature some iconic artists such as Lichtenstein, Pollock, Basquiat , Khalo and Warhol. Why do you feature these particular artists in your work – is it because they have inspired you?
Yes these are all artists I admire, I've almost created a pantheon for them in my 'Remastering the Masters' series! My work has been strongly influenced by Warhol and I'm interested in continuing the dialogue he created, bringing low brands into high art, and taking imagery directly from everyday life and popular culture.
– Where you do you source the vintage advertising signs from that form the basis of a lot of your work?
Most of them I collected while I was living in Thailand.
– Warhol is a big influence on your work, and you have created sculptures for 'Empire State' inspired by his Brillo Box installations You seem to be putting your own spin on Pop Art. What is it about Pop Art that inspires you?
I like taking everyday imagery and transforming it into something else. I like the democratic nature of Pop art – I want as many people as possible to respond and enjoy my work.
– Tell me about The Everybody Project. It's quite a departure from your signature artists on advertising signs.
Yes the end result of this new body of work is very different visually, but I'm still exploring the same themes so there is a strong link to the advertising sign series. I wanted to focus more on the idea of the icon, so using newspapers and magazines I cut out images of pop stars, sports people, politicians, cartoons etc and organise them in a grid. I've then taken the visual symbol, such as Mickey Mouse's ears, or the Batman mask, and added this to each figure. It's a reference to the reach of the icon, and the role of semiotics in our culture. I also find them quite funny – I hope others do too.
– What projects/ exhibitions do you have coming up next?
I'm taking a break for now as I've been working intensely for many months. But I know Scream are planning projects for me so watch this space !
Pakpoom Silaphan 'Empire State' at Scream from 22 February – 6 April 2013
www.screamlondon.com
Words by Lee Sharrock
About
Pakpoom Silaphan was born in 1972 in Bangkok, Thailand. He received his BFA from Silapakorn University in Bangkok before moving to England in 2002 to study printmaking at Camberwell College of Art and a Masters in Fine Art which he received from Chelsea College of Art and Design. Silaphan's work has been placed in the Hiscox Collection, Sir Paul Smith's collection and has been featured in the significant publication "For Which It Stands: Americana in Contemporary Art" by Carla Sakamoto, published by Farameh Media in 2012. In 2004 he was shortlisted for the John Moore's 23 prize at the Liverpool Museum. Silaphan's work has been published in the Financial Times twice, The Independent in 2011 where Emma Love described Silaphan's work as "a sign of the times" and in 2013 described as "the Pop artist of these times" and Elle Magazine amongst others. Silaphan has exhibited in Lonon, Japan, Hong Kong, New York, Singapore and India
Categories
Tags