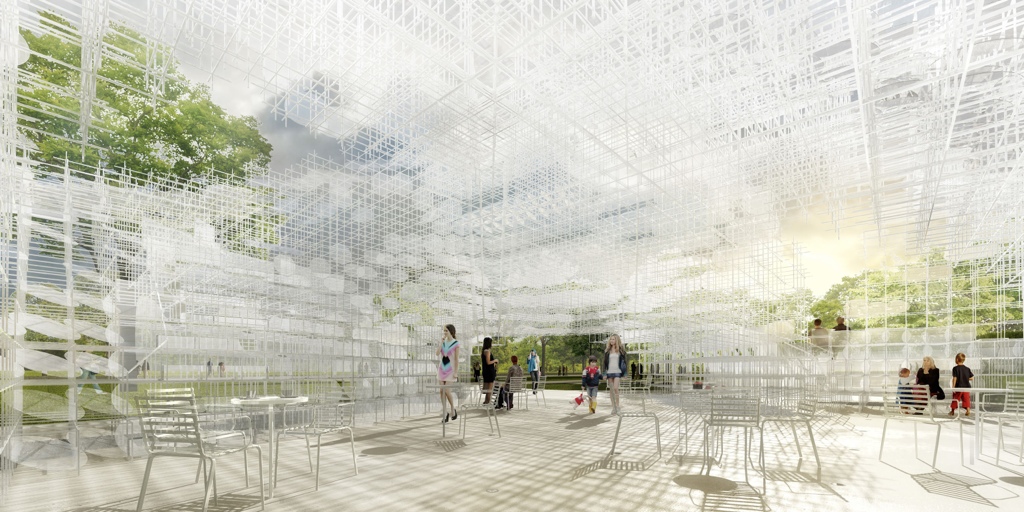 ---
This article titled "Sou Fujimoto's Serpentine pavilion promises a breath of fresh air" was written by Oliver Wainwright, for theguardian.com on Monday 18th February 2013 13.26 UTC
A cloud-like cluster of white steel rods will shimmer above the trees in Kensington Gardens this summer, courtesy of Japanese architect Sou Fujimoto. He has been announced as the latest designer of the Serpentine Gallery's annual pavilion commission and he promises to bring a vision of airy lightness, in marked contrast to last year's subterranean grotto by Herzog & de Meuron and Ai Weiwei.
His proposal is for a delicate lattice structure of 20mm-thick steel poles, which will form an irregular, shape-shifting mass in front of the gallery, a misty wire-frame blur that will dissolve into the park.
"Within the pastoral context of Kensington Gardens, I envisage the vivid greenery of the surrounding plant life woven together with a constructed geometry," says Fujimoto. He describes the project as "an architectural landscape: a transparent terrain that encourages people to interact with and explore the site in diverse ways."
Many architects like to think their buildings dissolve and "dematerialise" into their surroundings. They talk in earnest about "fluid space" and the continuity of inside and out – the simple use of a window or door endowed with the rhetoric of free flow. But Fujimoto actually does it.
His buildings and structures are composed of multiple layers and levels, creating permeable enclosures that only loosely suggest rooms and routes – what he describes as "formless form". He talks of his projects taking on the characteristics of a "cave or nest", a primitive shell to be defined by the user's occupation, "just a raw space, which people need to explore and find their own comfort within."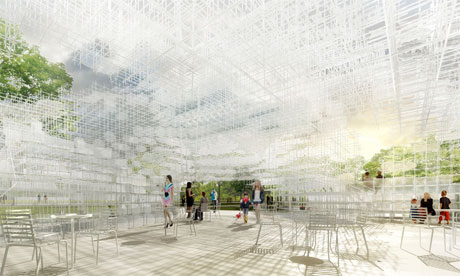 One of his first projects, the Final Wooden House, was made from a simple stack of timber beams, creating a series of nooks and hollows, perches and ledges where "inhabitants discover, rather than being prescribed". His recent NA house in Tokyo continued these ideas on a much larger scale, with an open scaffold-like structure of staggered platforms and shifting levels, in which rooms, landings and staircases merge as though suspended in the branches of a tree. His proposal for the Serpentine promises to be a similarly beguiling place to explore.
Fujimoto is the third Japanese architect to design the Serpentine pavilion, following Toyo Ito in 2002 and Sanaa in 2009, and at 41 he is the youngest yet. It is a welcome choice for the annual commission, which has too often shown that the biggest names are least likely to produce the best small buildings – Frank Gehry and Jean Nouvel's offerings providing painful proof.
Let's hope Fujimoto sets a precedent for selecting architects who are not just concerned with arm's-length gestures, and whose offices have not yet swollen beyond the capacity to think about the human-scale experience.
guardian.co.uk © Guardian News & Media Limited 2010
Published via the Guardian News Feed plugin for WordPress.
Categories
Tags