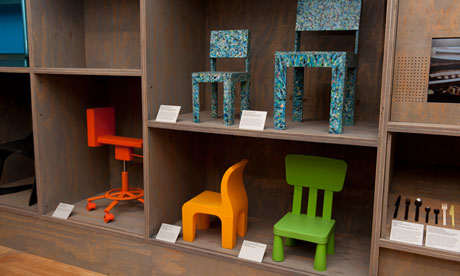 ---
This article titled "Extraordinary Stories About Ordinary Things – review" was written by Rowan Moore, for The Observer on Sunday 3rd February 2013 00.05 UTC
One of the greatest design museums in the world is not a museum, but the studio of the late industrial designer Achille Castiglioni, which can be visited by appointment in Milan. It includes not only the lights and seats that the great man designed, but the objects that inspired him, haberdashery and pieces of kitsch, his drafting tools and filing boxes and pinned-up letters and faxes from his eminent mates in the world of design.
There is a model he was obliged to produce, when an architecture student in the 1940s, of a proposed fascist headquarters building, which he made, as an act of subversion, out of parmesan. It is a tour of a wondrous brain, while also witnessing the work of skilful hands. It manifests an important truth about design, which is that an individual object is, on its own, only fairly interesting. What matters as much is the life and energy that went into the making of something, and that surrounds it when it's in use.
Castiglioni's studio would make a good inspiration for the Design Museum in London as it strives to reinvent itself. In 2015 it is due to move into new, enlarged premises in the former Commonwealth Institute in Kensington, and it has to fill its new space with something compelling enough to justify the investment. Its challenges include building a collection at a time when fundraising is tough, and establishing what a design museum is that the Victoria and Albert Museum, which has done a good line in contemporary design exhibitions, is not. To reveal the full richness of conceiving and using designed products would not be a bad ambition.
Last week the museum opened an exhibition, Extraordinary Stories About Ordinary Things, selected from the collection that it has already amassed in its 24-year life. It also shows off recent acquisitions: an early table, partly made of bicycle handlebars, by a youthful Jasper Morrison, and more than 400 items from the wardrobe of Jill Ritblat, who is an arts patron, Design Museum trustee and wife of a leading property developer.
Works of 20th-century British public design feature prominently – red telephone boxes, road signs and traffic lights, the last two being things that many people may not think of as "designed" at all. Modernism in Britain in the 1930s and 50s also figures prominently – radios by Wells Coates, and items designed by Marcel Breuer for the apartment of Dorothea Ventris (whose son Michael would later decipher the ancient Greek script Linear B). There is a display on the invention and evolution of the Anglepoise light.
These works give the show the flavour of postwar campaigns to revitalise British design, through things such as the Festival of Britain and the V&A's Britain Can Make It exhibition of 1946, a period that shaped Terence Conran, who later shaped the Design Museum. It's seasoned with scatterings of Italian design from the 1960s and 70s. Postmodernism is less favoured, though the kitschy TV sets and toothbrushes of Philippe Starck get a nod.
What the show reveals is that the Design Museum has some nice and interesting things, and some beautiful, but that it has a way to go before it becomes a rounded collection. Until other benefactors follow Ritblat's kindness, it is lopsided, going from the road signs and traffic lights to her profusion of Ungaro and McQueen, with great swaths of what might be considered significant design hardly there at all. There is a strong Anglo-Milanese bent, with large places such as Asia and Africa barely represented. The museum makes a lot of play of its Jasper Morrison table, which is well and good, but it will need to acquire a lot more new pieces than this.
The gaps are mostly not the museum's fault, being a reflection of the great difficulty of funding and assembling such a collection; indeed, the museum's attempt to conquer these difficulties is valiant. What the museum can do something about is the spirit with which material is gathered and presented. What is presented, for now, is still largely an array of singular specimens created by celebrated men in a limited geographical area. It is not helped by a somewhat rigid and funereal display, in which exhibits are placed on boxy plywood shelves.
The museum says interesting things about its ambitions. It declares that everything that is made has been designed, which opens up the field to life, the universe and almost everything. The museum's director, Deyan Sudjic, says he's excited about showing the moulds and prototypes that are part of the creative processes, and that they are in discussions about acquiring the workspace of the designer Robin Day, which might have something of the magic of Castiglioni's studio. He also talks about the "death of the object" and the issues surrounding such things as the exhibiting of website design.
These words begin to describe a place that would reveal the vitality of design, and the ways in which it is enmeshed in our lives, which would also live up to the museum's claims to be contemporary. It could show things digital, from multiple cultures, and made by unknown people. It could bring to life making and use. Something the Design Museum could do, better than the V&A, would be to enter the studios and factories where extraordinary things are being created right now and carry away not only the finished objects but the material that surrounds their creation.
Somewhere in the idea of the Design Museum there is such a place struggling to get out. But the evidence of the current exhibition is that it is still straitjacketed by a too-limited world view and by excessive reverence for particular names and styles. And something, please, has to be done about the omnipresence of the ghost of Britain Can Make It, which presides over the museum like an ancestral portrait over a dinner table. The spirit of those times was admirable and important, and has its place, but it was a long time ago and there is much more to be shown and explored from the decades since then.
guardian.co.uk © Guardian News & Media Limited 2010
Published via the Guardian News Feed plugin for WordPress.
Categories
Tags