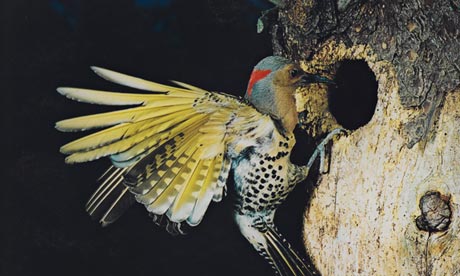 Eastern Flicker, Flying, Great Spruce Head Island, Maine, July 22, 1968 by Eliot Porter. Photograph: Eliot Porter/Amon Carter Museum of American Art
---
This article titled "Eliot Porter: In the Realm of Nature by Paul Martineau – review" was written by Sean O'Hagan, for The Observer on Sunday 3rd February 2013 09.00 UTC
Not many photographers can say they helped change the way we look at the world politically and socially as well as formally, but, as Paul Martineau points out in his introduction to In the Realm of Nature, "Eliot Porter's masterly landscape photography became instrumental in the passage of the Wilderness Act of 1964". Porter, who died in 1990, transformed nature photography through his acute perception, formal brilliance and extraordinary technical skill, while simultaneously becoming a pioneer of environmental conservation.
His photography grew out of his love for the American landscape, which was instilled in him at an early age by his mother, a social campaigner, and his biologist father, a wealthy man who purchased an island in Maine as a country retreat. Porter bought his first camera, a Leica, while working as a biochemistry teacher and, in 1953, his social connections brought him into contact with the great photographer and curator Alfred Stieglitz and his wife, the artist Georgia O'Keeffe.
The following year, he met Ansel Adams, whose photographs, he later recalled, "took my breath away by their perfection and strength". Soon afterwards, Porter bought a medium-format camera and the results were so dramatic he was immediately offered an exhibition by Stieglitz in New York.
Porter's scientific background informed all his work, from his incredibly detailed studies of birds, which were often achieved using tall viewing structures as well as strobe lights that were synchronised with his camera shutter. The slightly unreal quality of these images, made by using artificially brightened light, adds to their strange power. That unrealness was amplified when he embraced colour photography in the late 1930s. By 1935, he was using an early form of the commercially developed dye-transfer printing process that would be deployed so dramatically by William Eggleston in the early 1970s. Porter accentuated the colour tones in his prints, deepening the blues and heightening the greens, and making painterly prints of woods, trees, rocks and rivers.
Like Eggleston after him, Porter's colour prints attracted much criticism from purists, but he persevered. In 1962, he published the presciently titled In Wildness is the Preservation of the World, which was structured formally around the seasons and punctuated by quotes from Thoreau. Alongside his pioneering use of colour, Porter also emphasised detail and texture, and his compositions, as Martineau points out, owe more to the modernist tradition that any more recent photographic style. A close-up study such as Foxtail Grass, Lake City, Colorado (1957) is so detailed and yet so impressionistic in its evocation of movement that it seems almost like an optical illusion. His woodlands, too, seem both utterly real and magically unreal, as if they belong to another time. Which, of course, they do.
The images in In the Realm of Nature are a record of an American wilderness that, though protected, is shrinking as the suburbs creep inexorably outwards. They are the still startling legacy of a true pioneer of photography and ecological awareness.
guardian.co.uk © Guardian News & Media Limited 2010
Published via the Guardian News Feed plugin for WordPress.
Categories
Tags