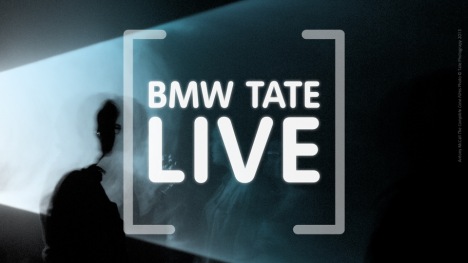 Now in its second year, BMW Tate Live is a major four-year partnership between BMW and Tate, which focuses on performance and interdisciplinary art in the gallery and online. Joan Jonas, Liu Ding and Charles Atlas are among the artists commissioned to contribute this year with the first event of 2013, Suzanne Lacy Silver Action, taking place on 3 February.
BMW Tate Live 2013 includes performance commissions across two strands of live programming:
BMW Tate Live: Performance Events, free and ticketed live performances within The Tanks and other spaces at Tate Modern; and
BMW Tate Live: Performance Room, a pioneering programme of live performances commissioned and conceived exclusively for online viewing and simultaneously seen by international audiences across world time zones.
The programme explores the diverse ways in which artists approach live performance in the 21st century whether in the gallery or online. Throughout the programme, artists will work with the local community, animate key moments in art history, and collaborate across dance, film and other art forms. Integral to the programme are BMW Tate Live: Thought Workshops, a series of participatory discussions and a keynote address.
Chris Dercon, Director of Tate Modern said:
Following an incredibly successful start to our partnership in 2012, I am delighted that BMW Tate Live is growing for 2013. BMW Tate Live: Performance Room has shown the appetite people have to mix art and technology and this is something that we will continue. Adding to this activity will be BMW Tate Live: Performance Events in and around Tate Modern and BMW Tate Live: Thought Workshops, a series of workshops to debate, discuss and dissect the way art can support emotional, intellectual and societal transformation.
Categories
Tags